Just witnessed your best live gig?.. send us a review!
URIAH HEEP/Martin Turner's Wishbone Ash
Brighton Centre, 3 December 2011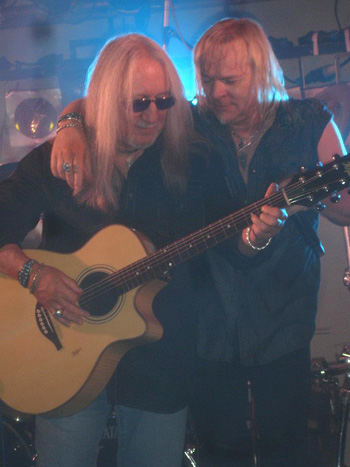 When I first discovered some of the classic hard rock pioneers as a teenager in the mid eighties, most people's stock response was 'are they still around'? It is a pleasure to report that over 25 years after those bands were dismissed as rock dinosaurs, so many are still gigging and now in a position to benefit from the revival of interest in their work.
In those circumstances, and with Heep's London show clashing with a Bryan Adams show for which I already had tickets, this was a perfect double bill worth the 50 mile train trip to the South Coast on a Saturday night.
I arrived expecting the gig to be in the rather cavernous main hall of the Brighton Centre, but the gig was staged in the East Wing, essentially in a large function room. The room could not have been far short of its 750 capacity, which made for a good atmosphere, although the stage had a low ceiling and the lighting was a bit erratic, with Martin Turner being momentarily shrouded in darkness at regular intervals!
We also had a third band, Daylight Robbery, who after impressing me at Z Rock earlier in the year seem to have a bit of a push behind them and were promoting their Cross My Heart and Hope to Die album.
Skilled musicians playing melodic rock with a British feel, reminiscent of fellow Midlanders Shy in places, their stage act rests heavily on charismatic singer Tony Nicholl, who has the soaring tones that suit the music perfectly, even if he didn't always hit the mark.
They are not in the first flush of youth, but songs like Shame on You, Reunite and Real Love is the Answer, with its great vocal harmonies, mark them out as a band with talent.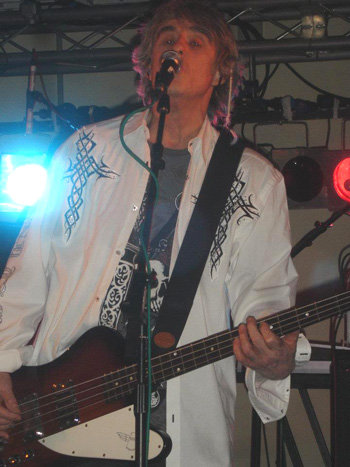 Martin Turner's Wishbone Ash have been on the road fairly relentlessly for several years now, and that shows in the way they play in an assured, relaxed manner with almost intuitive understanding.
It was encouraging that an audience of primarily Heep fans loudly cheered every introduction of a song from Argus, with Ray Hatfield's guitar solos during Warrior and a brilliant twin guitar arrangement of Throw Down The Sword the pick alongside old favourites The King Will Come and Blowin Free.
But for me, as a diehard fan of Wishbone's music, the highlight was Rock n Roll Widow, complete with a humorous introduction in a fake Texan accent from born raconteur Martin, guitarist Danny Willson doing a fine job on lead vocals and some spectacular slide guitar from Ray.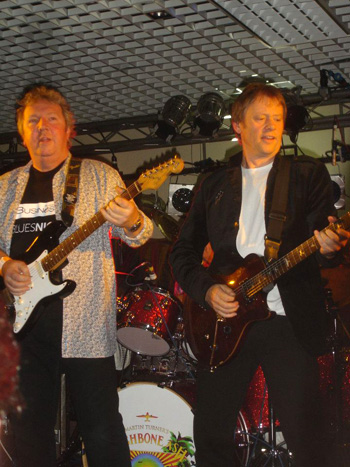 'Front Page News' was another great pick while the surprise of the night was a rare airing of the more boogie-styled 'No Easy Road'. Danny again took lead vocals, allowing Martin, on a night when he appeared to be suffering some sound problems, to rest his voice before a closing duo of 'Living Proof' and 'Jailbait'.
The twin guitarists were again on great form, but as they mucked about I felt slightly uneasy. Lightening up and having fun is one thing, but especially given the skirmishes between rival Wishbone camps, MTWA need to make sure the cabaret element does not overshadow the quality of their music.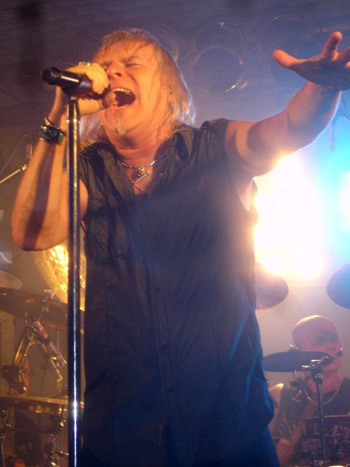 It was a nice touch for Uriah Heep to be introduced by local resident Roger Dean, creator of some of their great album sleeves such as Demons and Wizards and the Magicians Birthday.
They opened with new song 'I'm Ready', all of the band getting a brief instrumental turn in the spotlight: however, in contrast to the Wake The Sleeper tour when they bravely played virtually all of the album, this tour strikes a perfect balance between showcasing some fine new product and the back catalogue that, let's face it, most people have come to see.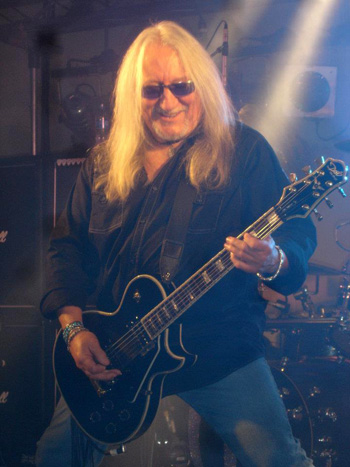 As a rollicking 'Return to Fantasy' was followed by one of the heaviest versions of 'Stealin' I've seen the band play and 'Rainbow Demon', built around Phil Lanzon's heavy Hammond organ, this was swiftly turning into one of the gigs of the year.
While he can never replace the late great David Byron, Bernie Shaw is part of the Heep furniture and his quirky charm always gets an audience on side.
There was also a fun moment when, as he changed his earpiece, one wag in the crowd suggested he should wear a pink one being in Brighton, at which founder member Mick Box quipped that they had better not play 'Free and Easy'!
Of the new material, 'Money Talk' had a fierce riff - even if too close to Thin Lizzy's 'It's Only Money' - and after a drum solo from Russell Gilbrook, a powerful ball of energy who really has added a fresh dimension to Heep's sound.
---
At a time when some other bands of their era are slowly tarnishing their legends, Uriah Heep, over 40 years into their career, have arguably never sounded heavier or more vibrant.

---
'Nail On The Head' came over as a great live anthem, yet its impact was lessened by the fact so few people seemed familiar with it. In contrast, as Mick Box donned an acoustic, everyone knew the timeless 'The Wizard'.
After the title track from 'Into The Wild', the second half of the set was one Heep classic after another. 'Gypsy' saw Phil's head bob furiously as he played the classic Hammond organ riff and developed into a fine band jam, before segueing into a 'Look at Yourself' of two halves, a storming first part with guitar and organ riffs cascading off each other in the best Heep tradition, then an extended guitar passage for Mick to stretch out.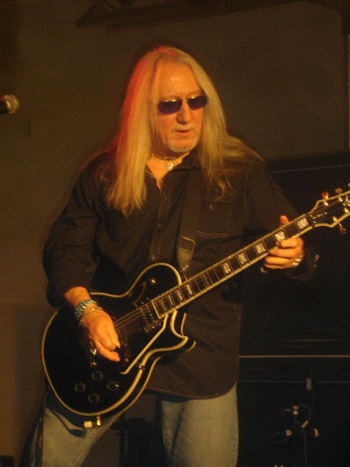 'July Morning', with Trevor Bolder's up front bass playing again to the fore, was as epic as ever, though those of us near the front could have done without the stoned hippie who pushed his way to the front to headbang madly to it and cause mayhem, and 'Lady in Black' - moved out of its traditional encore slot - the excuse for a mass singalong.
A party atmosphere was growing and to cap it all, a variety of women in the crowd were invited onstage to join the band for 'Free and Easy', which Mick claimed tongue in cheek had been voted the all time best heavy metal song in Germany.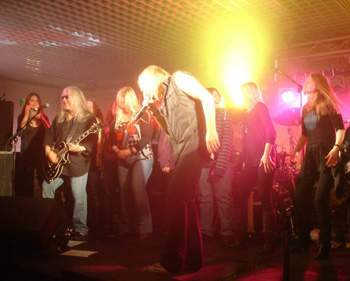 There was still time for two more classics from the vaults, the now rarely played 'Bird of Prey' - showing that Justin Hawkins was not the first to bring falsetto singing into heavy rock – and 'Easy Living', which flew by in a trice.
At a time when some other bands of their era are slowly tarnishing their legends, Uriah Heep, over 40 years into their career, have arguably never sounded heavier or more vibrant.
As the closing strains of 'Land of Hope and Glory' (thankfully uninterrupted by Sergeant Major Williams!) sent us into the Sussex night, I did think that we should cherish them as a great British institution.

Review and photos by Andy Nathan
Gig review (London)
---