TODD RUNDGREN Reissues Edsel (2011)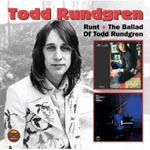 Although perhaps a guilty pleasure in the UK for far too many years, Rundgren's stock has risen here in recent times with tours and gigs, most recently a three-night residency at the Jazz Café in London.
Todd's back catalogue has suffered more than most from interminable recycling and it could be argued that with these Edsel reissues - part of a campaign - definitive versions are upon us. More than anything this is an excellent way of catching up on the Runt, from the very first album of that name released in 1970.
The casual listener may find these albums patchy and Rundgren joked recently that his 'greatest hits' would only take up 20 minutes or so of a concert. This is of course a massive understatement especially if you define the term 'hits' more widely. However the experimental and psychedelic nature of his early output, and not least the somewhat period recording quality, could easily alienate those of a less stern disposition.
The reissues are comprehensive affairs with thick booklets, lyrics, and notes extracted from Paul Myers' definitive biography.
Runt comes with the alternate mixes re-pressing released in November 1970. The songsmanship owing something to Carole King and Laura Nyro, but there is a peek at what is to come - at least in terms of Utopia - with the 9 minute 'Birthday Carol.' whilst 'I'm In The Clique' with its brassy notes has a touch of the Zappa in its zany psychedelic-ness. ***
Runt. The Ballad Of Todd Rundgren includes some bonus radio broadcasts recorded in June 1971 and is closer still to the spirit of Carole King: 'A Long Time, A Long Way To Go' is spooky in its King-like phrasing whilst the ballads like 'Wailing Wall' and 'Remember Me' are rather appealing ***½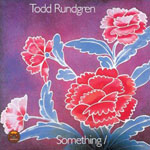 Two 'solo' albums in and 1972's Something /Anything is generally regarded as Rundgren's seventies masterpiece and his biggest commercial success. This is his 'McCartney' (Macca's solo album in 1970) where he performed all the instruments across four sides of vinyl. Some cynics/critics might cry plagiarism, not least in its Beatlesque and Beach Boy flavours.
A vertitable tour de force, the album contained such gems as 'I Saw The Light', 'It Wouldn't Have Made Any Difference' (also included here in demo form) and a re-working of 'Hello It's Me', and if the jam is spread too thinly at times it was still a major achievement. Tracks like 'Sweeter Memories' and 'You Left Me Sore' are seemingly effortless in execution but little gems nevertheless and easily overlooked. Some contemporary radio promos complete this reissue. ****
1973's A Wizard, A True Star may now seem like a heady period brew which distillated Rundgren's Zappa-esque humour and R&B penchant with a frankly drug-stupor induced hue. Lord knows what the label moguls must have thought when Rundgren delivered this album and with 'When The Shit Hits The Fan' Todd may well have anticipated their misgivings about an album with no singles. But the final song 'Just One Victory' - long a live favourite - and the 10 minute medley point to the man's ever-present Philly-soul leanings. ***
Todd (1974) saw Rundgren experiment more with synthesisers freely mixing the prog rock he expanded on the Utopia debut and his soul-flavoured ballads. The Zappa-esque comedy returns with 'An Elpee's Worth Of Toons' which may be as relevant now as it was back in the seventies with Rundgren riling the music business. But the album does include the exquisite 'Dream Goes On Forever' and 'The Last Ride' - supplying respite from the more overblown 'Everybody's Going To Heaven/King King Reggae' and 'Heavy Metal Kids'. Bonus tracks include a radio session from 1971 and two live tracks recorded in 1974. ***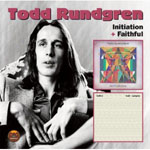 Initiation, released in 1975, had the honour of being - at the time - the longest album ever on one piece of vinyl, clocking in at 68 minutes. The original album came with a note suggesting the listener transfer the LP to cassette tape if the volume levels were too low.
But by the epic 35 minute 'A Treatise On Cosmic Fire' you may wonder if those stretched grooves are completely well spent. This is a synthesiser-led instrumental which at times sounds like a long-forgotten concert intro tape, at other times - notably 'Dance Of Kundalini' - giving a peek into Rundgren's underrated guitar creativity. Roger Powell had joined Rundgren in Utopia and features on this album together with luminaries Dave Sanborn, Edgar Winter and Rick Derringer. Only 'Real Man' remains wholly accessible to the casual listener. ***
Faithful in 1976 allowed Rundgren to regress ten years and pay tribute to some of his earliest influences: amongst them the Yardbirds, Beatles and Hendrix. The tribute was tempered with some new tracks too not least 'Love Of The Common People'. A bonus track 'Open My Eyes' was recorded live in August 1975. ***
Whilst none of these reissues falls under the *** rating, the uninitiated may find many hard going and merely want to cherry pick the most accessible tracks which invariably were the singles. Overall, though, Edsel have done an excellent job of repackaging and have given all these albums a new lease of life.
Review by David Randall