THE ANSWER Revival Spinefarm/Universal (2011)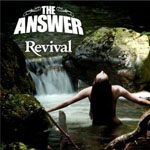 The Answer return with their third album, their first after leaving the protective wing of AC/DC, who they have toured extensively with and had their first two albums released on the Young brothers Albert Productions label. Mind you they are now signed to Spinefarm who can call on the might of Universal Music!
This is another strong Answer album with two massive rock songs made for radio and the top 10 singles chart if there was any justice in the music world. 'Vida (I Want You)' has already been released as an airplay track - what a damn fine chorus this one has.
The other hit-in-waiting is 'New Day Rising', complete with some AC/DC approved riffs this is bound to become a live staple for the band's setlist. Elsewhere, 'Waste Your Tears' and 'Use Me' are simple but effective hard rock tunes, showing the band are not loising their magic touch when it comes to songwriting.
The band show their more refelctive side on 'Tornado' and 'Lights Are Down' - check out the demo version on the double CD edition, simply a piano and Cormac Neeson's vocals, stunning. 'One More Revival' keeps the band's love of a gospel tune going, again another strong vocal from Cormac Neeson.
Do get the limited edition two disc version as you get the heavy rocker 'Piece By Piece' and a cover of Free's 'Fire And Water', plus a few of the main albums songs in demo form and songs not on the album. The band's own quality control is high and there is barely a filler in sight.
The Answer are without doubt, along with Glyder and Jaded Sun, one of the best things to come out of Ireland since Thin Lizzy. They have developed their own sound and that is a high compliment for any band when a review starts saying '...they remind me of the Answer'. They needed a strong album to keep their momentum up and boy did they do it with this beauty of an album. The rock 'n' roll revival is well under way...
****½
Review by Jason Ritchie
Interview by Mark Taylor
---