STYX Regeneration Volumes 1 & 2 Eagle Records (2011)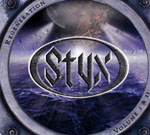 These two CDs see the band re-record some of their classic tunes plus two Damn Yankee tunes and a new song. Styx have been a hard touring band but studio album wise we have had nothing new since 2003's rather good 'Cyclorama' (there was a covers album 'Big Bang Theory' a couple of years later).
The new song 'Difference In The World' is not bad at all, a typical Styx mid tempo verging on ballad number. The real treat on here is the two Damn Yankee songs, 'Coming Of Age' which allows both Tommy Shaw (the Damn Yankee connection) and James Young to wow us with their guitar solos and 'High Enough', where Styx wheel out the pomp rock in their armoury. Not sure what Ted Nugent would make of these though and surely it must be time for a third Damn Yankees album?
James Young and Tommy Shaw basically update their vocals on the older songs with Lawrence Gowan handling Dennis de Young's songs, including a superb version of 'Come Sail Away'. In fact musically they remain pretty faithful to the originals it is just the modern production that really makes a difference.
Good to see the band digs a bit deeper into their catalogue with 'Queen Of Spades' and 'Renegade' and 'Lorelli' and 'The Grand Illusion still maintain their glorious pomp rock sound. Do see the band live if you get the chance as keyboardist Lawrence Gowan, who along with Tommy Shaw are the band's more active onstage members, really gives it his all including a twirling keyboard.
Fans may not be rushing out for this one and would prefer a new studio album but it is worth getting if you're a fan for the updated versions and it is a decent introduction for those unfamiliar with the band's music.
****½
Review by Jason Ritchie
---
| | |
| --- | --- |
| | Print this page in printer-friendly format |
| | |