Just witnessed your best live gig?.. send us a review!
STEVE LUKATHER
Club Academy, Manchester, 18 March 2011
Photos by Andrew Lock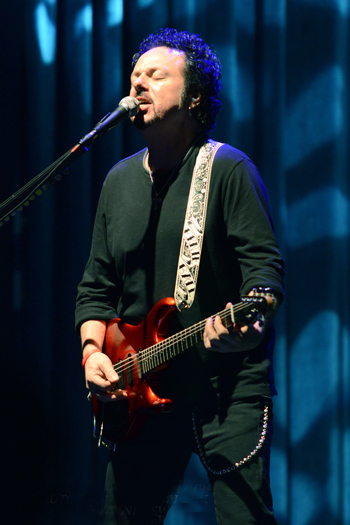 What a difference four months makes! The first 'leg' of Luke's 'All's Well that Ends Well' tour in the UK was less than perfect (at least when reviewed in Bilston), and not helped by a disappointing sound mix.
But that was then. This is 'Club Academy', the smallest of the live music rooms at Manchester University. And here is one of the great names in fusion guitar, a session veteran of 1000 albums or more. And a room of devotees prepared to lap up his solo offerings, not least a great new (ish) album.
As expected he started with one of the current album stand outs 'Darkness In My World' but this time aided by a better sound balance and when he kicked into the wonderful outro solo we could actually hear those fleetful fingers in full flurry.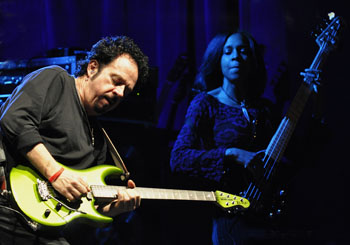 Sticking fairly closely to his previous setlist, there were some welcome new additions. A tribute to Gary Moore and a fine 'While My Guitar Gently Weeps' (with bassist Renee Jones admirably tackling a shared lead vocal). Whilst a good central core of this gig again reinforced Luke's jazz fusion credentials it was more evenly paced this time.
The killer cut was the sublime show stopper 'Song For Jeff' which easily dovetailed into 'Don't Say It's Over' from the current album. When Luke cranked into the latter it was - frankly - complete and utter guitar bliss. It really doesn't come any better. (The only down side of this interlude is that we are not hearing the song as it was performed on the album, but I suppose that is nit-picking in these glorious circumstances).

Zoom (Click large image to cancel)
When you graft on a fine seam of self-deprecating humour and on-stage banter, a wonderful band (and on-stage interaction where they all looked like they were really enjoying themselves) - and not forgetting of course the novelty of a micro-venue for an artist of Lukather's stature - you really couldn't do better. And two hours never dragged.
After that fusion interlude incorporating 'Little Wing', Luke returned to current album for 'Can't Look Back'. Mention should be made of Steve Weingart's wonderful keys support throughout but his harmonising on this track was particularly effective and may have even exceeded the recorded version.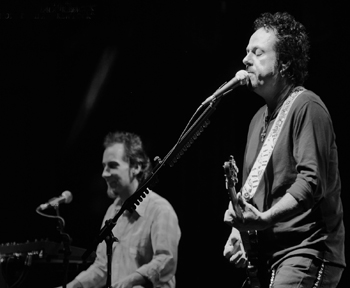 This is a

nother great track and quite uplifting after what immediately preceded it. That's not to take anything away from the fusioning, but Luke - chameleon-like as you might expect from a veteran sessioner - is currently two parts jazz fusion to one part rock.

And I'm not quite convinced about his excuse for not exploring Toto back catalogue (apart from a couple of seemingly obscure acoustic tracks) – that it sounds like karaoke. Damn it, this guy played on and wrote or co-wrote many of those songs!! But then, it seems Toto fans will have to wait for that band's summer tour when it reaches these shores.

For now, let's hope Luke returns soon to the UK in his own right, and increases that rock quotient evident on the superb current album.



Setlist

1. Darkness In My World 2. Always Be There For Me 3. Extinction Blues 4. Stab In The Back 5. 68 (Lee Ritenour cover) 6. Brodie's 7. Up In The Skies (Jimi Hendrix cover/Gary Moore tribute) 8. Band instrumental 9. Song For Jeff / Don't Say It's Over 10. Tumescent 11. While My Guitar Gently Weeps (George Harrison cover) 12. Watching The World 13. Out Of Love (Toto cover) 14. Tears Of My Own Shame / Little Wing (Jimi Hendrix cover) 15. Can't Look Back

Encore: 14. Flash In The Pan Encore 2: 15. The Road Goes On (Toto cover)


Review by David Randall

Photos by Andrew Lock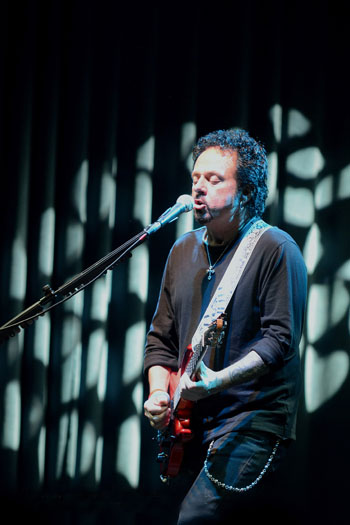 Andrew Lock writes:
(The Assembly, Leamington, 17 March) This really was an evening of various musical styles, of course AOR Rock but also we had touches of blues, funk and jazz rock during the performance.
Steve really pulls all the guitar hero tricks out of the bag, string bending, tapping, tremolo work, soloing at the edge of the stage and at times he made the guitar literally talk, he is up their with the best technical guitar players I have had the pleasure of seeing but he also plays with plenty of heart and soul.
I am sure it would never come to it but if Steve Lukathar ever decided to give up music he would make one hell of an inspirational speaker, his honest and heartfelt tales of coming through a recent bad spell and his realisations of the things that are important in life were special moments in the evening, he really did come across as one of music's good guys.
The final number saw Steve take to the stage alone with an acoustic guitar for a moving solo performance of 'The Road Goes On' with the crowd not for the first time in the evening joining in and this ended another fantastic night of top quality entertainment at The Assembly, a venue that really flies the flag for live rock music.

---
Gig review (18 November 2010)
---