STEVE HACKETT Beyond The Shrouded Horizon SPV (2011)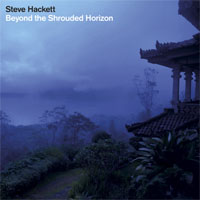 Steve Hackett surprised many of his aficionados with a dark and often broody 'Out of the Tunnel's Mouth' which was no surprise given the encounters with those weird wiggy ones down at The Bar.
Dave Randall's recent interview in the GRTR! Radio Guitarists series indicates that Steve Hackett sees himself fortunate to do what he does. Not once, except through his music, do we find any self analysis expressed. Why should he? This is the guitarist from classic Genesis who, for many of that prog band's fans, has kept up the tradition of sourcing songs from the mystical instead of declaring to a concerned nation whether or not he could dance.
Just to contradict me though 'Loch Lomond' is a melancholy track yet laced with optimistic harmonies that move from the murky depths to the moonlit banks of our fantasies, hence the album title. We have the full showcase of Steve Hackett's talent here, from the metallic guitar strains at the beginning, to the acoustic runs.
Two tasty short instrumentals, 'The Phoenix Flown' and 'Wanderlust' provide a prelude to the almost hymnal 'Til These Eyes'. The lyrics and melody are almost naive in style yet the song meanders gently. In my own recent interview last year, Steve Hackett said he was quite keen on lessening 'the maths' in his collaborations with Chris Squire. This more laid back approach is filtering through to most of his songs these days, except the last one. More on that later.
The signature changes which punctuated albums like 'Foxtrot' and 'Voyage of the Acolyte' have often been replaced with straight progressions which would not look out of place as film soundtracks. I am thinking in particular 'Between the Sunset and the Coconut Palms.'
This and 'A Place Called Freedom' would not perhaps turn the heads of the under 30s towards these more pastel shades of the prog genre. Nevertheless there's enough sonic intrigue to keep the Sennheiserphiles captivated.
His band of several years clearly understands the vision with the ever consistent Roger King supplying each of the pieces with a distinctive atmosphere. A fan of Egypt and the spiritual, Steve Hackett revisits a familiar theme 'Two Faces of Cairo,' Gary Toole and Nick Beggs coming to the fore with a hypnotic drum and bass sequence.
Just like in 'Tunnels Mouth' Steve Hackett once again demonstrates his love for the blues which sit well alongside the embellished folk themes he is mainly known for. 'Catwalk' is dirty blues, and further evidence that Steve Hackett is enjoying himself right now, the old Gibson being given some good old string bashing over rock steady beat.
When this reviewer thought it was safe to immerse himself in this intriguing travelogue which paints some fantastic pictures without necessarily raising the heart rate, up jumps 'Turn This Island Earth' which is an unashamed symphony complete with choral passages, movements and dramatic orchestrations that chill and thrill simultaneously.
'Beyond the Shrouded Horizon' does not try to break new ground but then again would we expect an established icon to cast aside his traditions and present an experimental offering? Occasionally though the sedate, short acoustic songs felt like orphans. I would like to hear Steve Hackett's classical guitar pieces breathe a little. 'Leave them wanting more,' said one icon. So I am asking for more from the maestro. No cryme in that.
A definite feelgood album though for sure and one that will satiate those who felt that the other lads sold England by the pound.
****½
Review by Keith Thompson
Keith Thompson talks to Steve about his new album, (Rockwaves, Sunday 18 September, 21:00 GMT+1) Get Ready to ROCK! Radio
---
| | |
| --- | --- |
| | Print this page in printer-friendly format |
| | Tell a friend about this page |