We've listed albums in order of star rating. Best first.
Reviews by Pete Feenstra, Nikk Gunns, Nick van der Meulen, Jason Ritchie, Pete Whalley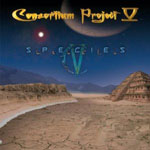 CONSORTIUM PROJECT V Species (Lion Music)

Consortium Project V is the brainchild of vocalist Ian Parry and, as the 'V' suggests, is the fifth (and final) album in the Consortium Project saga. He began the Consortium Project in 1999 and the first four efforts are to be re-released in the near future.

Parry surrounds himself with some talented musicians (too many to mention) to produce what is a monster, gothic-sounding power metal album. The guitar riffs are bone crushing, the music mid-tempo and melodic - and Parry's dramatic vocals fit the mix perfectly (a couple of female vocalists guesting helps tone down some of the 'lighter' songs, as in Parry's saga women save the world). This is a concept album and the story ends here, but the music is so good that it doesn't matter what the story's about.

If the previous four efforts are anything as good as this, I'm going to have to search for them! Brilliant! ****½
Review by Nick van der Meulen
ED HALE & THE TRANSCENDANCE All Your Heroes Become Villains Van Gogh Records (2011)

Ed Hale and the Transcendance combine indie/rock and world music to create what they call 'planet music'. There really is a musical mix on this album from the slighty trippy opening title track - complete with Pink Floyd approived wailing female vocals - through to the vicious rnat on 'Columbine (The Unforgiven)'. The band do have a good ear for a melody as 'Solaris' and 'Waiting For Godot' are prime time indie pop rockers.

Shades of Radiohead on 'Indian Princess', more so in the guitar effects and musical backing than vocally. 'Messed It Up Again' has drum 'n' bass reminding me of Trans Global Underground.

You do need to have an open set of ears for this album as it flits all over the place musically, although never getting over indulgent and keeping a decent melody at the fore of every song. Try it and see, I am pretty sure you will be hooked after a few listens. ****
Review by Jason Ritchie
TYLA J PALLAS Quinquaginta (King Outlaw)

Tyla, forever to be billed as ex front man of Dogs D'Amour, has been ploughing his solo furrow for many years now. This new release is his 17th as a solo artist and the 37th album of his career, hats off to anyone with the full collection, the restraining order is in the post !

Having recently turned 50 and rebranded himself as Tyla J. Pallas, this album is more of Tyla's laid back, troubadour style ramblings which make pleasant listening. Ably abetted by Simon Hanson from Squeeze on drums and Magnum's Mark Stanway on keyboards, this is music for a late night, smokey bar, with a glass of your choice in hand.

Tyla's vocal delivery sounds increasingly like Springsteen and occasionally like Springsteen singing Johnny Cash songs at karaoke. The highlights on the album for me are 'Hang 'Em High ' and Alright ( I Will Always Love You), both of which work well, but all the songs featured are of the high standard you would expect of someone who has been producing quality product for nigh on 30 years.

This will do nicely until album 18. ***½
Review by David Wilson
VARGTON PROJEKT ProgXpriMetal (Lion Music)

Vargton Projekt is a new Swedish progressive metal outfit. This is their debut album and it is as the title suggests

The album is a marathon to listen to, as it consists of 18 songs and is over 73 minutes long! It is predominantly instrumental music, producing a sound akin to the marathon, and sometimes long-winded, 70's prog - with hints of Zappa. This should be no surprise, as Morgan Ågren did time drumming for the legend at some stage. Björn Jansson does a stunning job with the addition of his vocals to the mix…it's a bit sad that it doesn't feature more on the album.

Eighteen songs is a bit too much, though, as the final two songs seem to meander in the classic 70's manner.

A band with a great deal of promise. ***½
Review by Nick van der Meulen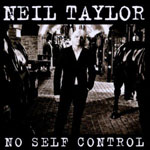 NEIL TAYLOR No Self Control

When you see an arena solo pop act and the lead guitar player steps into the spotlight to play a blistering solo, or just riff with the main attraction, the inevitable question is 'who the hell is that guy?' Watch any Pink or Robbie Williams live DVD and you'll see what I mean.

In the case of the man who's played that role for Robbie Williams for the past six years, we now know - Neil Taylor, a hardened session musician who, over the past three decades, has played with artists such Robbie, Tears For Fears, Rod Stewart, Natalie Imbruglia, Peter Gabriel, and Tina Tuner. And let's be honest, none of them is going to employ a dud.

But No Self Control - a polished pop / rock album demonstrates that being a solo artist in your own is a different bunch of bananas. As you'd expect, the guitar playing is highly accomplished, although it's surprising how infrequently Taylor pushes his guitar playing to the fore. It's almost as if he's embarrassed to be the centre of attention.

Instead, it's the songs (co-written with songwriter Steve Torch) and the vocals that are given prominence. And while Taylor's vocals are perfectly respectable, they're perfunctory rather than charismatic, and it's hard to listen the songs without wondering what they might have sounded like with Robbie behind the mike. And the answer is 'pretty good'. Which is high praise.

It's a very well constructed and delivered adult orientated pop album, but it's hard to see it's going to launch a new career for Neil Taylor. That said, the album artwork is smattered with pics of his time centre stage with Robbie and you suspect that is where he most likes to be. Nevertheless, No Self Control is an album he can be proud of. ***
Review by Pete Whalley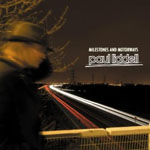 PAUL LIDDELL Milestones And Motorways

They've got a pretty sharp sense of wit in the North East, so I'm sure Paul Liddell gets plenty of ribbing from his mates about his name sounding the same as a certain no-frills supermarket chain.

But Liddell's music is equally no frills, instead focusing on the time honoured skills of the singer song writer. As a result his natural habitat is the North East folk circuit and he's also done a number of online gigs in an attempt to raise his profile. He's even getting some airplay as far away as Scotland.

The sad fact is that singer songwriters simply aren't in vogue at present and the ability to be able to write and perform with little or no accompaniment doesn't seem to count for much with the masses.
I was recently at an Eleanor McEvoy gig (one of the most gifted singer songwriters of her generation) where she was supported a young, up and coming singer songwriter in the form of Al Lewis, and that gig was attended by less than 50 people, probably none of whom were under the age of 50. It's criminal.

But the days of the singer songwriter will no doubt re-emerge, and when it does there's some very talented artists out there. Paul Liddell counts amongst those and Milestones and Motorways - his third album - is packed with some excellent playing (A Means To An End opens the set in an explosive Rodrigo y Gabriela style) - strong song writing, and some fine hooks. And it's good to see him not attempting to disguise his North East roots in his singing style. More power to his elbow. ***
Review by Pete Whalley
THE B-52s With The Wild Crowd- Live in Athens, GA Eagle Records

In February this year The B52s perfumed a concert in their hometown to mark the 34th anniversary of their debut live performance in 1977, this show was recorded and has now been released on CD with both BluRay and DVD to follow early next year.

There is an extremely tight backing band behind them and this holds everything together nicely, and with their trademark style of vocals and whacky attitude the band tears through 17 songs, giving the whole evening a party feel.

Most people will know the band's biggest hits like 'Rock Lobster' and 'Love Shack' but there is obviously a lot more to The B52s, who have released eight studio albums to date. Other highlights amongst the band's set list include 'Mesopotamia', 'Ultraviolet', 'Give Me Back My Man', 'Wig' and 'Love In The Year 3000'- however, some of the in between song introductions are very amusing and deserve a mention too.

The band certainly sound like they had fun, the audience clearly loving the show and after 34 years who could ask for more. ***
Review by Nikk Gunns
SMIRNOV Privet Earth! www.smirnovmusic.com
Russian born but LA based, Ivan Smirnov has recorded new album 'Privet Earth!' with producer Robb Vallier (Jon Bon Jovi, Eurythmics, Paul McCartney) and is ready to take on the world. The album has been preceded by singles 'Ice Orkestra' and 'Forest Queen' although neither appear on the 10 tracks contained on 'Privet Earth!'.

The singles have an almost American frat rock sound to them, but the album itself has a bigger feel to it with vocals falling somewhere between Maroon 5 and My Chemical Romance- radio friendly and written, no doubt, with one eye on the Top 40. Future singles 'A Phuken Angel' and 'The Saddest Boy in The World' are joined by 'The Sunshine Never Cries' (complete with echoes of Robbie Williams), 'Take It To Mars' and 'Privet Earth!/12,000 Miles' as the standout tracks to listen to.

Smirvov have been placed on the forthcoming Grammy voting ballot and it is not hard to see why. ***
Review by Nikk Gunns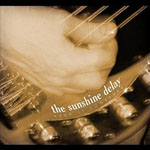 THE SUNSHINE DELAY Keep It Together Wrong Train Records

Something is stirring in Scotland with a handful of rootsy bands at the forefront of a vocal led crossover style that takes in American influenced, West coast tinged material that is routed in Country.
And it is country rock that lies at the core of the splendidly titled 'The Sunshine Delay'. Their aptly titled 'Keep It Together' goes a long way towards ticking all the right boxes including good song craft, subtle harmonies, pleasing choruses and even some nifty art work. And if there's a downside to an enjoyable cd, it is simply that they tread a thin line between pleasing pop and something a little weightier without quite making up their mind as to their true direction.

In that respect the opening pop rock and alternative lead vocals of the opening 'Last Generation To Die' is a fair approximation of what you can expect of eleven tracks that flow eloquently and engage you with their poppy refrains. But while the emphasis on vocal harmonies and an acoustic wash makes for a satisfying whole, it's only on tracks like 'Desperate Man' with its potent chord changes that they find a rockier edge to match their top draw good harmony singing.

Paula and David McKee are both fine singers and duet impressively on The Band influenced 'Roll Off The Treble' while there's a sudden lurch to MOR country on the up tempo and well played 'Leaving Song', which quietly sidelines the prefix of alt.country.
The same might be said of the choogling rhythm of 'Band Of Rain' which brings country harmonies to rest on power pop. There's a breezy lightness of touch to 'On Our Own', a number which like much of the album as a whole, makes the most of Ali Petrie's keyboards, while 'King Of The Small Town smoulders with intent, but in spite of a stop-time dynamic eschews any suggestion of a booming hook, settling for a poppy chorus and a clumsy bridge.
The album closes with the gentle acoustic 'The Angels Share', a number that remains defiantly low key to the end with a breathy vocal and a distant pedal steel.

The Sunshine Delay have apparently opened for the likes of Chuck Prophet and Allison Moorer, but their brand of melodic rock is just a tinge too MOR to fit comfortably into either the Americana or country labels. Much like 'Love is' - one of their best songs - this album is a slow burner with mellifluous melodies that grow with repeated plays.
But on balance a three star review reflects the fact they are a couple of meaty choruses short of being totally convincing. And though 'Keep It Together' may not be the defining second album that many bands strive for, there's enough good stuff here to keep roots fans in high anticipation of the follow up. ***
Review by Pete Feenstra
RKC British Plastic (The Sycamore Club)

RCK or Roses Kings Castles, is the vehicle of one time Babyshambles drummer Adam Ficek. This album is his third outing under the RCK moniker after the demise of Babyshambles mostly down to Pete Docherty's love of prison food.

The album is billed as lo-fi pop and comes as recommended by the NME, both of these facts had my alarm bells ringing before the disc entered the slot, but far be it for me to pre-judge. I am willing to give anything a fair hearing, but to be honest, this was a bit of an ordeal.

Adam plays all the instruments on the album, except the lead guitar, which is quite impressive, but the sound created is lo-fi to the point of being dull. There are bizarre electronic noises aplenty which don't really add anything, they tend to just irritate, whilst the synthesised vocal grates very quickly.

The single preceding the release of the full album is 'album highlight', their words not mine, 'Kittens,Become Cats', which has no redeeming features, bland about covers it.

I admire artists who have the determination and tenacity to release their own material and I am not one to put an album down lightly, but this most definitely isn't for me.

Lo-fi pop, tedious pap more like. *
Review by David Wilson
---
| | |
| --- | --- |
| | Print this page in printer-friendly format |
| | Tell a friend about this page |