We've listed albums in order of star rating. Best first.
Reviews by Pete Feenstra, Joe Geesin, Pete Whalley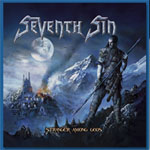 SEVENTH SIN Stranger Among Gods
www.seventhsin.ca
www.myspace.com/weareseventhsin
A blend of power metal and melodic rock anyone? Me first.
Yes it sounds strange but it works. This 5 track EP/mini album opens with 'The Giant' which has thrash written all over it, from the powerful harsh vocals, fast rhythms, the twin guitar tearing away, but the keyboards add more than one extra dimension. Not only is it melodic, but the keys add an almost Southern sound. Then thereís the Mozart inspired burst of lead guitar interplay.
From then itís mainstream head on classic metal with a harsh power edge and big melodic feel. Itís mixed as well as itís written - the keys not getting drowned out. There are plenty of top metal moments; Four of the five tracks run at over 6 minutes, and there are touches of (later eras) WASP and Marshall Law.
At times itís a little overly heavy to work well, and the vocals are pretty extreme, a little too much.

One of this yearís bands to look out for, no question. ****
Review by Joe Geesin
BITCHES SIN The Rapture (Bitches Sin Records / Metal Nation)

The NWoBHM Legends reformed in the mid 00s and released Uduvudu in 2008. This new album follows on nicely and takes the band to the verge of extreme metal. With support from the likes of Total Rock and Bruce Dickinson, the band have a solid fanbase and have a decent album here too.

Opener 'Don't Let Go' is blistering to say the least, plenty of shred. Then there is a surprise cover of Simon & Garfunkel's 'Sounds Of Silence' - which works remarkably well.

After that there's some solid power metal that fluctuates between trad metal and extreme, and the keyboard effects work well in some of the tracks too.

Bolstered with the aid of guitarist / produced Chris Tsangarides there is blistering yet polished guitar oriented metal here. Pretty damn good. ****
Review by Joe Geesin
EDGEHILL AVENUE Just Out Of Sight Street Date Records

Edgehill Avenue is a Kentucky based melodic roots rock band that draws on a musical hybrid comprising southern rock, pop and soul. 'Just Out of Sight' is an understated, song driven affair full of story telling narratives and powered by the subtle 'push and pull' grooves of LaMont 'Phatbeat' Melson a magnificent feel drummer and the mellifluous bass playing of John Poole.

But it's the core duo of Drew Perkins and Mike McLaughlin that forge the band's crossover style with Perkins providing the songs and lead vocals. And it is he who provides both the strengths and weaknesses of the project, contributing several slow burning, lingering melodies that start laid back and poised but grow in stature in the capable hands of a fine band.
Unfortunately though suited to some sonorous subject matter, his nasal vocals are also the reason the band never quite slip up a gear as he doesn't quite have the range to do so. That's said his songs revel in a retro feel that always finds room to let a piece breathe and gives the instrumentalists room to stretch out without ever overstaying their welcome.

The arrangements on 'Just Out of Sight' neatly balance out the vocals and the band's natural exuberance. This is especially so on the opening track 'Blood & Fire' where Drew has the good sense to duet with an unaccredited female vocalist and makes the most of some potent chord changes and a sweeping chorus.
The strong backing vocals also feature on 'After All' as they subtly extends a vowel on one of Drew's very best choruses; 'It Doesn't make much difference, in how you break your fall, doesn't matter what they tell you, everyone will learn to crawl, after all'. 'After All' works well as a smouldering groove that is powered by a great drum sound, a choogling bass and topped by electric piano as the band stretch out impressively.

Edgehill Avenue toughen up their sound on 'Manifesto' with Drew adding processed vocals and echo reverb as the band incorporate a proggy sounding organ and wailing guitars. There's a bluesy/folk crossover on the piano led 'Reckoning Day' with a languid chorus punctuated by rumbling bass and extravagant cymbal splashes.
Better still is the slashed chord intro of 'Red Sky', full of lilting bass, gospel style bv's, a meaty chorus, a fat sounding organ and a sparring guitar finale. The six tracks finish on a Neil Young style, slow burning languid groove with a meandering guitar line and an impeccable rhythm track.
Perkins delivers another heartfelt lyrical couplet; 'Strong enough to find my weakness, two hearts can go down extra slow, And then I find my standard reflected in the golden glow' as the song moves impressively towards a beautifully judged accapella ending.
'Just Out of Sight' doesn't quite reach the heights to warrant comparison with The Allman Brothers or Tom Petty, but the 6 self penned, well thought out songs are nicely coloured by the band's own southern lilting grooves. The fact that they manage to avoid clichť and sound fresh and interesting makes 'Just Out of Sight' worth revisiting and justifies a 4 star review. ****
Review by Pete Feenstra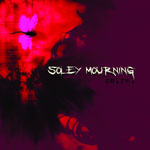 SOLEY MOURNING Zaire (Saltdog Records)

Third album from this Midlands band and their most polished yet. The band came under the melodic rock banner (melodic hard and crunchy with a touch of mainstream, thereís no AOR here), and on this thereís a fair amount of funk and a nod to the blues and mainstream alternative too.

The funk influences are immediately noticeable on opener 'Deadmanís Town', and the riff on 'Gimme Sumthiní' nods back to the 80s and 90s.
The opening riff in 'Sheís Gonna Make It Shine' hints to Led Zeppelin, while there is a hint of Sabbath in the opening bars of 'Groundhog Saturday', a track that later nods to RHCP.

'Simone' is a big ballad with strings and acoustic guitar which, like many of the tracks, has a few catchy moments. It would be too easy to say this track nods to Extreme but itís much better than that.

As melodic (funk / alternative) rock goes itís solid, polished, upfront, and crunchy in the right places. The low key keyboards fit in well too.
Worth checking out. ***½
Review by Joe Geesin

CHRIS DUARTE GROUP Blues In The Afterburner
(Provogue)

This latest album from the guitarist once likened to the late Stevie Ray Vaughn sees Duarte on blistering form.
Opening track 'Another Man' has some chunky solid rhythmic beats with some smooth guitar over the top, and a rough edge that nods to early ZZ Top, and 'Bottle Blues' nods more to Hendrix. Elsewhere Vaughn and Trower come to the fore.
The vocals, slightly husky, fit the music well, and throughout the undertones range from heavy psychedelia to rock'n'roll, so there's a variety of rhythms and grooves. The latter is obvious on 'Milwaukee Blues', which is bright and will get you nodding.

Thoroughly enjoyable. ***½
Review by Joe Geesin
RISEN FROM RUINS You Are More Powerful Than You Have Ever Been Led To Believe www.risenfromruins.co.uk
Debut album from this young and inspiring Christian rock band. They admit themselves there are 30 years of influences here and opener 'Alive' shows that well. From 80s stadium rock (think the melodic end of U2) to modern heavy melodic rock, guitars and keyboards work well.
Second track 'A Place Called Eden' adds touches of power metal and progressive metal. Then compare that to 'Breathe' which is more acoustic, atmospheric and big sweeping keyboards. Even this builds to a solid rock sound well. The vocal harmonies work nicely, bolstering the sound well.

A wide range of influences in what is essentially a melodic rock album with a big sound and intelligent and meaningful lyrics. The influences and sounds intertwine, but neither completely disappear nor overblow the song.

Well worth a listen. ***½
Review by Joe Geesin
JT NERO Mountains / Forests

This solo album from the pen of Chicago based JT Nero and The Clouds frontman Jeremy 'JT' Lindsay harks back to the days of the classic singer songwriter period of the late sixties and early seventies.

Citing Mark Twain and Sam Cooke as his biggest influences, the latter is the more obvious spot with much of the material (and JT's vocal style) being not that far removed from the soul that once inspired a young Rod Stewart. JT might not have that same rasp, but there are similarities, as there are with Leo Sayer (when he wasn't being a clown), and even folk period Bolan.

On Mountains / Forests JT is more than ably supported in the vocal department by Po' Girl's Allison Russell who also contributes banjo. It's a reflective, bewitching combination with echoes of county, folk, gospel, doo-wop and classic soul recorded in 3 days in August 2010 Ė either as a twosome, or with the broader accompaniment of Dave Lindsay (piano and keys), Dan Abu-Absi (guitars and mandolin), Ben Sidelinger (acoustic, dobro and banjo), Michelle McGrath (guitars and vocals), Christopher Merrill (bass), and Mikey August (drums). That sounds like a huge cast, but the sound is always suitably understated.

The result is that Mountains / Forests is not an album to be used as background music. It needs to be listened to, focused upon and appreciated. That said, it lacks obvious commerciality and is therefore likely to be limited in appeal to those with an ear for the softer more accessible reaches of Americana. But if Ray LaMontage can break through to the main stream, then there's no reason why JT Nero shouldn't do the same. ***
Review by Pete Whalley
TIM BERTULLI The Rest Of Them Days Independent Records

Canadian singer song writer Tim Bertulli appears to be a fiercely independent soul to the point of playing all the instruments on his 13 track 'The Rest Of Them Days'. The net result is like the curate's egg, good in parts. His strengths range from his broad vocal sweep and an effortless southern rock guitar style that owes much to the Allman Brothers.
But rather than build on these strengths he repeats them in a series of songs that too often sound the same and use similar mid-tempo arrangements. He also curiously manages to rhyme some of his titles with the words 'Day'(s), 'Way' and 'Today', in a series of songs that just don't have the narratives to sufficiently engage us.

And while the crisp acoustic intro and guitar/harp combination of the opening 'A Day' is promising and 'Make It On' flows well enough with its chiming guitars, Tim doesn't quite deliver the expected hooks, a fact not helped by a succession of plodding rhythm tracks and basic drumming.
On top of that the whole album is in desperate need of an outside producer to make the best of his material. For while the title track has immediate appeal with its spiralling guitar line and elaborate cymbal splashes, too much of the material here sounds the same. He does add some 60's style harmony vocals on 'Come On My May' before another trademark ascending solo, but like several other songs here it has a bigger impact when heard on its own rather than as part of an album of similarly paced songs.
Tim's main strength is his guitar playing which is rich in tone and fluent in its delivery, but it's the kind of playing ability that should bring an extra dimension to a song rather than rescuing them. 'Make Another Day' for example, is much better and starts off with an engaging opening verse and adds some imperious slide, but ultimately settles for the ordinary rather than the inspirational.

The twin guitar led instrumental 'In My Arms' is a suitable contender for potential radio play, but its delightful percussion line is hampered by the staccato drums and doesn't quite have the lingering melody to make it memorable.
That said, once again Tim's playing is fluid and resonant and has potential appeal for southern rock fans. On 'Ill Be With Ya' he conjures up another meaty solo with a sing-along hook, but a poor bridge and offers a light poppy coda on 'In Fidelity', albeit with a bigger drum sound.

'The Rest Of Them Days' has undoubted musical merit but never really delivers the lyrical substance of say John Hiatt, the intimacy of James Taylor or indeed the autobiographical pull of Neil Young, the very musical influences found liberally referenced in his PR kit. But he is a good guitarist, and an expressive vocalist with an album that sounds like a work in progress, in fact something that a decent rhythm section and an extra pair of ears could fix. ***
Review by Pete Feenstra
ELECTRIC EARTH Touching The Void Tyss Music TYSS 7017

Sweden's Electric Earth is solid rock band who combine fiery moments with occasional grooves. And while 'Touching The Void' does occasionally evoke early Ozzie and Purple style intensity, they struggle to deliver the hooks and coherent lyrics that might potentially transform their brand of hard rock to a bigger audience.

For the most part 'Touching the Void' teeters on the brink of something the band can't quite deliver. They open confidently enough with the groove laden 'Amplification' and for a moment they evoke the Joe Gooch led Ten Years After but don't quite have the
requiste hooks. On 'Collision With A Sun' they suggest it's not for a lack of trying as they make significant use of the repeated stanza; 'you leave me here hollow, cause where you go I can't follow', without quite having the words to make it happen.

And while vocalist Peter Gottlieb sometimes sounds like Europe's Joey Tempest, he doesn't quite have the versatility to break out from a pleasant but limiting vocals range to make more of the material. The band certainly does try to bring something different to some of the songs.
They explore a grungy opening on 'Free Fall' for example, making good use of some stop-time pauses and repeated chorruses. 'Need This Time' is also the closest they get to a sing-along chorus - if not anthem - but the lyrics are simply too obscure; 'every step from now on, it's my choice and at my speed, here comes peace to me, are you read, I'm ready'.

By the time of the up tempo 'Skin Stretch' Electric Earth really rock out, but the song suffers from the fact that the vocals sound as if they were melded on as an afterthought. They finally decide to graft on a post Zeppelin wall of sound to the title track which makes the most of the repeated line 'Everywhere I go I think about you'. It's another example of a well intended structure that lyrically falls short of the mark.

'Touching The Void' isn't a band album and on the other hand it's not exceptional. Perhaps in an attempt to crack the wider rock market Electric Earth simply try too hard to be something they are not. At times they rock hard, explore some promising grooves and add steely riffs, but they lack strong songs and their own unique identity. ***
Review by Pete Feenstra
THE HUMAN PROJECT Last Train Out www.humanrocks.com
The brainchild of Loyd Vandergriff, this is The Human Project's fourth album and mixes blues, rock and Americana with aplomb.
'The Friday Thang' is an old school rocker, while 'River Rock' mixes country / Cajun with rock - an accordion and fiddle fit in well. It's smooth and enjoyable. Then there's 'Requiem For Washington' which is a slow blues number, the vocals sounding suitably smokey. A similar lyrical content to Steppenwolf's 'Monster'.
For the rocker the standout track is 'Juke Joint Showdown', a rocking Southern number.

Loyd handles all the vocals and some guitar, and there's plenty of guests. A good listen, enjoyable, but it's on the gentle and Americana side of decent blues rock. ***
Review by Joe Geesin
SOCIETY A Crooked Mile

'Retro' seems to be a major theme for 2011 and West Sussex three piece Society very much have their collective fingers on that pulse. The major surprise is that the band don't come from California, LA or the American West Coast.

The band, consisting of guitarist Matt Wise, bassist Ben Lancaster, and drummer F Kenny Scott specialise in three part harmony vocal Americana country rock. And with a sound that echoes Crosby, Stills, Nash and particularly Young (when the harmonica is deployed), James Taylor and The Eagles, it's an easy listening set ideal for those endless 'top down, cross state' dusty roads.
The eleven song set from the pen of Matt Wise, with guest appearances, particularly on pedal steel (Spencer Cullum and Chris Pritchard), have that Ďauthentic' late sixties / early seventies sound. There's a clear stand out track in form of 40 Days, a number that would match any of that glorious yesteryear, but elsewhere A Crooked Mile fails to quite hit the giddy heights of those halcyon days. But perhaps that's expecting too much. ***
Review by Pete Whalley
DEATH BED CONFESSION Death Bed Confession
www.dbcmetal.com
www.myspace.com/deathbedconfessionsmetal
Debut album from a band that have only been together a year. Itís pretty energetic heavy metal and opening track 'House Of Cards' has a thrash stoner feel (ie fast Sabbath) and rough vocals. The underlying sound is of classic metal and when that comes to the fore it really works. 'Preacher' has a similar high paced feel. The guitar work is good, the rhythmsí fast, the bass lines fast and doomy, and an overall stoner with a hint of alternative.
'Here Comes The Pain' does just that to your eardrums - in the nicest possible way. This typifies the album in being as loud, rough, noisy and earsplitting as possible without being too extreme and remaining (at least in fair chunks) kinda enjoyable. Lose the troll with dysentery vocals and itíd be even better. ***
Review by Joe Geesin
SWIMMING Ecstatics International

The second album from Nottingham's experimental Swimming (John Sampson (vocals, instruments), Peter Sampson (drums), Jonathon Spittlehouse (guitar), Andrew Wright (keyboards), and Blake Pearson (bass)) is just as difficult to pigeon home as their debut The Fireflow Trade (2009).

Oft compared to a multitude of others, perhaps most notably Eno and Duran Duran, those comparisons still hold good. The experimental ambient techno sounds that pervade and ghost through the album add a beautiful sheen, and while Swimming are no pure pop band, John Sampson's vocals do have an undeniable Le Bon feel, as some of the more melodic aspects do to elements of the Duran Duran sound. But then I'm also reminded in places of Heaven 17.

So what you get is the pop sensibilities of some of the eighties finest, blended with swirling synths, psychedelic rock and drum machines. It's an unusual blend and one which is likely to attract a hard core following. Whether that translates to the mainstream will depend on which route the band chooses to pursue. ***
Review by Pete Whalley
HOUSTON! Mechanical Sunshine
www.myspace.com/houstonband
www.houston-rock.com
This is Houston!ís second full length album and mixes electro gothic sleaze/glam metal, hard rock, kitchen sink and etc.
Itís rough and in your face from the outset, and the techno segments really annoying. When they get to the hard rock itís good and solid, 'Let Me Shout' having from good vocal harmonies in the chorus, an 80s rock feel, and the sleaze angles elsewhere make for a few catchy moments.
The programmed sound on the intro to 'Mechanical Breath' make you want to skip it, the gothic segments donít work (dark gravel noise) and donít keep you, this is typical of many tracks where some angles/segments detract from other actually rather good bits.

The better segments include some good vocal harmonies, dome great riffs, and when the hard rock has just a nod of sleaze or gothic it does work well.
But too much of the album was just too much. **½
Review by Joe Geesin
KARNIVAL KORPUS Whatever Comes Next
www.karnivalkorpus.com
Debut album from this modern rock band that mix metal, blues rock grunge.
There is a hint of 70s/80 rock and rock'n'roll (the opening to Burning Fuel a good example in terms of both rhythm and riffs) but the post grunge and 90s influences and strained vocals (punk influences there) just muddy and muddle the sound.
'Six Feet Under' adds a touch of funk and alternative, some nice touches but comes over as forced and jumbled.
Some good angles, some neat guitar work, potentially enjoyable but the result is just ordinary. **½
Review by Joe Geesin

ANOTHER FAILURE Another Failure In The Making
www.reverbnation.com/anotherfailure
www.myspace.com/anotherfailure1
Debut album and the band seem to be making quite an effort in self promotion; self promoting this new album seems just the start.

While they seem to be described as thrash / speed metal this music has far too much attitude for that. From the outset the music is aggressive and there is a punk / DIY feel too, giving an element of hardcore to the sound.

The lyrics too are not only aggressive but angry; this could almost go in the same hate-metal category as Kreator. The riffs, like the vocals, are rough, punchy and sometimes come fired out so fast it puts rap to shame.
Some of the sound effects include mechanical resonance and crushing rocks. Quite apt really.
There are changes of pace and sound, but the forced aggression and speed metal is always there.
Be prepared, this music will induce a headache. This is more thrash metal than the doom bollocks of Venom but just as noisy. **½
Review by Joe Geesin

SHOOT THE BREEZE Nomadism - The Sonny Terrance Brentwood Story, Final Chapters www.myspace.com/rockwithshootthebreeze
www.stbrock.com
After you get over the silly title, this is blistering rock'n'roll from Norway.
Blistering isn't always a good thing; here the music is upbeat and uptempo but technically nothing bad going on, but there's a lot I can't put my finger on that doesn't work.
Some odd sounds and a lot of disjointed jangliness hint at alternative rock, and 'Days Of Burdened Times' has an overlying guitar line that grates a nerve or two, hit the skip button there. Then 'Redrocks Longest Tale' mixes track rock, there's definitely an Iron Maiden line or two in there, with late 80s / early 90s guitar pop / indie. Remember Deep Blue Something? There's hints of them mixed with rock and metal - odd.
Plenty of 60s and 70s rock influences, no bad thing when you get duelling guitars, but the 80s and 90s influences don't work so well. Trouble is, a lot of it happens in each song so it's hard to pull out the best bits, let alone the best songs. **½
Review by Joe Geesin

UNTIL DAWN Until Dawn www.myspace.com/untildawn
www.reverbnation.com/untildawnband
Debut album and a huge slice of hardcore mixed with classic metal. Lots of noisy riffs, heavy bursts of machine gun drums and shouted cheese grater vocals. And thatís just the opening track!
'Slice Of Life' is more uptempo and the guitar hints and Maiden and Judas Priest, but the effect is dulled by the overlying hardcore. The quiet bit in the middle seems strange too.
'By These Hands' is largely more balladic/melodic, but the bursts of a troll shouting/shitting gravel do kinda detract. That aside it builds into a decent metal track.

Some good stuff, but if youíre getting that I donít like the hardcore bits, nor understand them, nor indeed want them, then youíd be spot on. **½
Review by Joe Geesin
MICHAEL AND THE LONESOME PLAYBOYS Last Of The Honky Tonks

Prior to being struck down by a life threatening disease in 2009 Michale Ubaldini was a purveyor of rock 'n' roll Americana, with a leather jacketed Greaser lifestyle.

The Lonesome Playboys project is, in many ways, his 'comeback' - an album recorded live in the studio with no overdubs and on analogue tape. It's a rebellion against what country's become and strips it back to the bare bones of old school honky tonk country blues.

The sentiment of the album is summed up perfectly in the lyrics of the title track - 'Honky tonks are closing down, killed off by the modern country sound. Chart music is what we've got, instead of rhinestone, beer and the Tombstone waltz'.

The album is about as far removed from the current Nashville sound as it's possible to get - a four piece with pedal steel and resonator bottleneck guitar being the full extent of the 'special effects'. Which makes Last Of The Honky Tonks a niche product with a sound that it's difficult seeing have a mainstream or crossover appeal. But with a current nostalgia wave, anything is possible. **
Review by Pete Whalley
INSTANT HOBO Honey The Horse

I was unsure, at first, whether this was a Ďnoveltyí record. But no, itís for real.

Instant Hobo are an Arizona based three piece fronted by guitarist / vocalist John Feula who grew up in Florida on a mixed diet of Americana (in the form of Johnny Cash and Hank Williams) and the British hard rock of Zeppelin, Sabbath and Purple).

Formed in 2006, they serve up a strange collection of rockabilly Americana (with the odd jazz twangs thrown in for good measure) and just occasionally slipping into something more mainstream - in particular, on Marshall Pass the band could pass for a very respectable rock outfit (although the self production leaves a lot to be desired).

But for the most part the image that springs to mind of Honey The Horse is the sort of album the Clampett simpleton son Jethro might get in a groove to - much to the dismay of Granny and Jed.

Probably an entertaining hoedown act, but as for long player longevity, forget it. *½
Review by Pete Whalley


---
| | |
| --- | --- |
| | Print this page in printer-friendly format |
| | Tell a friend about this page |