We've listed albums in order of star rating. Best first.
Reviews by Joe Geesin, Nikk Gunns, Nick van der Meulen David Randall, Jason Ritchie and Pete Whalley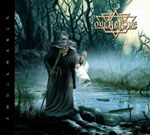 OVERDRIVE Angelmaker (Lion Music)

Overdrive return with 'Angelmaker' following 2008's 'Let the metal do the talking'. 'Angelmaker', however, does some talking of its own…

The Swedish metal band produces an album which sounds like 80's traditional metal with more than a smattering of NWOBHM. The result is a remarkable, melodic metal album with stunning metallic riffing and wailing guitar solos! No filler songs in sight and crisp production make this album the band can be proud of.

An essential purchase for traditional metal/NWOBHM fans. ****½
Review by Nick van der Meulen

SEVENTH WONDER - The Great Escape (Lion Music)

The Swedes again prove that rock and metal isn't dead with another band in Seventh Wonder coming to the fore. Seventh Wonder, however, take a different route in that 'The Great Escape' is progressive rock with a melodic rock/AOR feel to it!

The songs are well written, melodic and no two songs sound the same. 'Alley Cat' is a brilliant song that should be all over the airwaves but, criminally, won't get the recognition it deserves. 'Long way home' has an 80's pop tinge to it, while the album-closer, the title track, clocks in at over 30 minutes, yet it consistently holds your attention.

With superb production as an addition, prog rock doesn't get much better than this. It's so good it'll sway many of the genre's nay-sayers. ****½
Review by Nick van der Meulen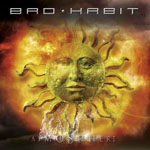 BAD HABIT Atmosphere (AOR Heaven)

Bad Habit is another band that has been keeping Scandi-rock's name high over the last 20 years. 'Atmosphere' is the band's tenth album and they prove they're still relevant to the genre.

The album is pure melodic rock bliss, easy listening despite some of the heavier guitar riffs, making it an album that can spend quite some time in your CD player without getting tired of it. The addition of keyboards also rounds off the 80's pomp flavour, while the excellent production keeps the sound tight and crisp.

Vocalist Bax Fehling sounded a bit strident on the album opener, 'In the heat of the night', but following that did an excellent job on vocal delivery. The rest of the band should be commended for excellent playing and the bombastic sound produced.

AOR lovers need to purchase this. Superb. ****½
Review by Nick van der Meulen
ALESSANDRO COSSU Pensieri
Cossu, who studied at GIT in Los Angeles, is an Italian fusion guitarist and also features in the prog metal band Ashent. This album is lifted by the strength of the compositions, sterling support from bassist Denis Baseli and drummer Mirko Sclabi, and not least Cossu's playing. Italy isn't short of fusion players, no doubt Cossu has listened to the great Corrado Rustici and more recently Marco Sfogli.
At times invoking Andy Timmons and Neal Schon this is really fusion rather than straight-ahead rock music (only 'Direct Crash' comes close) which is more the pity really. As if to underline this, the title track is the jazziest with Gilles Boscolo on sax and an Al Di Meola vibe. Boscolo also adds keys to the intricate 'Away'.
'Intricate' is always a common description of fusion, and if there's one criticism overall this album is possibly too intricate, there's not enough contrast in simple riffing or dare I say an attractive melody held for any length of time. And this is where Cossu needs to go back to players like Schon who manage to combine great melodic sensitivity with technical dexterity. You can have your cake and eat it.
But there's still much to get your teeth into here, and whilst this solo debut will appeal mostly to guitar nuts it won't hurt the casual listener who likes his or her licks served with a superior fusion flavour. Tasteful and tasty. ****
Review by David Randall
T-REX Get It On - The Collection (Universal)

A life cut tragically short, a death overshadowed by the death of Elvis, and a career that, after a series of folky false starts, spawned many a classic glam hit. Everyone will know a T-Rex song, even if they don't know it. Sadly one of those, "Children Of The Revolution", isn't here so that's a mark off before we've started.

That said, with tracks like "Ride A White Swan" (who can forget that classic TOTP performance?) and "Jeepster" on top of the title track "Get It On" this is a substantial greatest hits/best of. 1970s glam was never so catchy or sparkly, Marc Bolan as much the performer as singer, songwriter or guitarist.

20 tracks, this is good value, and jam packed with classics. The odd quibble (ok, travesty) aside, it's still a good compilation and with some decent sleevenotes, it'll do a job.
If you're acquainted with Bolan and his hits this is hardly fulfilling, but it's a damn good intro, a good place to start and radio friendly too. ****
Review by Joe Geesin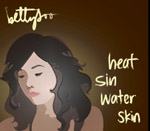 BETTYSOO Heat Sin Water Skin

Heat Sin Water Skin, the third album from Bettysoo, a second generation Korean American proves a number of things.

First, and perhaps most importantly expect the unexpected. Asian American singer songwriters aren't that common, especially in Texas.

And to underpin that, great things come in small packages - standing at just five feet tall, this pretty, petite singer songwriter is a big talent, and her classic southern drawl a complete surprise.

With producer Gurf Morlix (Lucinda Williams) at the helm, Heat Sin Water Skin is a beautifully constructed album that trawls the folk, country, gospel and blues Americana heritage and wraps it a warm commercial pop / rock crossover sheen that puts Bettysoo in a very FM radio friendly space.

And there's some gems here - the wonderfully steamy Never Knew No Love and Get Clean, the gentle country laments Forever and Next Big Thing, and the swamp twang of Still Small Voice, to name but a few.

It just goes to prove there are some great unsigned artists out there. And in Bettysoo's case, that's bordering on the criminal. But don't take my word for it, you can check out Heat Sin Water Skin, and her previous releases at www.bettysoo.com. ****
Review by Pete Whalley
GOLDEN RESURRECTION Glory To My King (Liljegren Records)

Christian Liljegren is a busy man. Audiovision in 2010, this project in 2010/11 and a new Divinefire album expected later in the year! Golden Resurrection is different in the sense that this is pure, neoclassical metal, with a more than passing influence of early Yngwie.

Liljegren is in fine form vocally and the songs are soaring, melodic and strong. There's no filler track on the album, which is vital to this album as it only clocks in at 38 minutes with the final track ('My creation') only regarded as a 45 second outro.

While the album is no breakthrough in the power metal genre, those missing the early bombast of Yngwie and Edguy have much to enjoy here. Fans of white metal should be flocking to lay their hands on this release. My only beef with Mr. Liljegren is that his releases are just too short: as one embraces the music, it suddenly stops... ****
Review by Nick van der Meulen
MR MISTER Pull (Little Dume)

Richard Page has finally acquiesced to fans' demands and released 'Pull', Mr. Mister's fourth 'lost' album - 20 years after it was recorded.

The album is vastly different to its predecessors. While 'Welcome to the Real World' put the band on the map with a number of radio hits, the follow up 'Go on...' was far more of a muso album - very moody.
'Pull' takes that feel even further, with an impression of progressive pop/rock flowing through the album. It is still exquisite, though, the music intricate, the vocals moody and the production outstanding.

It's not an easy listen, though, and I'm a bit disappointed with that. While I still feel 'Go on...' is a more complete release, 'Pull' is still worthy of your attention - and your hard-earned money. ****
Review by Nick van der Meulen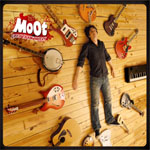 MoOt Life Is Talkin' Misery

It took multi-instrumentalist MoOt 2 years to record and produce new album 'Life Is Talkin' Misery' and that was time well spent. The album contains 13 tracks of - we'll call it shiny guitar pop for the purposes of description- it's upbeat, eccentric in part and packed with tunes that refuse to leave your head for hours.

Besides being well produced the album is also well written, with the songs walking a fine line between the sound of Squeeze and The Beatles' Sgt. Pepper album. 'All The Things She Said', 'Mighty Mighty Dan', 'Julia Ann', 'That Bad Mistake' and 'Closer To You' are the album's obvious highlights- whilst the imaginatively titled 'Rock That Uke' conjures up visions of McFly covering The Beatles.

Following a successful European Tour, initial vinyl pressings of 'Life Is Talkin' Misery' have sold out and a new limited edition containing a live version of The Beatles' 'I Am The Walrus' is planned. MoOt is also planning a number of musical collaborations this summe r- could he be the new Mark Ronson - it's possible? ****
Review by Nikk Gunns
SMOKING BIRD Survivors

Spanish band Smoking Bird has released new CD 'Survivor' and what a hidden gem it is!! The album's artwork features an eagle smoking a cigar and you immediately think Southern Rock- the album may contain touches of this but what you get is so much more. With elements of Aerosmith, The Black Crowes, acoustic Zeppelin and Marc Bolan tinged vocals this 8 track CD is a welcome addition to my record collection.

Highlights include the Aerosmith like 'Four Cats', 'Blowtorch' and the laid back 'What We Really Need Is'. The track 'Arturo, The Lucky Motherfucker' leaves me thinking that I don't know what Arturo did but it must have been worth it!!

Smoking Bird sound like they will be a great band to catch live, we can only hope that the Spanish rock fans let them go long enough that they can venture as far as the UK. In the meantime 'Survivors' is well worth a listen. ****
Review by Nikk Gunns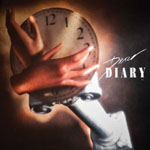 DEAR DIARY Dear Diary (Eonian Records)

Dear Diary were another promising band killed by the tidal wave of grunge. Luckily for fans of the band, and for those of good melodic rock music, Eonian have worked their magic to bring us the band's self-titled album.

The Chicago based band bowed out in the early '90's and if you like Firehouse, Danger Danger, Winger, Warrant and the likes then you will no doubt appreciate Dear Diary's brand of well produced and clean sounding mature melodic rock. With solid harmonies and guitars throughout,
'Dear Diary' has a bit of everything- whether it be the slower 'Dream in Color', acoustic track 'Plain To See' or heavier tracks like 'Tanqueray Train' and 'Slow Down' (the latter with touches of Whitesnake). Other highlights amongst the album's 10 tracks include 'I Want to Know', 'Momma Said' and 'Shiny like the Bubbled Glass'.

With the band ruling out a full reunion and a release of new material, Dear Diary have said that they are open to playing the odd show here and there if it can be worked out - and with this CD now out there you never know. ****
Review by Nikk Gunns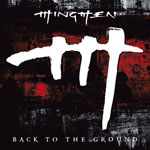 MINGMEN Back To The Ground
Wonderful name, one wonders whether there's an irony lost in translation. Surely not. This French band released their debut in 2006 and 'Back To The Ground' came out in 2009. As soon as the title track kicks in, you are overwhelmed by a high degree of sibilance which overall taints an evidently self-production.
There are some good songs here and chunky metal riffs, and an interesting and no doubt downright sexy French female vocalist called Sway.
The highlights include 'Everytime' with the exotic line "her body's dancing under your mouth" (which sounds even more exotic as a bonus French version) and 'Try To Be Myself'. The latter, especially, showcasing some excellent vocals.
In places like Within Temptation and Lacuna Coil, in others like any number of female-fronted hard rock bands who seek wider success (Hydrogyn, Delain). Whether Mingmen have got that little bit extra remains to be heard, although the band name must give them some added attention. Better production values would have lifted this. ***½
Review by David Randall
MIKE BATT The Hunting Of The Snark CD+DVD (Dramatico)

This musical/rock opera is based on Lewis Carroll's poem of the same name, and the LP was originally released in 1985. It was withdrawn after record label trouble, sinking without much trace. Here it is presented in full, and wonderful if overblown it is.

Narrated by Sir John Gielgud and John Hurt, with the London Symphony Orchestra, the album features characters from the story played by Roger Daltrey, Art Garfunkel, Julian Lennon, Cliff Richard and Captain Sensible.

Each sing lead and chorus/backing in the songs, while the narration is from text taken direct from the original poem.

Highlight of the album is the original version of the classic 'The Snooker Song' (Snooker Loopy), as sung by Sensible. Catchy indeed.

If you like musical/rock opera with lots of 'name' guests, this is a lot of fun, well written too. As a bonus there's an extended booklet and on the DVD a 1987 performance, featuring Batt, Daltrey, Sensible and Hurt alongside Billy Connolly amongst others.
Very enjoyable. ***½
Review by Joe Geesin
JAMES VINCENT McMORROW Early In The Morning

On the back of extensive touring in America, a number 1 success in his native Ireland, and exposure via Grey's Anatomy, Dublin's James McMorrow looks set to be one the names to watch in 2011.
Recorded in an isolated house by the Irish sea, his debut album - Early In The Morning - is an atmospheric set that marries haunting folk and mythic imagery with McMorrow's Irish roots, West-Coast inspired sounds (think, Crosby Stills and Nash as on the exquisite This Old Dark Machine), and his soulful Donny Hathaway influenced vocals.
Never less than an absorbing listen, the album has a fragile beauty that should appeal to those who favour singer songwriters of the style of Ray LaMontagne. ***½
Review by Pete Whalley
TAPE CUTS Tape Pagan Recorder (Jezus Factory) www.jezusfactory.co.uk
Belgian band featuring Rudy Trouve who has been involved in numerous bands including dEUS. This is not an instant listen by any stretch of the imagination. The first song, 'Heavy' catches the listener out with its very quiet start before adding a touch of Radiohead.
The band dip their toes into many musical waters including Krautrock on 'This Red' and bits of experimental jazz on 'Chosen Profession' and 'Exit'. There are some very intense musical passages on here and all make for an album asking for the listener's full attention. ***½
Review by Jason Ritchie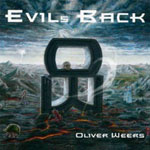 OLIVER WEERS Evil's Back (Metal Heaven)
Oliver Weers is back after his excellent 'Get Ready' album. Weers came to notice in Denmark's 'X-Factor' and his last album featured the rhythm section of Tommy Aldridge and Marco Mendoza. This time he's gone for lesser known names but just as talented especially Morten Hell Born who fair pummels those drums into submission.

One things for sure gone is the melodic rock of the last album and in comes a much more aggressive, metal sound none more so than on the title track and the immense 'Demolition Man'. 'Hero' (with Rebecca Armstrong of Stella Black Rose guesting) is the closet to the catchy, Kiss like rock of the 'Get Ready' album. The album does lack a big ballad although 'Rainbow Star' is a decent enough one and would be good for Ozzy to cover given the Ozzy-like guitar riffs.

Sadly not as good as I was hoping for. It's not so much the metal direction more that the big, sing-a-long choruses seem to have all but disappeared.Not bad but not essential like 'Get Ready' was. ***½
Review by Jason Ritchie
THE MOONBAND Open Space

The album sleeve and PR shots accompanying this 2009 album might have you expecting The Moonband to be some kind of post Hawkwind bunch of weed smoking space cadets.

But unlike the Hawklords, The Moonband deliver no sonic assault. No, something much more subtle a late sixties, hippy style take on Americana from, of all place, München, Germany.

With a laid back acoustic style reminiscent of CSN&Y, and with a focus on acoustic instrumentation, Open Space is a throw back. Some wonderfully tasteful instrumentation accompanied by nasally, Knopfler style, vocals and some excellent female harmony vocals make it a curious mix. It's what the late sixties West Coast scene might have sounded like on a stoned night out had it been steeped in British folk.

There's something timeless, but time bound about the whole affair. And it has an undeniably bewildering charm. One of those albums that really shouldn't work, but against all the odds... ***½
Review by Pete Whalley
KELLY PADRICK Hello My Love
It seems almost strange that Kelly Padrick, an indie pop / electronic artist, should be based in The Big Apple, when her 4th album sounds so firmly rooted in the Sheffield and Leeds bed sitter sound of the 1980s.
Produced by her song writing partner Nancy Hess, Hello My Love is Kelly's 4th album and she's already found some mainstream 'fame' with tracks from her Booklyn Hours ep featuring prominently in ABC's 2010 Desperate Housewives' trailers.
Hello My Love is a relatively short, 31 minute, 10 track set that marries a classic eighties synth sound of The Human League, Heaven 17 and Soft Cell with vocals reminiscent, at times, of Belinda Carlisle and Shakespears Sister's Siobhan Fahey.
For the most part it's a moody, haunting and ethereal set, but it has a dark side. Check out the videos on YouTube for Hello My Love, and Clear and you'll see there are strong sadism and bondage undertones. This means that Ms Padrick isn't the innocent you might, at first, think and that an invite to her boudoir should be treated with extreme caution.
Twenty to thirty years ago it's almost unthinkable that Hello My Love wouldn't have made a major splash. Today, it's harder to tell, and while it's undoubtedly retro it is, I have to admit, rather enjoyable. ***½
Review by Pete Whalley
THE MAHONES The Black Irish

With titles like A Great Night On The Lash, The Shamrock Shore, and any number that mention Whiskey, even before the needle hits the metaphoric groove, you just know that you're in for a large dose of Celtic punk.

The great man himself - Shane McGowan - gets name checked in the set opener which also includes the classic line 'kiss my Irish ass'. And that just about sets the tone for all twelve drinking songs included on this long player from a Dublin based band who - over 20 years - have managed to fuse traditional Irish folk (including a rip roaring version of The Wild Rover) with classic punk.

Sweet Guinness/whiskey infused sweat virtually seeps out of the speakers, and you can imagine The Black Irish being played way into the wee small hours while drinking house furniture is being destroyed by people dancing on tables and being broken over people's heads. Little wonder then, that Paint The Town Red was selected to be featured in the climatic final fight scene in the Mark Wahlberg / Christian Bale film The Fighter.

The pace never lessens for a second and if Lemmy had decided to fuse The Pogues and Motorhead and invite the sadly departed Phil Lynott to join in the crack, then the result wouldn't have been far removed from The Black Irish. Intoxicating. ***½
Review by Pete Whalley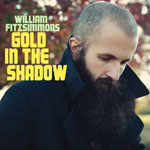 WILLIAM FITZSIMMONS The Gold In The Shadow

On his last album The Sparrow And Crow, former psychotherapist William Fitzsimmons, chronicled the breakup of his marriage, picking up where his previous album Goodnight - the story of his blind parents break-up - had left off.

It was Fitzsimmons' first record made in a proper recording studio and a tale of pain and heartbreak recorded mostly with friends. A stripped back piece of work with every breath and nuance uncomfortably exposed like a raw nerve.

Thankfully, The Gold In The Shadow finds William in a more positive place, the album being 'a real and long - coming confrontation with my personal demons, past mistakes and the spectre of mental illness which has hovered over me for the great majority of my life'. Cripes.

Always willing to meet his issues head on with his music - be it stark acoustic folk or dense electronica, The Gold In The Shadow is a welcome musical departure with William's focus now one of cautious optimism.

The result is an album with a much more upbeat feel (even if William still isn't exactly doing cart wheels). A delicate gossamer of sound, with his whispery vocals well up in the mix, it's a beautiful recording and works best on the up-tempo The Tide Pulls From The Moon and Let The Moon Break, a duet with Leigh Nash. Those who have enjoyed his past releases or who are into the likes of Damien Rice, will not be disappointed. ***
Review by Pete Whalley
AARON WRIGHT Aaron Wright

The debut album from twenty three year old Scottish troubadour Aaron Wright looks set to build on the following he generated from a summer of major festival appearances (Glastonbury, T in the Park, Latitude).

Of mixed Canadian and Scottish parentage, and with a passion for Neil Young, The Beatles and Simon and Garfunkel, his debut album reaches back for inspiration to the early 70's and the likes of McCartney, Nilsson and Ronnie Lane – a period that generated so many greats.

Ably abetted by a mini orchestra of players including Teenage Fanclub's Norman Blake (bass/vocals) and Belle & Sebastian's Steve Jackson (guitar) and Mick Cooke (horns) the set has a the feel good factor that references the spirit and mood of those halcyon days.

Incorporating many of the pop elements of McCartney/ Wings ditties, the set is never less than an easy listen ranging from ballads to Beach Boys style harmonies. As a result it has a warm familiar feel that is likely to appeal to the average Radio 2 listener

That said, there's no obvious 'killer' track that might attract major airplay and with the fickleness of the current download generation, it may take something more to propel Aaron to the next level. But nevertheless, it's a very fine debut. ***
Review by Pete Whalley
LITTLE MISS HIGGINS Across The Plains

A rather niche product, this third studio album from Canadian singer songwriter Jolene Higgins, aka Little Miss Higgins.

Although she grew up playing guitar, Little Miss H now plays mainly guitar, but it's her theatre background that comes to the fore throughout Across The Plains. Essentially, it's a modern take on the roaring twenties flapper style blues/jazz portrayed so successfully in films like Chicago.

But whereas Paloma Faith has taken the vaudeville razzle dazzle and added a big twist of modern day pop sensibility, Little Miss Higgins plays it with a much straighter bat, her country influenced vocals dancing across a musical hall set that's supported by plenty of New Orleans style brass, an upright bass (naturally), and the occasional violin, banjo and mandolin. Not to mention plenty of backing vocals and handclaps.

Recorded on tape, using vintage equipment the whole set has a 'period' feel, and that even extends as far as the album artwork. And for most, that's going to make Across The Plains, a step too far from the mainstream. ***
Review by Pete Whalley
GAY FOR JOHNNY DEPP What Doesn't Kill You Eventually Kills You

Gay For Johnny Depp....yes, you heard that right....released their new album -What Doesn't Kill You, Eventually Kills You' on Valentines Day. It seems kind of inappropriate for an album this fierce and hardcore to be released on such a loved up day but then again, these guys don't exactly follow the rules when it comes to music.

Full of unbelievably raw vocals that cut your ears up a million times over (I'll leave you to decide whether it's in a pleasant way or not), the album is absolutely bonkers and clearly pushes GFJD's sound to the hardcore extremities that few bands have dared to venture into the depths of in the fear that it's impossible to pull off. Hell, even Bring Me The Horizon seem to come across as a bunch of big softies when you compare it with this. Oli Sykes now looks like a big, cuddly teddy bear thanks to you, Gay For Johnny Depp.

-Rod Don't Surf' is borderline lunacy which is sure to make you stare at your music source with the most baffled look plastered on your face. The strengths of this album for me have to be -She Has The Hottest Limp (It's All Noize)' which shows extreme diversity when comparing it to the rest of the album and concluding track -Cum On Feel The Boize' which ends the album on a high.

Some of the umm....eccentric...track names such as -Nine Inch Males (Porn to Hate)' and - No, I'm Married To Jesus. Now Keep Your Fucking Hands Off Of Him' kind of prove that this is certainly not for all audiences out there but if you're a little on the crazy side and enjoy your ears being ripped to shreds then go ahead; give it a go!

A bit hit and miss but as with all music; it depends what tickles your fancy. ***
Review by Abigail Suter
THE GOOD THE BAD From 001 To 017 www.myspace.com/tgtb
Danish trio The Good The Bad mix surf and flamenco, almost like Dick Dale crossed with a Tarantino film soundtrack, and have just released new album 'From 001 to 017'. The album comprises of 17 instrumental tracks, all bar one of which are under 2 minutes 20 in length.

'003' has a certain swagger about it, whilst '004' is Johnny Thunders infused, '005' is crying out for vocals and opens with a riff similar to Hanoi Rocks' 'Taxi Driver'. '008' has a dark and sleazy feel to it, '011' is Shadows like- which, I guess, you would expect from this style of music, and '016' would make a great soundtrack to a 1960's spy series.

With 9 of the album's 17 tracks coming in at under 2 minutes there is an overall feeling of short bursts and that is the problem here - nobody minds the odd instrumental track but a whole album can be a tricky one as there is not a lot to hold your attention for the whole duration. Added to this, the songs are also unavoidably repetitive. That said, there are moments on 'From 001 To 017' that will feature at many of my barbeques this summer. ***
Review by Nikk Gunns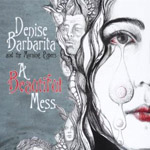 DENISE BARBARITA - A Beautiful Mess

After graduating from Berklee with a degree in production and engineering, Denise Barbarita began to ply her trade in New York. But her own creative urges soon took hold resulting in her debut album, "Beauty Lied" "Chaos & Congeniality" (2005) and "Alive and B-Sides" (2007).
A Beautiful Mess showcases her talents in all areas - as an engineer/producer and as a singer songwriter. Featuring collaborations with world music artist, Francis Mbappe (FM Groove), as well as cameo appearances from guitarist Danny Chavis (Apollo Heights/The Veldt), and guitarist/composer, Michael Hewett, the album also features her new band The Morning Papers.
The problem is, A Beautiful Mess lacks a cohesive direction or feel. Where it hits the highs - as on the excellent single Suckers (a stand out track that finds Denise in rock chick grunge land) and Truth Telling (which is at the opposite end of the spectrum in soulful Des'ree / Gabrielle territory) it's as good as anything around.
And as you might expect, the production is spot on, and it's a multi layered and textured affair, but sadly, for the most part, A Beautiful Mess meanders gently in an almost psychedelic and experimental sort of a way from one genre to the next which will probably be it's downfall in finding wider appeal. ***
Review by Pete Whalley

BETHIA BEADMAN Made Of Love

With a degree from Cambridge in Sanskrit, Indian Studies and Theology, and a musical CV that includes playing in West Country pubs, appearing on the bandstand bill at Glastonbury, being in Courtney Love's band, singing at the Basilica and supporting Pete Doherty, it's been a rollercoaster ride to the release of her debut album for Bethia Beadman.

Made Of Love finds her treading that fine tightrope between beauty and madness navigated so successfully by the likes of PJ Harvey and Bat For Lashes. One moment splendour and loveliness, the next paranoia and insanity. Perhaps not as extreme as PJ Harvey and not as commercial as Bat For Lashes, but there's an undoubted charm to Made Of Love that demands repeated listening. Intriguing. ***
Review by Pete Whalley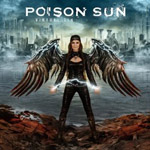 POISON SUN Virtual Sin (Metal Heaven)

Poison Sun is the band put together by Accept guitarist Herman Frank and wife Martina. Debut album 'Virtual Sin' is a powerful Euro metal affair with female vocals that are reminiscent in part of latter day Doro Pesch and maybe Girlschool at times- however, on opening track 'Voodoo' think an edgier Vixen...then times that by 5.

Music wise the album is solid throughout, however, the vocals can appear a little drowned by this at times and in the case of tracks like 'Hitman' and 'Rider In The Storm' they can appear a little mumbled in the mix.
The album's title track 'Virtual Sin' reminds me, musically, of late '80's W.A.S.P and this track, along with 'Princess', the slow but heavy 'Forever' and a cover of The Pointer Sisters' 'Excited'- which works surprisingly well- form the album's highlights.

Hopefully Poison Sun will follow 'Virtual Sin' up with an extension of what they have created here- albeit it with a stronger vocal mix for Mrs Frank. ***
Review by Nikk Gunns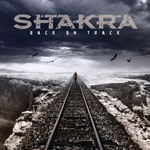 SHAKRA Back On Track (AFM Records)

The band's first album with new vocalist John Prakesh, he replaces Mark Fox, who had been with the band since 2001. This is the band's eight studio album and they must be hoping it is the one that breaks them into the next league and the success enjoyed by fellow Swiss hard rockers Gotthard.
Sadly though Shakra lack the strong tunes that Gotthard have plus they don't have the knack for penning memorable ballads. Although to be fair 'Lonesomeness' is a decent enough ballad.

It's not all bad as 'MMTWGR' takes the band into melodic metal territory and the closing song 'Stronger Than Ever' is the best on the album. It has a catchy chorus and would have given Def Leppard and co. a run for their money back in the day. John Prakesh seems more at ease with the uptempo songs.

I have listened to the album many times and tried to like it but overall the music doesn't do much for me I am afraid and there are much better albums out there worthy of your attention. ***
Review by Jason Ritchie
LICK AND A PROMISE Come Together In The Morning
There's a weighty clue in the title to the inspirations for this album by Frankfurt, Germany based Lick And A Promise. Perhaps best known as a Free number, Come Together In The Morning, it's a record rooted in the late sixties / early seventies.
And you'd from their sound, you'd never guess their German heritage - any number of listens would place them either in the UK or Stateside.
Originally formed in 2005, and with a debut album released in 2006, the band have since had a couple of line up changes with just vocalist Jochen W Thomas, and Guitarist Manuel Elsesser remaining, and with Volker 'Wolfman' Thoma (bass / organ) and Ulli 'Dag' Bieber joining in 2009.
So Come Together..., which is set to be toured on the US West Coast and Germany, is something of a fresh start. And it turns out to be something of a strange brew from a band who would be ideal as a cruise liner 'house band'.
With an anodyne pastiche of early Bowie, Orbison, The Beatles, CSN&Y, The Stones, The Eagles, and acoustic Zeppelin, you get the impression these guys could easily pull off a tribute set to any of the aforementioned. Every number is immaculately played and sung. Faultless.
But in every song you hear haunting echoes of that golden age. That's no bad thing, but it's hardly original either. But if you're stuck in a time warp, Lick And A Promise may be just what you're looking for. ***
Review by Pete Whalley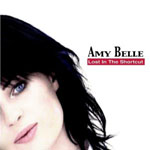 AMY BELLE Lost In The Short Cut

It's been a rollercoaster ride for Amy Belle to get her debut album released - from busking the streets of Glasgow, to the Albert Hall, LA and back again. And being picked from 18 hopefuls to be part of The Alice Band, a decent short lived girl band in the early 2000's that scored three top 40 hits, was a good start.

But things really went stratospheric 5 years ago when Rod Stewart spotted Amy busking and whisked her off to the Albert Hall to duet on I Don't Want To Talk About It. The performance was aired by the BBC and captured on DVD. As a result, Amy found herself with a Sony record deal working in LA with some of the best songwriters and producers in the industry.

But sadly it all came to nothing and Amy headed back to Glasgow and onwards to London where she's finally put this debut album of eleven songs together. And was it worth the wait? Well, it's a very radio friendly collection, and if I had to draw comparisons it would be to the likes of Sheena Easton, Emma Bunton, or perhaps most closely to the work of Natalie Imbruglia. In other words, it's pleasant pop for grown ups.

Oh, and there's an obligatory cover of I Don't Want To Talk About It. Naturally. ***
Review by Pete Whalley
SBB Blue Trance (Metal Mind Records)

By all accounts SBB are legendary in their native Poland, formed in 1971, this 3-peice band deliver jazz infused electronic prog rock with Purplesque overtones. New album 'Blue Trance' mixes Polish lyrics on some tracks with English on others, although sung with a heavy accent.
The music is bang on though, and there are a number on instrumentals amongst the album's 11 tracks - opening track 'Etiuda Trance', 'Karida Beach' and the dark and moody album closer 'Coda Trance' are all examples worth a listen.

Of the other tracks on the album, those which stand out are 'Red Joe', 'Doliny Strumieni' (the first section of which reminds me of something else, I just can't put my finger on it!!) and title track 'Blue Trance '- which is a heavier rock track which has a different feel to the rest of the album.

A limited edition digipack version of 'Blue Trance' will be available with 2 bonus tracks. **½
Review by Nikk Gunns
BLACK EYED BETTY This Is What Rock & Roll Is About

In one way, this 2007 debut release is what rock & roll is about, and in another it isn't.

Essentially a hard rocking 3 piece from Ohio that riff in the classic style of Sabbath, but topped with the 'classic rock' style female vocals of Amee Belwanzo, this album could have been so much more.

Fundamentally there's a decent album lurking beneath the surface, and in Amee there's a potentially dynamite front woman. There's times when her vocals lapse into melodic Martha Davies territory which, with the hard rock backing, could be a winning combination.

The problem is the quality control. Or more precisely the lack of any. Whether deliberate or not, the album sounds as if the band set up in someone's bedroom, plugged in a single mic tape recorder, and recorded the set in one 'live' take.

As a result the sound is raw, unpolished and murky. Now all great rock bands may have started out this way, but in these days it just isn't good enough. But in the hands a decent producer Black Eyed Betty could become a force to be reckoned with. **
Review by Pete Whalley

THE UNCOMMON HOUSEFLIES Excremental Weather (Maggot Records)

The product of father and son team Kevin and Scott Gibson The Uncommon Houseflies have released 2nd album 'Excremental Weather'- a mixture of pop, punk, alternative rock and country sounds all bound together by 11 tongue in cheek songs.
That is where it is a shame as there is no doubt that the band can play, write a decent tune and there is a clear sense of fun involved here, however, they do lean too heavily on the comedy value of the material.

The liner notes to the CD give a brief, and often amusing, insight into the story of each track and there are some great moments here- as there are on the album itself- it's just that it does run a bit thin after a few songs.
That said 'Supermarket Sushi' (Alt Country meets Neil Young style), the 50's style 'Pink Party Vomit', 'Zombie Girl' (which is almost sounds like Elvis trying to pull off 'Blisters In The Sun') and the country stomp of 'Idiot's In Love' are all worth a listen.

The Uncommon Houseflies would probably be great on a drunken night out down the pub - and it is here that they will no doubt manage to off-load a large number of copies of 'Excremental Weather'. *½
Review by Nikk Gunns
LEBOWSKI Cinematic

Dammit. Dammit. Dammit. Just when I thought that Polish progressive rock could do no wrong, with the likes of Riverside, Believe, Quidam and Pinkroom in the vanguard of all things prog-lovely, along come Lebowski to somewhat piss on my chips.

It's not that the band can't play, it's obvious from the outset that they are excellent musicians; it's not the fact that it's an almost exclusively instrumental album - there have been many outrageously fine non-vox albums; it's not even that it's a concept album (of sorts) - I could live with that.
It's just that the tracks on offer here are a series of one-dimensional muso noodlings, that infuse the listener with a form of soporific torpor. You could imagine the band in the studio nodding and smiling in that knowing, superior way, as they try to out-noodle each other ad-nauseum with apparently no concern for either quality control or the attention of the listener.

Basically, the title says it all. Sub-titled 'Music To A Non-Existent Movie', what you have is ten tracks, none of which clocks in at less than five minutes, which blend one into the other with virtually no change of pace or style. Titles such as Old British Spy Movie, Aperitif For Breakfast, Spiritual Machine and Iceland are meant to infuse the music with intrigue and suspense, but it is what it is, basically a film score to watching paint dry, which even the inclusion of snippets of film-noir dialogue can't alleviate.

All this is so sad, as the album gets off to a reasonable start with 'Trip To Doha' and '137 Sec.', both of which are listenable pieces, both of which are infused with middle eastern rhythms and both of which suggest interesting things to come. Unfortunately, from there onwards, I was only able to stay awake by stabbing a compass into my thigh at regular intervals.

Definitely music for the floatation-tank set.

*

Review by Alan Jones


---
| | |
| --- | --- |
| | Print this page in printer-friendly format |
| | Tell a friend about this page |