We've listed albums in order of star rating. Best first.
Reviews by Joe Geesin and Pete Whalley
SICK PUPPIES Tri-polar (album sampler)

Listening to Sick Puppies debut UK single All The Same - a gentle acoustic based affair which ratchets up as the song progresses - we concluded that 'success beckons'. And this 5 track sampler, including the aforementioned track, does nothing to dispel that notion.

That particular number has, however, already been recycled a number of times (it stem's from the Aussie three piece's first major label album Dressed Up For Life (2007) and has already had US success following a You Tube/Free Hugs campaign 'down under' that received 63 million hits. It looks set to do 'the business' again here.

Having tasted a US breakthrough with their 2009 third album Tri-polar (and some clever placement in the games and movie markets) the band now have their cross hairs set on the UK.

A sell out at Camden Barfly was a first step, but Sick Puppies are aiming higher with a new UK version of Tri-polar (including All The Same). And with a bag of pacey radio friendly rock tunes that would comfortably share a stage with the likes of Nickelback, world domination may only be around the next corner. Contagious as a dose of the flu. ***½
Review by Pete Whalley
MALCOLM HOLCOMBE To Drink The Rain

Lucinda Williams proclaimed Malcolm Holcombe to be 'an old soul and modern day blues poet'. And who are we to argue? Falling somewhere between country, folk and the blues and with his southern smoked vocals, Malcolm could easily be Seasick Steve's long lost country cousin.

Produced by his long time side kick Jared Tyler (who also contributes dobro), To Drink The Rain was recorded over three days in Austin, Texas with a superb cast of Texas and Nashville supporting players including Dave Roe on upright bass (Dave played in Johnny Cash's last band), fiddler Luke Bulla, and drummer Bobby Kallus.

And Johnny Cash, and in particular his American Recordings with Rick Rubin, are a really good reference point for the 'feel' of To Drink The Rain. Holcombe's 'man in black' gritty drawl rightly dominates proceedings, but are unpinned by some wonderfully understated fiddle and dobro playing.

The twelve tracks here that make up To Drink To The Rain are all authentic one-take performances that ooze authentic Americana. ***½
Review by Pete Whalley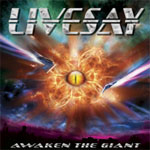 LIVESAY Awaken The Giant www.myspace.com/livesayrox
Progressive metal from New York, centred around the talents of guitarist Greg Livesay.

A long instrumental into builds well into the title track, which is full of high speed shred that flows smoothly and melodically, think Malmsteen combined with Uli Jon Roth. Some fine metal here.

'The Burning Times' is a monster prog metal track that mixes rhythms, solos and riffs, which doesnít run quite as smoothly as the opener, but the keyboards and guitar interplay well.
There is an element of Rush in there too. 'Aphasia' is an instrumental which a Maiden like bass line and more Malmsteen guitar

Some solid prog metal where the keyboards seer as much as the guitar, and the vocals are strong too.

This 8 track album finishes with the 12 minute 'The Agonist', which has pretty much everything, a progressive metal journey in its own right.

Some excellent touches, although the shred is a little over powering at times. Prog metal fans will love. ***½

Review by Joe Geesin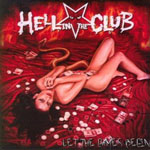 HELL IN THE CLUB Let The Games Begin (Avenue of Allies)
www.hellintheclub.com / www.myspace.com/hellintheclub
Italian metal band formed by members of Secret Sphere and Elevenking.

This is uptempo mainstream trad metal with a lot of rockíníroll thrown in, giving a strong hint of 80s glam / sleaze.
The songs are as punchy as they are raunchy, with the riffs and vocals coming at you hard and fast. Openers 'Never Turn My Back' and 'Rock Down This Place' nod back to the likes of LA Guns; think Hanoi Rocks or Ratt on speed. The latter also features some neat shred guitar.

'On The Road' is more melodic, with a hint of big haired power ballad, then itís straight into 'Natural Born Rockers' which is glam metal played at thrash speed. 'Another Saturday Night' is a real stomper too, with a touch of Elton John gone metal.

Yes there are a lot of 80s clichťs here, but they are all pumped up, turned up to 11 and played at 78. Sleazy rockíníroll played with power. ***½
Review by Joe Geesin
MIKE MARLIN Nearly Man

Already picked as part of HMV's Next Big Thing, and with European tours scheduled, it looks like Mike Marlin could be 'one to watch' in 2011.

Growing up in the Sixties and inspired by the post punk pop of Costello and Weller, dropping out in search of the rock 'n' roll lifestyle was the easy option for Mike. It might have been a path to fame and fortune. The reality was, a bass slot in a number of bands who never made it.

But Mike never wanted to ply second fiddle and, 25 years on, Nearly Man sees him, supported by his band The Whethermen, making an assault on the summit. And a very fine effort it is to.

Nearly Man is steeped in the pop sensibilities of Bowie's blue eyed soul to Berlin period and the more recent singer songwriter output of Damien Gough / Badly Drawn Boy. That's a fairly potent combination, with Mike's vocals flitting between Bowie, Gough, Iggy Pop and Lou Reed.

And those classic vocals strains are underpinned by a terrific bunch of songs written over the last 18 months and produced by James Durrant. It resonates with nostalgia, but nevertheless manages to sound remarkably current. Definitely one to watch. ***½
Review by Pete Whalley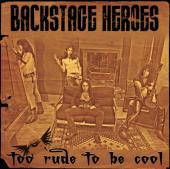 BACKSTAGE HEROES Too Rude To Be Cool
www.myspace.com/backstageheroes
With their roots firmly in post US Punk, this album is sleazy, bluesy rockíníroll with influences of the likes of Aerosmith, Motley Crue, GíníR and AC/DC. Opening track 'One Way' is rough, heavy and strong. They have the kind of tight roughness on record that most smooth bands have on stage.
The rockíníroll is loud and enjoyable, and stand out 'I Joke(he)r', which starts in country blues style, builds to some blistering and heavy slide guitar, the kind youíd hear from early 70s Nazareth.

'Reborn' is more of a punk tinged hard rock song which provides a good contrast to the above, A very good guitar solo too.

Hot, sweaty, gritty and a little shouty at times. Definitely worth a listen. ***½
Review by Joe Geesin
THE WOLVES Turn Up The Volume
http://www.myspace.com/thewolvesrocknroll
The first thing that strikes you about this album is the artist shot of the rather pretty (and topless) young lady on the front cover.

The opening track kicks off with the kind of crash bank wallop that Motorhead finish songs with, and that's a fair description to the kind of heavy and fast rock'n'roll this band play.
Hard rock, fast metal, as smooth as a dirt track driven at speed, yes this is rock'n'roll of the Lemmy variety.
That opening track does feature, it is worth mentioning, an intricate and decent riff and solo that is well worth a listen. Likewise third track 'I Don't Wanna' has that Motorhead feel on the surface but does have a more than decent riff.

As for the rhythms, think rock'n'roll a la Stray Cats only beef up 100fold.

Cement mixer rock'n'roll, heavy as hell and more variety than the last 15 years of Motorhead.

Ear plugs at the ready and enjoy. ***½
Review by Joe Geesin
PAT DAM SMYTH The Great Divide

The album artwork's darkened, head on, face shot is highly reminiscent of Roy Harper in the seventies. Pat also bears a passing resemblance to 10cc's Kevin Godley, although that could just be the big hair and bushy beard.

You may think this irrelevant, but it sort of pins down the inspirational period for this debut album from Belfast singer songwriter Pat Dam Smyth. With acknowledged influences in Dennis Wilson, Will Oldham, Elliott Smith and The Kinks it harks back to the song writing style of the Beatles experimental phase and the psychedelic Pink Floyd era. In that sense, it's timeless, but at the same time locked into a particular niche in time.

While Pat writes, sings and plays guitars, piano, bass, organ and bazuki, the album was only possible with a little help from his friends in the shape of Joe McGurgan (double bass), Mike Mormecha (drums) and a small supporting cast adding strings, brass, and even a girls choir element (on the Beach Boys homage Slip John).

While lyrically, it's a melancholy set exploring the death of a parent, lost love and mental illness, in musical terms The Great Divide is probably most closely related to the likes of The Bonzo Dog Doo-Dah Band. ***
Review by Pete Whalley
ROSS ROYCE www.rossroyce.com
Not the 70's disco band as I first thought when misreading the band's name but instead a New Zealand band, now based in Australia. They play a mix of many styles from the trippy, harmony vocal filled ĎTurn U On' through to the electro samples on the pop rocker ĎMrs Vain'. A hint of Supergrass on the chorus of ĎGood Year', whilst ĎGet It Together' tips it's hat to Primal Scream.

Not a bad little album containing a handful of very strong tunes but one too many fillers to make it essential plus who the heck wants a drum solo as a hidden bonus track? ***
Review by Jason Ritchie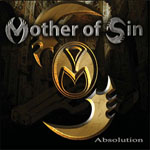 MOTHER OF SIN Absolution www.motherofsin.com
Dutch power metal band who have made this album available independently due to contractual problems, download across several sites and physically from their own website.

This is very melodic, probably more so than the likes of Freedom Call, but still with the same blistering solos and drumming, but it does have a slight prog metal angle.

The album opens in majestic fashion, blistering guitar, sweeping keyboards, interspersed with quieter moments which, although good, make it sound a little disjointed.

At times the guitars can be quite rough, almost like there are now keys at all, while 'Higher Ground' is more atmospheric, not far off being a ballad. 'Soul Searching' is heavier and offers a nod to Iron Maiden.

Some good stuff, following the current trend for decent melodic power metal. ***
Review by Joe Geesin

ENCORE Out The Window (Thundercage Records)
www.myspace.com/encorerocks
When a band features two young members it is easy to dismiss them. Think Hanson (but letís face it, they deserved it). But this band are different. 15 year old Riley Beaire plays a mean guitar and produces strong and heavy solos. Sleazy hard rock, think Rose Tattoo without the slide guitar. Or if Motley Crew actually learnt to rock.
But even more impressive is the vocals from 11 year old Chase Beaire. While he may be a way off his potential prime (and a few years too), he still packs more power and range than some 2 or 3 times his age. Impressive indeed. The band are completed by bassist Paris Stewart, with additional drums form Scott Cain.

The rhythms are basic, but strong. The music isnít that intricate, but it is solid rockíníroll with honesty and talent that does strike you. 'Born To Rock' does nod to Led Zeppelin.

Def worth checking out. ***
Review by Joe Geesin
THE DUDES TERRIFIC TDTII (Goldenboy Records)
www.myspace.com/thedudesterrific
Second album from this young band which is largely RockíníRoll, but has some country, southern rock and AOR influences. I know that makes it sound a little MOR (Middle of the Road), and in many ways it does have that feel, it is very easy to listen to.

Opener 'Crushed' is kinda catchy and is at the crunchy rockíníroll end of AOR; not as polished as the 80s FM material, more the AOR of the reformation Skynyrd.

'Just Tonight' opens with a solid riff that nods to 50s rockíníroll, while the opening bars to 'Covering Tracks' are pure Boston, although the track moves in a much dirtier and ballad end of rockíníroll direction.
Later on there are some big keyboards, giving a full sound, and some blistering guitar too. Things do pick up, but overall it is MOR rockíníroll. ***
Review by Joe Geesin

THE RAGGIES Taco Wagon
www.myspace.com/theraggies / www.theraggies.com

With a vague spine of classic rock, this New Mexico band do good business on both sides of the Mexican border and mix southern rock, blues, bluegrass and Americana.

The title track opens with a soft yet fuzzy bass riff which is kinda catchy yet repetitive. Features some harp and some decent guitar work though. 'Stone Truckiní Again' is uptempo and much more hillbilly. Itís a serious nod to what youíd find in Oh Brother Where Art Thou.
To other tracks there is a psychedelic blues jam feel, which one reviewer has compared to CCR on meth. Thereís too much Americana to compare to Cream but itís heading that way.

'Club Erotica' features some strong female vocals reminiscent of Baby Jean, and like much of the album the strong harmonica adds a good dimension, it adds soul and balls to what could largely be described as a regional sound from a regional band.

Some moments a lot stronger than others. ***
Review by Joe Geesin

HION MARTELL Will Cure Any Disease
www.hionmartell.com
www.myspace.com/hionmartell
Swedish band whose name (and album title) a nod to the Cognac Martell, and bluesy boozy feel from the outset, with influences from the likes of Rolling Stones, Lynyrd Skynyrd and JJ Cale.

'Built Like A Boxer' mixes some neat organ work with some dirty bluesy guitar, while 'Fed Up' has a party blues feel, uplifting with more than a hint of Status Quo. Contrast that with 'Wasting Time', which nods to AC/DC (with cleaner vocals) and The Quireboys. A couple of the later tracks are more mainstream mid American rock, but 'Any Disease' stands out with its driving rhythm and a big sound.

Some fine blues rock ranging from boogie to MOR and back again. A full on American sound, not what youíd expect from Sweden but worth checking out. ***
Review by Joe Geesin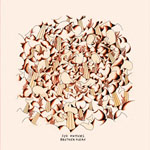 SYD MATTERS Brotherocean
I was rather impressed by the lead single taken off this album from a French five piece, fronted by the man himself (whose name is allegedly taken from Syd Barrat and a variation of [Roger] Waters). Hi Life, the aforementioned track is a rather splendid little ditty opening with Kate Bush style piano and percussion before moving into a gentle vocal / acoustic piece with subtle hints of early Genesis, Beach Boys and Paul Simon.
Unfortunately it appears to be the high point of Brotherocean, an album that is predominantly folk based, ranging from Tyrannosaurus Rex noodlings to more progressive acoustic meanderings fills of the likes of early Genesis and Crimson.
Now that, you might think, is a good thing, and it would be except for the rather flat vocal delivery and a dearth of hooks to pull you into the undertow. If you're feeling down and looking for music to lift your spirits, this most likely isn't it. **½
Review by Pete Whalley

RETRO NOVA Retro Nova www.myspace.com/retronovarock
Little bit of Retro PR here, as this album was released in May 2009. And the line-up on the press release doesn't match the album either (???)

Originally called Bandit and part of the Long Island scene playing covers (some 20 years ago), the band now play their own material.

The sound is 70s oriented, ranging from the rock'n'roll of The Rolling Stones and Doobie Brothers in 'Raincheck' and Boston and Journey in 'Star'. There's a touch of Nazareth in 'Never Again'.

The album is full of rich melodies, a mix of rock'n'roll and AOR in the feel, and the odd decent guitar solo too.

The blend of twin guitars and a keyboard works well, giving a full sound.

All the ingredients are right, often coming together very well, but somehow some tracks just don't work, often sounding disjointed. As for the sickly sweet ballad 'Time For Love', this is just chintzy.

With the application of some quality control, this could have turned out rather well. **½
Review by Joe Geesin

DEAD ROCK WEST Bright Morning Stars

Dead Rock West is the vehicle by which LA based Frank Lee Drennen (vocals, harmonica and mandolin) and Cindy Wasserman (vocals) pursue their love of Americana.

And Bright Morning Stars, their second album is more authentic and most, shunning some of the more commercial elements that have seen such a surge of interest in the genre in recent years.

Instead they've delved deep into the American songbook (although not exclusively as they include a Jesus and Mary Chain cover) to bring together a collection of eleven faith based songs including those of Blind Willie Johnson and the Staple Singers.

They've then wrapped them in a gossamer of gospel, country, blues and played old style, but on modern instruments. It's the sort of project you might find Jack Black dabbling in.

Probably not for those who like a modern take on Americana, but worth exploring by those who seek something a little more authentic. **½
Review by Pete Whalley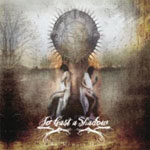 TO CAST A SHADOW In Memory Of (Kolony Records)

Some pretty extreme and heavy doom metal here on TCASís 2nd album, with some old school influences apparently (Iím sure I can hear that 1969 cement mixer in there somewhere).
A dark intro builds into some crashing riffs, doomy, distorted, chugging and loud enough to make your ears bleed. The noisy growl/scream vocals are punctuated by some gothic female vocals, and despite the time changes and bursts of melodic guitar, itís all pretty much noise.

Some of the chord changes on 'Morose' sit somewhere between original/interesting and disjointed/grating. The female vocals are rather good, as are the Maiden-like guitar and time changes, but much is lost in the forest of doom.

Apparently influences include Type O Negative, Black Sabbath and Tool, and is for fans of My Dying Bride and Paradise Lost. Iíll leave that up to those who can make sense of this, for sadly I cannot. **½
Review by Joe Geesin
THE ZONE Rock This Machine! www.myspace.com/thezone1
The Zone are a three-piece from London. There is nothing intrinsically wrong with this CD, but the band do need some better production and direction.
The overall style is heavy rock with a proggy feel in places evoking seventies bands like Stray but there is little evidence of that bandís song-writing panache or robustness. Itís just good solid stuff that would probably go down well in the back of a pub, but that I am sure is not the place The Zone want to be.
In truth they donít do themselves any favours with this album, if more thought had gone into the arrangements - notwithstanding they are a trio - with layering and a bit more beef - it could have been a completely different proposition.
Only on the last track, the 7 minute 'Perfect Dream', do the band allow themselves a bit of prog-infused indulgence (a la Hackett or Camel) and, frankly, it's all the better for it if a tad bit thin.
Overall - like many bands of their ilk - they sell themselves short. And, finally, there is no real USP; just solid songs and playing but nothing that really marks them out from a million artisans ploughing a similar furrow. **½
Review by David Randall


TOM TOM CLUB Genius Of Live

A wooden stake or a silver bullet are rumoured to give a vampire an eternity of peace. If only there were such an artifact that could save mankind from the ravages of the Tom Tom Club.

Originally formed as a side project by Talking Heads rhythm section of Tina Weymouth and Chris Frantz in 1981, the band struck a massive chord on the dance and club scenes (cultures that at GRTR! we keep at bay with silver crucifixes) and in particular with the single Genius Of Love.

And although that track reached only #31 and #65 in the US and UK mainstream charts it's become something of a club / dance classic and gone on to be one of the most sampled rhythm tracks of the 80s, spawning countless rap, hip-hop, and r&b numbers (note to editor - order extra garlic cloves, please).

What you get on this release is a pair of strange bedfellows - a CD featuring select tracks from their 2001 'Live At The Clubhouse' album recorded in front of 50 invited guests at their home studio, and a bonus CD of 11 new remixes of Genius Of Love.

Personally, I'd rather have my blood drained or even be forced to listen to The Birdy Song for all eternity. But if you're a rap, hip-hop, and R&B fan, then ... (and what the hell are you doing on the GRTR! site?).**

Review by Pete Whalley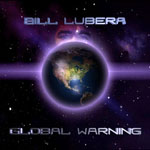 BILL LUBERA Global Warning
Instrumental guitar music is probably one of the hardest genres, in terms of bringing something genuinely fresh to the table. Much of it will have been done before and it's only the player's musical ability, taste and technique that often makes the difference.
Bill Lubera is a student of neo-classical shredder George Bellas and is a competent technician. And therein lies the problem: he's a technician, there's little emotion here, no pull for the listener and Ė sadly Ė like many similar albums it unravels as a series of technical exercises without actually stirring or fully engaging the listener.
Press quotes that Lubera is 'a master of the art' and that his guitar mastery is 'brilliant, creative and deeply emotional' are evidently obtained from reviewers with a hearing problem.
Often, with this sort of album, it's the tunes that save the day even if there's a surfeit of neo-classical metallic widdle. But, again, Lubera's compositions are lacklustre. This is very much a self-production, with all instruments programmed by Lubera and Bellas and whilst credit should be given for that it seems to me far too robotic. A more stylish player might get away with this. Not Lubera, sadly.
This is a themed CD with track titles ranging from 'Blizzard' to 'Silver Lining'. The most appropriate is 'Evacuation' and after listening to this album you will want to do just that. Starting with your bowels. **
Review by David Randall



---
| | |
| --- | --- |
| | Print this page in printer-friendly format |
| | Tell a friend about this page |