PAVLOV'S DOG Echo & Boo Rockville Music EAN/RV-PD008 (2011)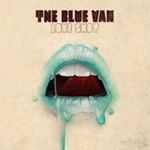 'Echo & Boo' (subtitled, 'The Adventures of Echo & Boo and Assorted Small Tails'), is a step back in time for a band who haven't really been in existence over 30 years and to a pre 9/11 era where optimism made all things seem possible.
Pavlov's Dog, the band founded in 1973 by extant members David Surkamp (he of the incredible vibrato) and drummer Mike Safron, suddenly remerge with an album full of poetic imagery, 70's sounding instrumentalism and Surkamp's unique voice.
Once described as 'Trembling, quivering and unearthly, impossibly high-pitched yet substantial' David returns a little hoarser, a trifle weathered and beaten, but still hugely resonant and with his unique ability to bring to life poetic lyrics, moods and feelings and in the case of the title track, children's fairy tales.
And while back in the early 70's the band signed to a major American label, it was Britain's Bob Harris who first exposed Surkamp's incredible vocal range to an unsuspecting hippy rock TV audience in the UK.
Critical acclaim followed for their first two albums, 'Pampered Menial' and 'At The Sound of the Bell', as a high profile roster of prog rockers recorded with the band. And yet little over three years later their recording deal was cancelled and the band eventually withered.
So what are we to make of the new album? In the past Surkamp mentioned The Fairports and Roger Chapman and Family as influences (Chappo's vibrato was certainly a powerful if not as weird as this), but on the evidence of 'Echo & Boo' Surkamp may as well have added The Strawbs and Dave Cousins's vocals in particular and Genesis's music in general. There's also a familiar marked crossover from Folk and Rock to Prog and an eclectic musical mix well suited to the vivid emotive imagery of some heartfelt lyrics.
The opening 'Angeline' most clearly evokes The Strawbs, with a tip of the hat to the leathery croaks of Marianne Faithful. On 'Angel's Twilight Jump', Surkamp's vocals are out on their own as he wrings every last emotional nuance from the lyrics, via elongated vowels and an extended falsetto alongside an imposing choral accompaniment. Sadly violinist Richard Nadler (aka Siegfried Carver) is no longer with us, but Abbie Hainz effortlessly steps into the breach with a mix of tremulous and expansive violin parts that often mirror the Surkamp emotional intent.
The contemporary version of Pavlov's Dog may never have shaken off the era from whence they came especially with lyrics full of lost idealism, fairy tales, and love stories. But on the poignant mini-suite 'The Death of North American Industry', they have in part updated their style while retaining their unique ability to cushioning Surkamp's voice in an acoustic, prog rock sweep, comprising mellotrons, violins, horns, percussion and piano.
There's also an apparent autographical reference in 'Angeline';
'Angeline sings, I heard you were dead. Singing your songs somewhere cross the ocean. Joined the dead poets, where you knew that you always belonged. I replied in a whisper, 'I'm still quite alive'. Writing my songs in perpetual motion'.
Happily for us all Surkamp's apparent demise was merely a rumour. He slips into some close to the mic whispered vocals on the title track, a children's fantasy full of 'warlocks and wizards', before the song explodes dramatically with some 'in the moment' lyrics.
The short suite turns out to be a conceptual triumph over substance as two melotron induced atmospheric link pieces bind together a brief but poignant arrangement of the traditional Gold Rush song 'Oh Susannah' and the best track of all, 'Ava Gardner's Bust', on which David saves his shrillest phrasing for some doomy lyrics.
At times only the delicately musical embellishments offer a reprieve from some despairing lyrics on songs like 'We All Die Alone'. In this case there's a sitar like drone with acoustic, violin and mellotron accompaniment, but as ever you are caught up in the majesty of Surkamp's voice.
Where Tiny Tim, offered light entertainment, Klaus Nomi spectacle and Roger Chapman bluster, David Surkamp uses his voice primarily for feel, mood and emotion. In effect his voice carries on where the lyrics stop. As a result Pavlov's Dog isn't necessarily an easy ride, but suffice it to say the lyrics are full of imagery and the music is emotionally wrought, leaving David Surkamp to take the band into other worldly climbs.
The world in 2011 may be a darker place than back in the mid 70's but Pavlov's Dog are back to bring us their own idiosyncratic take on things real and imagined.
****½
Review by Pete Feenstra
---
| | |
| --- | --- |
| | Print this page in printer-friendly format |
| | |