NIGHT RANGER Somewhere In California Frontiers (2011)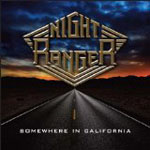 Night Ranger are back with a follow-up to 2007's 'Hole In The Sun'. Since then the band have parted ways with guitarist Jeff Watson and Michael Lardie has returned to Great White. In their place come guitarist Joel Hoekstra (who has toured with the Trans-Siberian Orchestra and performs in the Broadway musical 'Rock Of Ages' house band) and keyboards player Eric Levy.
Whereas 'Hole In The Sun' saw the band head off into a more modern rock route this new album is the one Night Ranger fans have been waiting for since 'Man In Motion' back in the late 80's. The album ticks all the band's strengths - the vocal harmonies, dual lead guitar solos, catchy hook filled rockers and the odd ballad for some variety.
Opening up with the semi-autobiographical 'Growin' Up In California' the album hits the ground running. Tasty guitar solos and a hard rock sound make this a perfect choice for a lead track for airplay. Mind you song of the album is 'Bye Bye Baby (Not Tonight)', an anthem to sit also their classics like '(You Can Still) Rock In America' and 'Interstate Love Affair'.
The chorus harmonies are all that is great about melodic rock and is one to blast out on a summer's day. 'Rock 'N' Roll Tonite' does what it says on the tin and I am sure has been written with a view to opening future live shows with this song. Joel Hoekstra provides a perfect foil for Brad Gillis in the duel of guitar solos and Eric Levy certainly has his keys/piano parts featured more in the mix than on the band's last album.
'Say It With Love' as the title suggests sees the band slip into ballad mode. Lacking the big production of say 'Sister Christian', it is one of their strongest ballads since the 80's. 'Live For Today' is the other stand out ballad, further reinforcing the vocal skills of the band.
The feel of the whole album is one of a band having fun and really enjoying their music again, regardless of trends and focussing on what made them so popular in the first place. Without a doubt the band's best album since 'Man In Motion' proving that these classic bands (Night Ranger formed back in the early 80's) still have a lot to offer when they rediscover their mojo.
****
Review by Jason Ritchie
---
| | |
| --- | --- |
| | Print this page in printer-friendly format |
| | |