MYLAND Light Of A New Day Point Music (2011)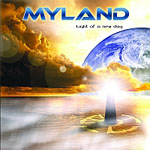 There are so many melodic rock bands out there vying for attention, not least those coming out of Scandinavia, and why should Myland be any different?
Well, they're from Italy, that other perhaps less obvious haven of melodic rock and three albums in this is as good a blast of the melodic hard rock genre as you're likely to hear this year.
An absolutely wonderful production by Marco Barusso (Lacuna Coil, Cradle of Filth), you can hear and feel every instrument, which gives this album a head and shoulders start over similar offerings. Just listen to 'Love Hurts So Bad'.
There are nods to bands like Journey and Toto ('Flying Higher'), as you might expect, but Myland manage to avoid the more insipid side of those melodic behemoths. And underneath it all is a seam of solid, commercial songwriting.
From end to end it's almost all consistently urgent and catchy with excellent musicianship, notably David I's keys and recent recruit Franco Campanella on vocals. Try 'Hey You' and 'Shattered Dreams' for starters. And there are a couple of slower tracks thrown in for good measure: 'In Your Eyes' and the superb ballad 'Wherever You Go'. The latter and the anthemic 'Never Stop Screaming Rock' would be perfect show-stoppers.
But ... the shame is you will probably never get to hear these songs played live; Myland - as is so often the case with melodic rock and to the genre's detriment - is a studio project with different players moving in and out of the band although the core remains drummer Paul Morbini and guitarist Hox Martino. They even managed to use Kee Marcello on the last album, released in 2007. Come on guys, get this band out on the road!
I was proud to recommend fellow Italians Elektradrive in 2009, with whom there are a few similarities. I can wholeheartedly recommend 'Light Of A New Day'. If it's slightly redolent of a brighter melodic hard rock age it also gleams with modern production values and will have you contemplating that poodle perm wig you know you've always wanted. Come on, the time is now!
****
Review by David Randall
---
| | |
| --- | --- |
| | Print this page in printer-friendly format |
| | Tell a friend about this page |