MARSHMALLOW OVERCOAT On Safari (2011)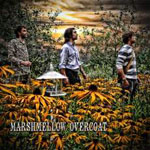 What's in a name? Not to be confused with the similarly titled but differently spelt, garage band, Marshmellow Overcoat's name might evoke the same 60's musical roots and even sound like a Donovan EP track, but 'On Safari' is a step above the DIY Garage mould.
Marshmellow Overcoat is essentially the guitar/bass duo of Tyler Calkins and Dave Verbocy with 'Cav' Cavallaro filling in on drums. And while the band undoubtedly wears its 60's feel on its sleeves they drag their folky, harmony rock style into the 80s. 'On Safari' is a cd full of poppy refrains that are hedged in somewhere between the harmonies and hooks of Crowded House and REM with a distant early Beatles feel.
Marshamellow Overcoat offer a dozen acoustic/electric pop rock songs full of melodic runs, bright harmony singing and catchy hooks on an album that is only a few songs and a decent budget short of realising its potential
If there's one enduring criticism of the bands sprightly pop tunes it's the fact that on too many occasions they seem to uncovered a good hook or a fine melody line that too often sounds like an unfinished demo. This is certainly the case on the rough edged 'She's A Winner' which is strong on melody and harmony vocals - with even the hint of a Lennon style snarl - but as evidenced by the sudden piano drop in and lumbering drums, sounds in need of further attention.
There's a Neil Young influenced intro to the single 'Another Way to Hide' as the band broach his trademark loose feel. Tyler Calkins battles gamely in trying to tease out the essential melodic core of a song that might just be a slow burner.
If anything, 'On Safari' sounds like a bunch of great songs in the making. The band aim for a crossover from the Pretty Things 60's beat combo of 'Girl With the Red Hair' to the jingly-jangly Byrds feel of 'Something Sun'. Sometimes as on the undulating sway of 'Nothing's Ever Been the Same' and on the strong melody and fine harmony singing of 'Around Here' the short songs are best, relying on immediate impact in sharp contrast with other moments where they manfully struggle to bring vitality to a languid song.
Nashville engineer Mark Frigo occasionally adds a dash of sonic quality to the songs especially on the Who riff and bv's of 'Faces On The Floor', but overall 'On Safari' sounds as if the band ran out of studio time, which is a shame because at their best they do evoke the retro glow of their name.
'On Safari' is a promising step towards a potentially rewarding recording career. Watch this space.
***
Review by Pete Feenstra
---
| | |
| --- | --- |
| | Print this page in printer-friendly format |
| | |