MARCUS MALONE Let The Sunshine In Redline Music RLB1812 (2011)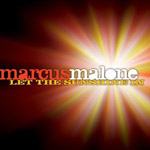 Marcus Malone is a hard rocker turned soulful blues man with a locker full of good songs, a road tested band and now an album worthy of his talent. But unlike many of his crossover rock/blues contemporaries this UK based Detroit rocker has got the kind of soulful voice that can turn even the most mundane lyrics into a tour de force.
Marcus originally made his name in '76 with the hard rock 'Marcus' album, recorded with members of The Pat Travers Band, The Vanilla Fudge and Joe Cocker's guitarist Gene Black, who also co wrote and plays on the title track of the new album.
With a voice like Paul Rodgers and a killer guitar tone, Marcus has always impressed without quite knowing where to best apply his talents. His four solo albums include the excellent 'Blue Radio' and the well received 'Hurricane', but 'Let The Sunshine In' is easily his most satisfying effort.
Unusually for a rock/blues album, it's a coherent piece of work, full of sonic vitality, great dynamics and thoughtful sequencing that gives it a mellifluous flow over 14 tracks. 'Sunshine' opens impressively with the celebratory title track boogie and finishes on the heart felt cover of Robin Gibb's 'To Love Somebody'. As Marcus himself explains; 'The song was written for Otis Redding, so I approached it as a soul song.' He wraps his voice round the lyrics as if it's his last ever recording and makes it a work all of his own. It's also the perfect conclusion to a very good album.
'Sunshine' marks a significant shift of emphasis towards Marcus's voice with most of the guitar duties falling to the excellent Stuart Dixon, a player with a variety of tones and plenty of feel who rocks out when required.
Both Alan Glen's signature harp and Julian Burdock's mesmerising slide guitar colour both takes of the title track, while 'If I had Another Chance' is a workaday shuffle that Marcus's eloquent phrasing elevates to a different level.
The Malone/Dixon penned 'Back To Paradise' adds a tightly wrapped funky feel and comes with a killer mid-number Tower of Power style funky groove, comprising double tracked vocals and horns over a backdrop of organ and bv's as Marcus's vocals soar over the top. The lovely segue from the first chorus to a fluid guitar adds a rockier edge to the Prince influenced song. The funky feel is carried over into the horn led, lyrically lascivious 'All That Love' with Stuart Dixon once again adding perfect incisive guitar lines.
So far so good, but this subtly paced album gets even better on the killer blues 'Would It Matter'. The song is full of Marcus's very best phrasing and some heavy duty descending chords that give it a Storyville, Texas feel. The chorus is a triumph of soulful dynamics and counterpoint before Dixon unleashes a climactic solo perfectly suited to a beautifully nuanced blues.
And as if to further emphasize the ebb and flow of the album, there's the radio friendly and poignant narrative of 'Heartbreak Kid' which sounds like the hit that Tom Petty never had.
'99 Tears' is a return to garage band r&b before Marcus reminds us of his Paul Rodgers range on 'The Last Time', with more big chords, a hook line resolution and wailing guitar on a classic rocker.
'Let the Sunshine In' admirably lives up to its optimistic title on a rock-blues journey that showcases both Marcus's peerless vocal style and his engaging song writing ability. He adds a belated slice of Memphis cool on 'I Was A Fool' and even manages to turn an unremarkable mid-tempo 'Make The Difference' into gospel tinged, life affirming thing of beauty.
'Let the Sunshine In' is a well thought work of real maturity and great playing, and is palpable proof that rock blues can have soul. Go out and buy it and 'Let The Sunshine In'.
*****
Review by Pete Feenstra
Interview by Pete Feenstra, 28 March 2011
Camera: Eric Harvey
---
| | |
| --- | --- |
| | Print this page in printer-friendly format |
| | |