KATE BUSH 50 Words For Snow Parlophone (2011)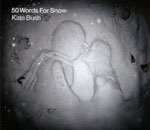 Despite what has been a series of increasingly sporadic, patchy and experimental releases over the last 25 years, Kate Bush's eccentricities, reclusive nature (and moments of brilliance) have kept her star shimmering brightly in the eyes of British music lovers who were spellbound by her string of classic albums between The Kick Inside (1978) and The Hounds Of Love (1985).
50 Words For Snow comes, in Bush terms, 'hot on the heels' (a mere 6 years) after Aerial (2005) an album that, in many ways, arrested the slide. Skipping her unnecessary tinkering with earlier recordings on The Director's Cut earlier this year), 50 Years pretty much picks up where Aerial left off - a healthy mix of the experimental and more accessible - with every note unmistakeably Bush.
Running out at a generous 65 minutes, it's a dreamy journey through 7 pieces that swirl like the drifting snow. At one end of the scale there's the there's the piano dominated ambient numbers like Snowflake, the sparse choral and jazz interspersed Lake Tahoe, and the shimmering dreamy Among Angels.
And at the other, the more mainstream - a wistful ode to the Yeti (Wild Man), the sensual Misty (the musings of a night time tryst with a snowman), the pick of the crop - Snowed In At Wheeler Street (a tale of a love that transcends time) with Elton John, and the whimsical title track featuring Stephen Fry.
The array of 'featured vocalists' also includes the classical singers Stefan Roberts and Michael Wood, Andy Fairweather Low, and her son Bertie. You do have to question the wisdom of including your offspring on recordings - if there's a single instance where it's really worked, I can't think of it. And while thirteen year old Bertie does as sterling job on the opening track (with Kate taking the chorus line), the majority will prefer to have heard his mother taking centre stage.
Like any Kate Bush album, and for reasons that remain inexplicable, 50 Words has an indescribable and almost mystical charm that compels you to keep revisiting it. But be advised, like much of this woman's more recent work, its best enjoyed on a decent stereo with the volume turned up, the lights turned down, and a large glass of brandy.
****½
Review by Pete Whalley
---
| | |
| --- | --- |
| | Print this page in printer-friendly format |
| | |