JOURNEY Eclipse Frontiers (2011)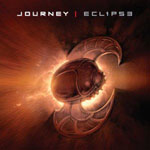 After attracting a whole new generation of fans through the medium of the Sopranos and Glee, AOR legends Journey capitalised with 2008's Revelation which was a conscious, and gloriously successful, attempt to replicate the signature Journey sound, right down to Filipino discovery and Steve Perry soundalike Arnel Pineda. However, three years on, with 'Eclipse' they take the road less travelled, with an unashamed hard rock album that makes no concession to their new family-friendly audience.
By itself this is a welcome development, as the criticism that their albums contained too many ballads and rocked out too rarely reached its peak with the later Perry albums and even 2000's fine Arrival album. Attempts to redress the balance failed for a lack of good songs ('Red 13') and a disjointed approach with multiple singers (2005's 'Generations') so it is a pleasure to report this move generally succeeds on this occasion.
What immediately strikes you with this album is that the guitar is to the fore with Neal Schon in the driving seat, letting rip at every occasion. Jonathan Cain's keyboards are still present, but very much in a supporting role adding colour. The album has an adventurous, even progressive feel to it with surprisingly few concessions to commerciality, though the traditional Journey sense of melody is alive and well.
'City of Hope', a homage to Arnel's home city of Manilla, opens the record in fine style, a vintage rousing anthem - with a hint in the intro of U2's Pride in the Name of Love - that is sure to go down well live. However, just two songs in, the otherwise interesting 'Edge of the Moment' is let down by a very flat chorus by their standards, and the same might be said of some others such as 'Anything is Possible' and 'Ritual'.
In contrast though 'Chain of Love' is a highlight, some very eastern sounding verses leading into a primetime Journey chorus with Arnel's vocals soaring. He does a fine job throughout, though, possibly betraying English not being his first language, at times he gives off the feel of delivering words on a page rather than living and feeling the emotions the way the very best singers of the genre do.
Of course the ballads are not entirely absent and people will love or hate 'Tantra', which is over the top both in its orchestration and some rather flowery lyrics, while 'To Whom It May Concern' has some very Kansas-sounding guitar progressions from Neal, which he reprises in the closing instrumental 'Venus'.
There are some other departures from the tried and tested formula, with 'She's a Mystery' (which reminded me of cult AOR sters Diving for pearls) a bluesy, primarily acoustic number that rocks out at the end, and 'Resonate' and 'Human Feel' still having a Journey sound but a more organic groove to them rather than a strict verse-chorus format.
Ultimately this will be a divisive album and doubtless a disappointment for those looking for the highly polished radio friendly anthems and ballads associated with Journey. As one of those, I would have to concede that I enjoyed Revelation more. But in the bigger picture, the sound of a veteran band pushing forward with their heavier and most adventurous sound for a long while rather than treading familiar ground is something worth believing in.
****
Review by Andy Nathan
---
| | |
| --- | --- |
| | Print this page in printer-friendly format |
| | |