HOUSE OF LORDS Big Money Frontiers (2011)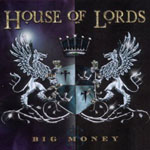 House Of Lords return with their eight album, their last being 2009's highly enjoyable 'Cartesian Dreams'. The band - James Christian (vocals/keyboards), Jimi Bell (guitar), Chris McCarvill (bass/backing vocals), B.J. Zampa (drums/backing vocals) - never fail to deliver musically and I am happy to report they have done it again!
Helping out in the writing department are long term collaborator Mark Baker, Tommy Denander and James Christian's wife, Robin Beck adds her powerful backing vocals.
The band hit the ground running on the title track, another timely poke at the consumerism and the banking crisis. 'One Man Down' is up next and continues the serious lyrical theme continues, a soldiers' tale told with some clever lyrical twists.
For those damn catchy hard rock tunes the band do so well look no further than 'Hologram' and 'Once Twice'. Both feature Jimi Bell's guitar riffs high in the mix and the tight drumming of BJ Zampa.
Fans after a bit of 80's sounding HOL then 'Someday When' fits the bill, with plenty of keyboards and another sterling vocal performance from James Christian. Many vocalists lose their power and register with age, luckily this is not the case with James Christian who can still hit the notes.
'The Next Time I Hold You' is a pleasant ballad, although a little pomp in the backing wouldn't have gone amiss. Only one song, 'Blood' fails to get the foot tapping - not one of their best.
The album again sees the keyboards being used less and less - there is no grandiose intro piece this time around - which is a shame but that it my only real gripe.
Otherwise buy with confidence as this band are as good as, if not better than, their 80's days and there are not many bands from the same era you can say that about.
****½
Review by Jason Ritchie
---
| | |
| --- | --- |
| | Print this page in printer-friendly format |
| | |