Just witnessed your best live gig?.. send us a review!
HAYSEED DIXIE
The Assembly, Leamington 7 July 2011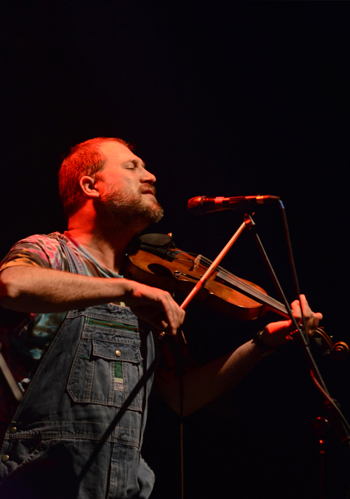 The band that really puts the fun into rock and roll more than any other, Hayseed Dixie rolled into Leamington on the eve of their set at The Sonisphere Festival at Knebworth, this was their second show at the town's Assembly venue and if anything even better than their 2009 performance in the town.
Support came from impressive Liverpool four-piece rockers The Jokers, a band with plenty of style and plenty of high energy good time rock and roll numbers at times with a glam rock feel.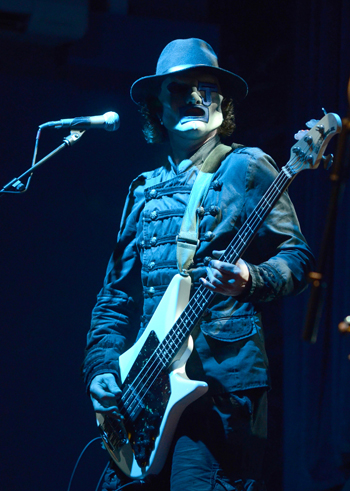 Standout tracks in the set included scorching rocker 'Shake', 'Ocean of Kings' their one ballad of the evening, a belting cover of the Beatles heaviest moment 'Helter Skelter' and the closing number the super sleazy 'Super Groover' which has touches of classic T.Rex and also cleverly borrows but slightly changes lines from classic numbers 'The Girl Can't Help It' by Little Richard and' Revolution' The Beatles rocker.
This band have a great look, vocalist Wane Parry has plenty of Jim Morrison things going on as well as being a powerful vocalist in his own right, guitarist Paul Hurst is a real live-wire pulling all the classic rock god poses and an air of mystery is added by masked bass player Jokers' Jet.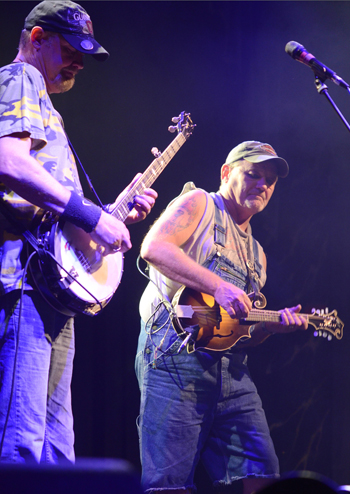 Next up on stage Barley Scotch, Reverend Don Wayne Reno, Deacon Dale Reno and Jake "Bakesnake" Byers known collectively as the celebration of Hillbilly music meets classic rock that is Hayseed Dixie.
Before their set the band can be seen carrying instruments and beer (most important) on to the dimly lit stage and quietly setting up, no rock star pretensions these guys just the occasional wave to acknowledge applause and cheers from the crowd.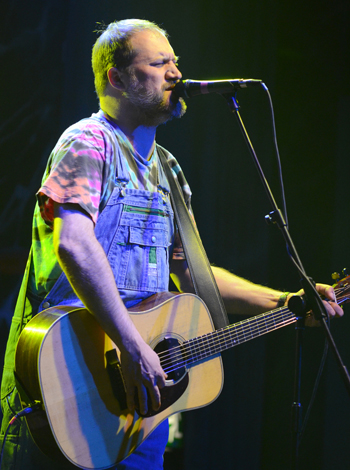 No fancy intro music or introductions as the band take the stage for the first number which went right back to the early days of the band with their unique take on AC/DC's 'Dirty Deeds Done Dirt Cheap', of course everything about this band is unique, playing numerous hillbilly style covers of all time rock classic and humorous original numbers with an assortment of acoustic guitars of all sizes, banjos, fiddles and even an acoustic bass.
---
...this was music so full of fun it makes ZZ Top seem like an art house band.

---
Hard to pick out the standout tracks in such a fantastic performance but the Queen duo of 'Fat Bottom Girls'/ 'Bohemian Rhapsody' (complete with 4 part vocal harmonies) and their original takes on 'Detroit Rock City', 'Walk This Way', 'Poison', 'Strawberry Fields Forever' and 'Ace of Spades' will do for starters.
Of the band's original material 'I'm Keeping Your Poop' got the award for most laughs and also most lighters in the air, with the classic 'She Was Skinny When I Met Her' coming a close second.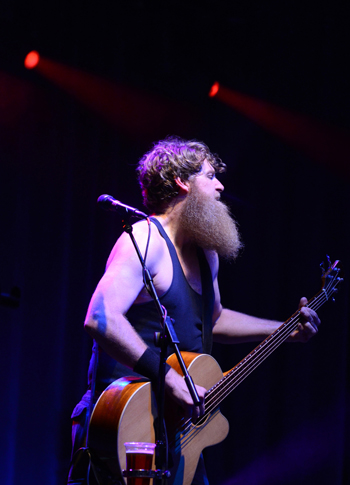 But as good as the originals are the fun of the bands inspired covers are possibly the main draw of the band and this set included plenty more of those, 'Bad Moon Rising' three more AC/DC classics 'Back in Black', 'You Shook Me All Night Long', and 'Highway To Hell', Zeppelin's 'Whole Lotta Love' and complete with devil horns, Black Sabbath's 'War Pigs'.
The interaction between the band members has to be seen to be believed and if they are not the very best of buddies off stage they must be among the world's best actors, this was music so full of fun it makes ZZ Top seem like an art house band.
This fabulous set finished with a frantic 'Duelling Banjos' and the good sized crowd left thoroughly entertained, Hayseed Dixie as always delivered a set full of incredible musicianship, great tunes, and hilarious anecdotes.
Come back soon guys.

Review and photos by Andrew Lock
---