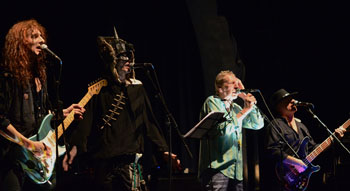 Zoom (Click large image to cancel)
Four piece band The Trews all the way from Canada completely won over the Assembly audience with their set of high energy rock which was for me a mix of indie and classic rock styles, on the indie side shades of bands like The Stereophonics and on the classic rock side at times they came over like a young Stones and at others they had the power of bands like Black Stone Cherry.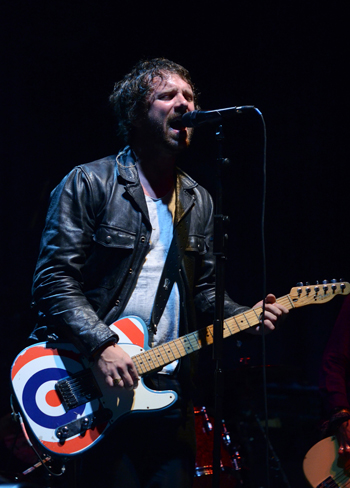 Their material, short, snappy and full of passion included opening rocker 'The World I Know' the lively 'Hope & Ruin' and with its pounding powerful opening drum work 'Not Ready To Go', all of the numbers catchy and full of good hooks, one of the best opening bands I have seen.
I was impressed with the fact that the headliners allowed the band to make use of the back screen which was used all set and made a real impact during the number 'Highway of Heroes' written about the death in service of soldier Captain Nichola Goddard who came from the bands home town.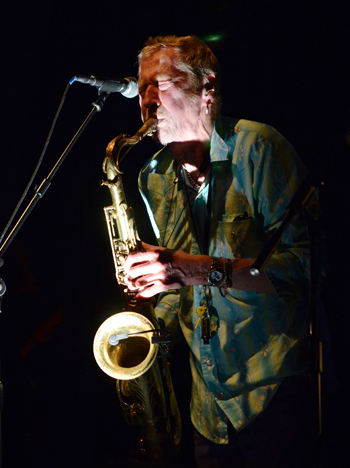 Headliners the Hawklords - who consist partly of former members of space rock pioneers Hawkwind and were first put together in the late 1970's - delivered a fabulous performance of sheer power, full of driving rhythms and hypnotic beats, a full on wall of sound enhanced by a huge screen at the rear of the stage projecting spectacular images to compliment the music which included psychedelic patterns, robots and a huge eye.
The material was all Hawkwind or Hawkwind related and mostly on the heavier side of that bands material with all manner of strange and atmospheric sound effects used effectively between numbers, the band included in its line up the legendary Nik Turner on the sax and flutes as well as occasionally lead vocals.
Highlights of the set included a frantic 'Shot Down in the Night', the chilled out flower power of 'Children of the Sun', the classic pop rock of 'Spirit of the Age', and the awesome 'Masters of the Universe' which surely has one of the all time great rock riffs and prompted numerous bouts of dancing around the hall.
The dancing and headbanging continued for '25 Years' (the track not the length of time !) and a thunderous 'Brainstorm', closing a truly spectacular show in some style, impressed with how much this band really rocks as well as of course adding the expected elements of dance music and punk to the sound.
In a line-up full of top musicians and top characters (not least Mr Turner) a special mention to Jerry Richards for his top draw work on the rocking riffs, Harvey Bainbridge's keyboard and synthesiser work and the lead vocals of the charismatic and spectacularly dressed Ron Tree.
Two very different bands, one fabulous evenings music and entertainment.


Review and photos by Andrew Lock
---