DEKE LEONARD
The Twang Dynasty From Memphis to Merthyr: Guitarists That Rocked The World
Northdown Press (2001)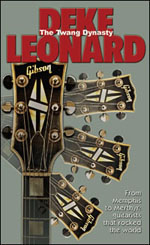 It's been a few years since former Man band guitarist and solo artist Deke Leonard's first two books, the rib tickling and autobiographical 'Rhinos, Winos & Lunatics' and 'Maybe I Should've Stayed in Bed'. Both books have long sold out their limited edition runs and while a subsequent translation of 'Rhinos' into German satisfied European palates, it did little for his British fans who demanded more.
'The Twang Dynasty' is his response. It's a wide ranging book that draws heavily on his tireless research of the pre and post war blues eras and the characters that helped shape contemporary guitar playing as we know it. And if the 370 weighty pages chronicle just about every aspect of a musician dubious psychology, Deke offers us an early warning of what to expect by defining guitarists as; 'borderline sociopaths, who consider principle to be a matter for negotiation and regard candour as an optional extra.'
The upside to this is that the very same guitarists can 'provide the soundtrack to your life - from the cradle to the grave'. And it is partly Deke's own journey from his early dips into the 'Mel Bay Modern Guitar Method' to the Man band's heyday on America's West Coast, that provides him with colourful anecdotes from the mid 60's to mid 70's hippy era with the likes of Quicksilver Messenger Service guitarist John Cipollina.
He's at his best with first hand accounts of his contemporaries that populate his 50 years in music, from the lesser known leading local lights such as Micky Gee, Clive Roberts and Tich Gwyllum to the internationally famous such as Beefheart and Zappa, often adding an irreverent running commentary to oft told anecdotes.
And while 'Twang' sometimes has the feel of a slightly inebriated punter at closing time, prone to unplanned and colourfully explored diversions and related anecdotes, he does manage to follow his path home and tell us all about guitar players! The 14 chapters start with his immediate heroes such as likes of Johnny Kidd & The Pirates (especially Mick Green), and move on to Scotty Moore and most of the American rock & roll greats before a generous piece on Alexis Korner and unsung heroes like Albert Lee. There's also an essential chapter on his Welsh contemporaries which concludes with the books poignant close, the sad death of his 35 year musical partner Micky Jones.
Surprising perhaps to those who know Deke for his spiky licks and forays into psychedelia, he casts his net wide and though he mercifully skips through Country music greats in little over 8 pages, he crams a100 or so pages with blues greats and their musical heritage. And while he's strong on the likes of Hooker, Waters etc., he makes a major pit stop at the feet of Robert Johnson. And while this is a bit punishing at times there's enough tension breaking Leonardisms to guide you through. For example, he recounts the fact that Scrapper Blackwell invented the blues guitar solo; 'The lineage is clear: Scrapper invented it, T-Bone Walker electrified it, BB King stripped it down to the bone, and Jimi Hendrix launched it into the stratosphere'.
He also resurrects some classic stories, such as Keith Richard asking Bryan Jones who the other guitar player was on Robert Johnson's 'King of the Delta Blues Singer' album, and the eureka moment when blues field researcher Alan Lomax defined blues as 'Dreaming Out Aloud'. Better still is Deke's evocation of the impact of Charlie Christian on the Benny Goodman band, describing it as a moment of, 'sublime catharsis' for the audience'. Deke's signature style puts you into the moment as only a muso can; 'It was, by common consent, the greatest ovation a band, any band, had received in the entire history of performing arts'.
But it's the improbable way he shifts from a particular artist to a seemingly unrelated story that allows Deke to hold you in his sway. At one point he positively glides from Robert Lockwood Junior via his own fleeting glimpse of BB King in a New York bar to a priceless anecdote about bumping into Buck Owens at Nashville airport in an arc that somehow conjoins different chunks of musical history with different musical genres. And without giving away too many of the funny moments, Deke remembers Guitar Slim, who apparently after a first take and blistering solo in a session suddenly brought his band to a halt; '"Gentlemen", he said preening himself, "Did you hear that fuckin' solo?"'
And so he moves to his own section on electric guitarists. And if some of the stories are a bit well worn, he counter balances that with his own stories about going to see Beefheart concert while under the influence of acid, and on the road meetings with Zappa/Mothers drummer Jimmy Carl Back - 'the Red Indian of the group'. Then there's a twist in the tale of a meeting with Hendrix, an unscheduled collision with Clapton at the Albert Hall and a priceless Larry 'I'm a Police Car' Wallis story which is worth buying the book for on its own. Indeed by the time you've read the chapter on Welsh guitarists including Micky Gee's time with Tom Jones and Deke's moving epitaph to the late Micky Jones there's almost a case to be made for two different books.
Diehard Man fans will already be familiar with some of the stories be it from his previous books, his prize winning audio releases or excerpts from some well thumbed Welsh Connection magazines, but as ever it's the telling of the tale that makes Leonard such an addictive author.
Twang Dynasty's strength lies in its author's ironic irreverence and dry sense of humour. Thus in a story about Trevor Burton and the Move, Deke notes, Harold Wilson's secretary Marcia Falkender 'was seen as exercising far too much influence for an unelected official' You can almost feel a pregnant pause before he brilliantly adds; 'Today, she'd be called a spin doctor'.
This is a book that often sacrifices structure for substance and style. But if you dig deep enough there's an inner core that runs throughout the received anecdotes and autobiographical highlights.
Deke's sense of hilarity at some of the events real and imagined and his intuitive grasp of the machination of the music business both then and now is more than enough to compensate for his cavalier approach to continuity. 'Twang' is after all a world of his own making populated by guitarists of his choice and stories drawn from both his own colourful life and rock's collective musical past that sowed the formative years of 'The Twang Dynasty'.
In sum the book is a journey through what the author might himself call, a lifetime spent at the coalface of musical evolution. It's a precarious living but it's obviously provided him with a rich seem of stories, many of which help to make 'The Twang Dynasty' are great read.

****

Review by Pete Feenstra


---
| | |
| --- | --- |
| | Print this page in printer-friendly format |
| | Tell a friend about this page |