RONNIE JAMES DIO Mightier Than The Sword 2-CD Universal (2011)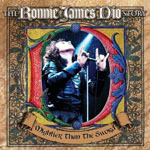 A fantastic, nee essential collection here, as very very few could epitomise Classic Rock like the late great Ronnie James Dio. Between Rainbow, Black Sabbath and his own eponymous band there's something classic and rock for everyone.
This double disc is wall to wall classics, yet it only tells half the story and opens with the two most interesting tracks.
The opener is Elf's 'Carolina County Ball' - a wonderful and uplifting rock track from Dio's pre Rainbow band. And this highlights the problem; Dio had been recording since 1957, playing with The Vegas Kings, Ronnie and the Redcaps, Ronnie Dio and the Profits and The Electric Elves.
Dio, originally a trumpet player and later a bass player, only first became purely a singer / frontman for Elf, so just one track from his pre Rainbow career is nothing short of criminal. Universal take note.
Next track is the single 'Love Is All', take from the Roger Glover album The Butterfly Ball and The Grasshopper's Feast. Big brass, great melodies, and a perfect showcase for Dio's versatility.
From then on it's onto the rock classics, opening with 'Temple Of The King' and 'Catch The Rainbow'.
These two were taken from the album Rainbow - effectively a Ritchie Blackmore solo album using the band Elf. Then it's onto the first of many 5* albums essential to any rock collection (Rainbow Rising), represented by the epic 'Stargazer' and the hard 'Run With The Wolf'.
Both tracks, featuring Blackmore, Cozy Powell, Jimmy Bain and Toney Carey, show Dio's voice perfectly. Dark and deep or high, you have power, range, feeling, passion. Then there's the highlight of the entire collection, the live version of 'Kill The King'; such a tragedy that this arrangement never made it to the studio but to say it's perfection and blistering combined is an understatement. The rest of the disc can go jump I'm staying here for another spin or two.
Disc 1 continues with Long Live Rock'n'Roll era Rainbow - check out the wonderful 'Gates Of Babylon' - and Black Sabbath's 'Heaven And Hell'. The latter shows just how well Dio slipped into Ozzy's shoes and a Black Sabbath record that blew away fans and critics alike.
Disc 2 continues with the original Sabbath stint - 'Mob Rules' enough to whet anyone's appetite alone. This disc tries to also cover Dio the band, the return to Sabbath and then Heaven And Hell. From classic rock to doomy hard hitting heavy metal, it's all fantastic stuff. That said, Dio's last London show, where he played Holy Diver in its entirety, showed that it's his 1975 to 1984 work that will be spun most by fans, and rightly so.
But whether in front of Blackmore or Iommi, or his solo band, Dio is one of the best metal singers and frontmen around - and here's the proof.
Not so much of a Story, because the story is both too long and too good to do justification to on 2 discs, it's more of a career spreading introduction.
The Rainbow and Sabbath stories have been well covered, I hope this is a start of a Dio (band) overhaul and a full pre-Rainbow exploration.
****½
Review by Joe Geesin
---
| | |
| --- | --- |
| | Print this page in printer-friendly format |
| | Tell a friend about this page |