DEEP PURPLE Phoenix Rising earMUSIC (2011)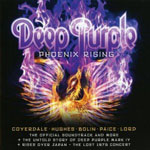 A small parochial complaint if I may. Having been an eye witness at the now notorious last concert in Liverpool back in March 1976, I was mildly amused to hear Jon Lord describe this 2,000 seater theatre as 'an old cinema' in which he has since played around half a dozen times with PAL, Whitesnake and Purple to my knowledge.
I guess this sums up the difficulties of relying on biased personal testaments which, even for the main players, can be flawed as the years roll on. Having been Glenn's PR man from 2003 to the BCC record company tie in, I need to confess my own bias too, but rest assured that I am judging this on VFM. In essence why pay good money to hear an old story? In any case, we need to summarise what's on offer here before we get into those knotty issues of Purple's past.
Drew Thompson (no relation) has put together an extremely comprehensive package of goodies for us. Avoiding the temptation to see the ill fated Mark IV line up in isolation, he has instead put that line up into context of what had gone before with some surprising and welcome additions from Mark Two and Three too.
When I received my review copy I went straight for one of the booklets - at which point my PR hat went straight on and I was fascinated to discover some never before seen press cuttings from now defunct tomes such as 'Sounds and other industry mags. Headlines like 'Tommy Bolin Dies' still sends shivers through my spine.
Musically and visually, we get a DVD packed with interviews and unseen footage from the horrendous Jakarta experience, which is probably the most depressing and distressing set of circumstances that I have ever read about in my trawl around the darker reaches of rock history. This wasn't Iommi shitting in a cheese dip. This was murder. This was conspiracy. These were Guns N' Dobermans. Knocks Metallica into a cocked hat then.
On the CD we can hear some of the better recordings than what the record company posthumously and stupidly packaged as the 'Last Concert in Japan.' More aptly titled in my view as No Rest for the Wicked. Tommy Bolin finally gets his ample testament in Purple as a cracking young guitarist tragically taken from us and not the heroine addict he is often cruelly dismissed as. I would like to thank the publishers personally for this and shake them by the hand.
Those personal recollections by Hughes and Lord tell the same story from naturally different perspectives. Erudite and philosophical as usual, Glenn Hughes doesn't try to cover up for his addictions and discusses in detail the misconceptions people have about him and his motives c.75/76. In addition he is at pains to stress some of the undoubted musical achievements of that era too.
Songs which feature on the CD like 'Getting Tighter,' the autobiographical 'This Time Around' and the haunting 'You Keep on Moving' from CTTB, the skilful adaptations of the Mark Two material for the earlier live shows. I had to smile at the reference to the final mix of 'Coming Home' sounding like 'the seven dwarfs', as it was recorded after Glenn had been carted off for treatment. The impressions of late and sadly lamented Tony Edwards, who was clearly Purple's Denis Eaton-Hog, were priceless too.
In the other band member interview, Lord pays CTTB a guarded compliment and perhaps a more rounded worldly view about the situation Purple had founded itself in. He also recalls with some affection the earlier live shows and the excitement resulting from the addition of Tommy Bolin. Lord, as always, adopts the cautious stance like a trusted, wise uncle with a very large extended family to placate.
Hughes is in a combative mood to defend his roots either and confesses not to liking the Mark Two version (of whom footage is shown) which catapulted Deep Purple to the dizzy heights of No.1. Incidentally, in another recent interview with my GRTR colleague Mark Taylor he says that Ritchie Blackmore only had one song for 'Stormbringer' and yet Glenn Hughes still gets part of the blame for 'funking up' Deep Purple. What was he to do? Suddenly drop his roots and write a suite of Highway Stars? I think not. Bias alert.
The main full concert Mark IV footage has been doing the rounds of the t'internet for around five years now as a freebie but like any virus laden illegal download, it has no context. What Drew Thompson and associates have done is to add bells and whistles to all the accompanying footage so that we get a true sense of what it was like to be in one of the biggest selling bands in the world.
We learn of the exhilaration of starting a new era at Wakiki Beach and the abject despair only a few months later in Liverpool when Glenn Hughes threw his bass up in the air Blackmore style and let the feedback merge with Jon Lord's abandoned overdriven Hammond.
Overdriven indeed.
Critics might snipe at the lack of new interviews with Coverdale and Paice, but we all know that one has an allegiance to the current line up and the other has been consistent over the years in his criticism of reissues, retellings and compilations. Democracy in action. Fair enough.
My preconceptions were that only Purple anoraks like me would have been interested in this package, but it's for anyone who is even vaguely interested in rock heritage, whatever t shirts they prefer to wear.
A revelation in G.
*****
Review by Keith Thompson
Keith Thompson presents Rockwaves on Get Ready to ROCK! Radio, Sunday 21:00 GMT+1
---
| | |
| --- | --- |
| | Print this page in printer-friendly format |
| | Tell a friend about this page |