CHRIS OUSEY Rhyme And Reason Escape Music (2011)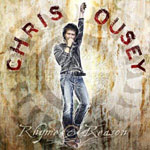 Chris Ousey has had an interesting if possibly too low key career and this latest album may help him break out of the historical straitjacket. Well respected for his work with melodic rockers Heartland - and before that Virginia Wolf (a band that featured Jason Bonham on drums) - most recently he has hooked up with Messrs Moody and Murray to join Snakecharmer. If his stock is then on the rise, it will surely be bolstered by this latest solo offering.
With production and guitaring from Mike Slamer (ex-City Boy) and contributions from Tommy Denander this album defies the usual sort of production line vibe that seemingly affects a lot of melodic rock these days. Neil Murray helps out on bass whilst Greg Bissonette features on drums.
From the opener 'The Mother Of Invention' you are aware that this album is really a cut above the average; totally engaging and characterised by great production, playing, and of course Ousey's splendid vocals.
In places the album sounds like the best of James Christian's House Of Lords, it's not a million miles from Joe Lynn Turner's Sunstorm, and even that other great melodic rock project of recent years 'Voices Of Rock' put together by German producer Michael Voss.
Historically, it takes the rockier side shown on some of the later Heartland albums but grafts on a sense of urgency and sheer traction which is perhaps best evidenced on the wonderful 'Motivation'. Here it sounds like Ousey has a plane to catch and he's late, there is a wonderful breakdown section in the middle with a sadly truncated guitar solo that really should have gone on for a few more bars. This is glorious stuff though, even if the first verse reminds me of Marillion's Lap Of Luxury.
Chris Ousey's style has been compared to Mr Big's Eric Martin and even Lou Gramm which probably makes him a bit of a chameleon in truth but this album is simply a great vehicle for his singing, never more so than on the closing ballad 'A Natural Law'.
I hope Chris manages to get this album out on the road and that it gets the wider attention it deserves. Every track a gem and definitely one of the best in class this year.
*****
Review by David Randall
David Randall talks to Chris Ousey about the album, Get Ready to ROCK! Radio, Friday 18 November, 22:00 GMT
More information

David Randall chatted to Chris Ousey in November 2011.