CHICKENFOOT III earMUSIC (2011)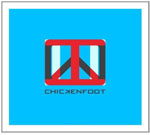 What can you say about Chickenfoot III other than it looks pretty damn fine through the supplied 3-D specs. Here's a band who had their supergroup thunder almost stolen by Glenn and his Gang but have rebounded with an excellent sophomore release.
III is an extension of their debut that will rock the casbah rather than rock any boats. And if the band are playing safe and providing more of the same that 'same' is finer than most.
But as with Black Country Communion I don't really detect anything distinctively 'Chickenfoot' as the band essentially recycle the history of rock from the late sixties onwards. Yes, there is the infectious hollering of Hagar and the craftsman-guided fireworks from Satch, but it's nothing you haven't heard before. But, and it's a big but, it is played with remarkable energy and pizazz.
Opening with 'Last Temptation', a tub-thumping Hagar tour-de-force with typical arena-friendly chorus whilst 'Alright Alright' could have graced a Stones album. 'Up Next' rattles along with a purposeful riff and guitar pyros as does the early single 'Big Foot' which is close to 'Soap On A Rope' in spirit. 'Lighten Up' starts with an urgent keyboard riff before breaking into something more predictable.
And the band even find time for topical comment with 'Three And A Half Letters' - Satch's frenetic fretting echoing the frustrated cry of 'I Need A Job'.
But, wait, 'Come Closer' and then 'Something Going Wrong' suddenly shows a more mellow and reflective side that was hinted at on the debut, and it's rather contagious.
Anyone who liked that first album will lap this up, the 3D content is a novelty, and it bolsters the band's live setlist. But groundbreaking it ain't.
****½
Review by David Randall
---