BLAME SALLY Speeding Ticket And A Valentine (2011)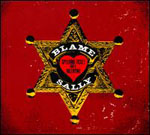 Formed in the San Francisco Bay area in 2000, Blame Sally - Pam Delgado (percussion and vocals), Renee Harcourt (guitars, bass and vocals), Jeri Jones (guitars, bass and vocals) and Monica Pasqual (piano, accordion and vocals) could be about to explode.
Originally four singer songwriters, the band first came together when Pasqual was putting together a group of musicians to play a gig for one of her solo projects. The rest, as they say, is history with each of the four women feeling the collective of Blame Sally was a more potent vehicle for their talents. And with a sound that places the band somewhere between Sheryl Crow, The Pierces and The Dixie Chicks, that's a powerful place to be.
Each woman brings a slightly different skill set to the party. All skilled musicians in their 30s and 40s when the band was formed, Harcourt has a penchant for pop and jazz, Delgado and Jones have R&B and country influences, while Pasqual has a classical background. Each takes an equal turns at songwriting and lead vocals.
But the great thing about Speeding Ticket And A Valentine isn't the quality of the singing, the songwriting, the playing, or the four part harmonies - features that are all present in abundance, no, it's the organic 'feel' that pervades a set that is in equal measures folky and acoustic, and electrified.
The result is an album that is perfect for the moment - a wonderful amalgam of country, Americana, sixties vocal harmony pop, and rock. And for an album that dances across so many genres it's amazingly cohesive. From the glorious country 'twang' of Bird In Hand, the hard rocking harmonies of Living Without You and the sublime Hammond driven Countdown, to the gentle country folk of Throw Me A Bone and Back In The Saddle, the self produced album does a brilliant job of capturing heart and soul of the band.
Blame Sally accurately sum up Speeding Ticket And A Valentine as 'fun', 'vintage', 'retro' and 'modern', and as The Pierces have demonstrated with their excellent You & I album, there's a real demand at present for that sound. It may have been a long journey to this point in their careers, but Speeding Ticket makes it all worthwhile. And, it has to be said, Blame Sally are a class act.
****½
Review by Pete Whalley
---
| | |
| --- | --- |
| | Print this page in printer-friendly format |
| | |