BLACK COUNTRY COMMUNION 2 Provogue (2011)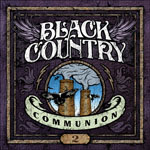 I expressed an apparently controversial view here at GRTR! last year that so called 'super groups' usually did not stand the test of time, yet it was time itself that would be the best judge. I am pleased to report that so far BCC has avoided the traps that have befallen previous marriages of convenience.
Here we are with two albums sorted together with a proper tour of USA and Europe ready to be loaded up. But we still have the knotty issue of whether the dreaded second album can live up to the promise of the first.
The first two tracks, 'The Outsider' and 'Man in the Middle' are both riff laden rockers which are clearly designed to blow the roof off venues, as opposed to winning any awards for originality. The vocal interchange between Joe Bonamassa and Glenn Hughes works particularly well with Hughes's falsetto being tempered by Bonamassa's more bluesy foil.
But it's 'The Battle for Hadrian's Wall' and 'Save Me' that knocked me sideways off my chair and disrupted my rather self important chin stroking stance while slapping a BCC baseball hat firmly on my head. The former is an acoustic based Rush style progger that ebbs and flows beautifully.
I had always been impressed by Glenn Hughes's ability to express his own torment about his addictions from the Purple days and their effects in songs. The personal theme in 'Save Me' extends to 'Faithless' which has, at its centrepiece, an epic theme.
This might appear to suggest that Glenn has written a selfish, autobiographical album in the guise of BCC. Far from it. He simply has a larger platform and more colourful fireworks to celebrate his return. At last though we can kiss goodbye to the clumsy Homer Simpson stereotypes bestowed on him by journos of yesteryear.
But Messrs Sherinian, Bonamassa and Bonhman don't even know the meaning of the phrase 'backing musicians.' Indeed the watchword for this album, more so than the first, is Integration. In an 'An Ordinary Son' it's JB who takes the reins at the beginning. The folk story, a developing feature of Bonamassa's approach in his own 'John Henry' and 'Dust Bowl,' is no less compelling.
What is so pleasing that we have all the ingredients for a truly great album. For example, in the blues oriented 'Little Secret,' we are presented with a pretty simple pentatonic scale, but a monumental work of pure soul and feeling nonetheless. Derek Sherinian deserves credit for providing the light and shade instead of grabbing any limelight for himself in the solo stakes.
'Fifth member' and founder, Kevin Shirley shows why he the top rock acts are queuing for his services with a production which is greater than the sum of the parts. It's all about the groove.
Similarly Jason Bonham is playing out of his skin. His drumming is peppered with just enough of the old dad's One-Two but also holds back enough to allow the others to express themselves. Contrast 'Little Secret' this with say 'Save Me' or the medium paced stomper, 'I Can See Your Spirit' where the whole nine yards is unleashed with the venom of a metal drummer.
But I haven't got to the best bit yet. 'Cold' is what I am talkin' about. This song is glorious beyond belief. I cannot describe in words how much this song affected me emotionally. And here's me trying to offer an objective review. Goosebumps and a lump in my throat. At last a top rock band that still speaks to me!
You can stick your Them Crooked Vultures and bluegrass albums where the sun don't shine. The heart of Zeppelin has been transplanted into BCC and there it will stay. From the evidence of this album, Black Country Communion is not a super group, but a revelation that happens once in every blue moon. Bask in its heady glow.
*****
Review by Keith Thompson
Keith Thompson presents Rockwaves on Get Ready to ROCK! Radio, Sunday 21:00 GMT+1
---
| | |
| --- | --- |
| | Print this page in printer-friendly format |
| | Tell a friend about this page |