BETH HART/JOE BONAMASSA Don't Explain (2011)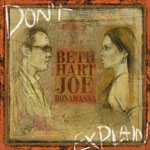 Ah - Joe Bonamassa. He's getting to be almost ubiquitous isn't he? He keeps popping up all over the place, as well as on his own albums and side-project Black Country Communion, offering a riff here, a solo there to enhance, and, by association, promote other people's work.
The reason is, of course, that he's probably one of the finest guitar players on the planet in the blues/rock idiom and everyone wants a piece of him right now.
So, who thought it would be a good idea to put him together with Beth Hart for a whole album? They worked together on 'No Love On The Street' a track from Bonamassa's last studio album 'Dust Bowl' which must have lit the spark, but it doesn't matter whose idea it was. It was a stroke of absolute genius.
'Don't Explain' is a masterclass, not only in Bonamassa's fretmeistery but also in the astonishing range of Beth's vocals, a range that brings to mind some of the finest female singers in the history of popular music.
Billie Holliday, Etta James, Janice Joplin and, yes, even Amy Winehouse are given a run for their money on a gob smacking tracklist that forces you to spin the disc again to make sure you heard it right first time.
Eleven tracks on offer here, mostly covers but with a couple of self-penned gems as well.
Things get off to a fabulous start with Ray Charles' 'Sinners Prayer', Bonamassa's crunching blues riff complemented by Hart's staggering Billie Hollidayesque vocal histrionics - '...Lord have mercy, Lord have mercy on me..' Amazing.
Tom Waits' 'Chocolate Jesus' gets the Amy Winehouse jazz chanteuse treatment while the self-penned 'Your Heart Is Black As Night' is, I suspect, just the two of them being themselves and with the bonus of a deliciously restrained Bonamassa solo.
Two more gems follow - Bill Withers' 'For My Friend' could easily be Janis and Billie Holliday's 'Don't Explain' is a shoo-in for a re-incarnated Holliday. Joe's guitar sound here is lifted from 'Cold', the standout track on Black Country Communion's second album.
It gets better. The cover of Etta James' 'I'd Rather Go Blind' is about as blue as it gets, and Aretha Franklin's 'Ain't No Way' is magnificent.
It may seem ridiculous, given the quality of the covers here, that the standout track is the Brook benton song 'I'll Take Care Of You'. It's been released as a single and this edited version is included at the end of the album, but the full version - including a string busting solo from Bonamassa (lost on the single radio edit) brings to mind Sam Brown's 'Stop' and is the absolute dog's bollocks.
The only slight glitch is a cover of the vastly over-rated Delaney & Bonnie's 'Well Well' but we won't mention that. It's not that it's bad - it just doesn't come close to the quality elsewhere.
I think it's a massive risk putting a female vocalist up against an icon like Joe Bonamassa whose fan-base is very familiar with, and protective of, his growling blues voice and stinging guitar style (remember all the kafuffle over his 'Black Rock' album?)
But Beth Hart has taken on the challenge and absolutely nailed it - and the two of them have come up with an album that surely demands a far wider audience than the blues/rock/jazz aficionados can probably give it.
A marriage made in heaven? I think so.
*****
Review by Alan Jones
Alan sequences "The Eclectic Mix" on the third Sunday of every month on Get Ready to ROCK! Radio.
---
| | |
| --- | --- |
| | Print this page in printer-friendly format |
| | |