BAD COMPANY Live At Wembley Eagle Rock (2011)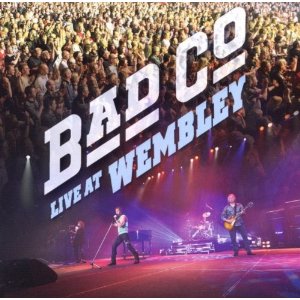 Last April's reunion of the surviving members of Bad Co, was to all accounts a resounding success. Very smartly the band kept to the plot, and there was no extra-mural embellishment in the shape of Free or Paul Rodgers solo material (or for that matter Mick Ralph's Mott The Hoople) in spite of the presence of two of Rodgers' regular band: Lynn Sorensen on bass and Howard Leese on guitar.
Instead we got a glorious hit machine, reminding us that Bad Company were one of the definitive seventies arena rock bands that paved the way for many others. The consummate musicianship - with Rodgers reunited with his old stagers Simon Kirke and Mick Ralphs - shines through as they blast through the glorious setlist.
The other smart move was to include a sprinkling of lesser-played tracks 'Gone, Gone, Gone' (from 'Desolation Angels' and written by the late Boz Burrell) and 'Electric Land' (from 'Rough Diamonds' ). For the remainder, it's business as usual and this experience is perhaps only bettered by Paul Rodgers' solo show almost a year on when he included both the Free stuff AND the Bad Co. much to the delight of the audience.
Of course, punters cannot expect anything from after 1982 when Rodgers quit the band which is a bit of a shame as there was some good stuff on the Brian Howe/Robert Hart fronted albums, if not exactly classic Bad Co.
Whilst Rodgers is currently preparing a new solo album, the hope is that he meets up again with his Bad Co-horts. Having seen the original line-up at Earl's Court in 1977 at the height of their success, I would argue that these songs are now sounding even better, forty years on. And for the ultimate home sonic experience, a DVD and Bluray version is available with bonus band interviews (EREDV829 and ERBRD5077). Collectors should note: 'Burnin' Sky' is omitted from the CD.
****
Review by David Randall
---