ANVIL Juggernaut Of Justice The End Records (2011)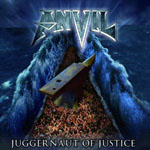 Anvil exploded onto the metal scene way back in the early eighties with the classic albums Hard 'N Heavy, Metal On Metal and Forged In Fire. Albums that in many ways were ahead of their time, too heavy for the post NWOBHM crowd and too early for the oncoming thrash scene.
Soon Anvil were overtaken on the speed metal highway by the likes of Metallica and Anthrax and whilst the band never stopped believing it took the rock documentary Anvil:The Story Of Anvil to get the band back into our collective metal hearts.
There are some bystanders out there that think that Anvil are not the real thing, a parody of Spinal Tap. Now is the time for our lovable Canadian metalheads to unleash to the world their most important release in their entire career. This is the album that will see Anvil sink or swim.
Recorded at Dave Grohl's Studio 606 in sunny California and produced by Bob Marlette who has previously worked with Tony Iommi , Alice Cooper ,Rob Halford and Marilyn Manson, Marlette certainly has a knack for getting the best out of his artists whom previously whould've been use to working to their own unique style.
'Juggernault Of Justice' is Anvil's fourteenth studio album and it is an album with a beehive of riffs. There are many modern day metal bands like Cauldron and Enforcer who are doing their best to capture the spirit of proper 80's metal but Anvil have certainly laid down the template and shown how it should be done.
The title track blasts the album open and I'm immediately transported back to a time when vinyl was king. Marlette has done a grand job on getting the very best out of guitarist/frontman Lips. His singing is better than ever before and his axe work features some pristine fluid soloing. Drummer Robb Reiner is a thunderbolt on this album playing like Ian Paice on amphetamines.
'New Orleans Voodoo' is a stomper of a monster, 'Fukeneh! has a punching chorus and a head swirling riff, 'Turn It Up' can give you a neck spasm with it's chugging riff and 'The Ride' is almost a revist to the instrumental favourite 'March Of The Crabs' only with added lyrics is a rollercoaster ride waiting to de-rail.
The best is saved until the end with 'The Paranormal', a spooky doomy number that you would get if Black Sabbath bumped into Alice Cooper in a house of horrors that is scary enough to make Scooby Doo run away from a scooby snack.
The fun ends with the instrumental 'Swing Thing' where Robb Reiner can unleash some of his jazz improvisations. Taking it's cue from Deep Purple's 'Wring That Neck' Anvil have unleashed a molten of metal with a brass section that would blow the roof off the Royal Albert Hall.
The jury is out and justice is done, Anvil are back which is why I'm sticking my metal horns in the air and declaring this album FUKENEH!
****
Review by Mark Taylor
---
| | |
| --- | --- |
| | Print this page in printer-friendly format |
| | |