ANDY BOWN Unfinished Business Cherry Red CDBRED510 (2011)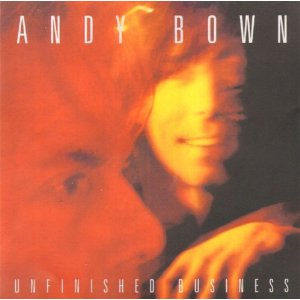 Andy Bown's 'Unfinished Business' is a pleasant surprise. The Status Quo keyboard player and multi instrumentalist has returned to his dormant solo career for the first time in 30 years, hence the 'Unfinished Business' of the title. It's a well written polished affair with only Andy's growling vocals offering any concession to the fact that he's not normally a solo artist in the spotlight.
And putting aside his inventive song writing for the moment, it's the quality of his studio band that does the material justice. Manfred Mann guitarist Mick Rogers plays a significant role, conjuring up all manner of guitar tones and bringing real variety to his attack, while drummer Henry Spinetti is simply peerless, being the intuitive driving force that propels the tracks along.
There's a finely honed balance between the 'live in the studio' band dynamic and the polished end result, which is never more evident than on the apparent lead track 'Rubber Gloves'. The latter is being promoted by a glossy black & white video and carries an underlying blues feel with a punch and a humorous bent.
And it's worth commenting on the quality of Andy's lyrics which veer from the heartfelt and poignant to the humorous and outright comic. Andy is a musician's musician who has probably seen it all in his 35 years with Quo, not to mention his early years with The Herd, Peter Frampton, Judas Jump ('rock's greatest failure') and his arena road work with Roger Waters.
If you add his own solo work and countless sessions, you are talking about a talented, enduring, song writing multi instrumentalist who has soaked up myriad influences, percolated them and belatedly extracted 10 tracks that ebb and flow and come stamped with his own character.
There's wry humour in 'Ruby & Roy', which is a song that could conceivably be about an oddball couple but was inspired by a night out in Aberdeen with Roy Wood and there's sardonic wit in 'When The Lights Went On', which tells a tale of the people he's known and worked with, including Jerry Lee Lewis and the legendary Tim Hardin, who borrowed Andy's acoustic guitar and traded it for a bottle of vodka!
Then there's the lyrical free form poetry , bluesy feel and potent backing vocals of the impressive 'Tick My Box' and the superbly produced, quiet-loud arrangement of 'Right As Ninepence' with its apparent chaotic if not doomed central character on a piece that finds Mick Rogers in magisterial form.
Finally there's the closing heartfelt 'A Good Innings' which is a deeply reflective lament about those we have lost and those we might eventually lose. As with much of the album, he's unafraid to go where his muse takes him and this leads him to the Country influenced 'A Matter of Time'. Even in a wide ranging album such as this it is a stylistic departure but potentially offers Andy a break as a song writer outside of his own recordings.
Together with Quo producer/aficionado Mike Paxman, Andy has made a coherent fist of some well played and wide ranging material that makes this a refreshingly good album.
Unfinished Business is not the gentle diversion from Status Quo that you might expect and is certainly not as overtly poppy as say Francis Rossi's solo album, rather it is the work of an artist who genuinely has something to say 30 years on from his last solo output. It's been worth the wait.
****
Review by Pete Feenstra
---
| | |
| --- | --- |
| | Print this page in printer-friendly format |
| | |