ALICE COOPER Welcome 2 My Nightmare Spinefarm (2011)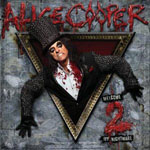 Few have mastered the art of self promotion better than Alice Cooper. From rattling Mary Whitehouse's cage in 1972 to today's Mr Nice Guy it's all been carefully orchestrated.
And the marketing of Welcome 2 My Nightmare (W2MN) has been masterful. But what really irks is the array of available versions - the bog standard, the deluxe, and the Collector's Pack - all with different 'bonus' tracks. Great for record company sales, crap for the consumer. What fans want is a definitive, all inclusive, option but if the Slash album is anything to go by, we'll have to wait another 12 months, when sales are tailing off. It's nothing short of blatant exploitation and little wonder record sales are going down the pan.
But getting off a personal hobby horse, producer Bob Ezrin wasn't keen on the Coop's idea of a sequel to Along Came A Spider and suggested W2MN as an alternative. Clever. But look under the bonnet and the links are pretty tenuous - the album title, the artwork, the loose concept and the album closing The Underture - a clever piece segueing snippets from the original album through a heavily scored orchestral finale.
Where it gets really clever though is the cast that's been pulled together to contribute. Cooper and Ezrin knocked the basic tracks out over just a couple of months (which just goes to show they could churn out albums to order) but the real ace in the pack was to put out calls to some of those who've played leading parts in the past, in particular the three surviving members of the original Alice Cooper band - Dennis Dunaway, Michael Bruce and Neal Smith. That reunion was guaranteed to grip fans like nothing else could.
In fact, they contribute to the writing and play on just three songs - A Runaway Train, I'll Bite Your Face Off and When Hell Comes Home. But the truth is that unless you happened to read the credits you'd be hard pushed to 'spot the difference'. That though, is credit to the cast of several dozen contributors including guitarists Steve Hunter and Dick Wagner, and of course Ezrin himself who was integral to the band's original breakthough in the early 1970s with Love It To Death and Killer.
GRTR!'s David Wilson gives us his track-by-track breakdown
I Am Made Of You - The opening track is a slow burner where we find Alice in reflective mood looking at his life and who he is. The track builds from piano and vocal to a full on heavy ending. An excellent start.
Caffeine - An edgy, fast paced number co written with Keith Nielson from Buckcherry. Alice attempts to stay awake at all costs through caffeine and amphetamines to stave off sleep and the inevitable nightmare, but to no avail.

The Nightmare Returns - A short interlude, which finds our hero falling asleep and hoping that the nightmares stay away ( no chance there then ! )

A Runaway Train - All aboard the nightmare express ! Off we go, headlong on a runaway train to nightmare town. A country tinged rocker, which brings to mind 'The Devil Went Down To Georgia' with great lyrics and driving drums.

Last Man On Earth - A real old style Vaudeville number with Alice vamping it up to the max, you can almost see him in a flea pit theatre with a back line of high kicking dancers spitting out the lyrics with venom.

The Congregation - Here we find ourselves accompanying Alice on a tour of hell, guided by none other than Rob Zombie who is the Vincent Price character on W2MN.
He is shown many sights including my favourite, the eternal mariachi room. Again Alice's lyrical genius comes to the fore, tongue firmly in cheek.

I'll Bite Your Face Off - Having had the tour, he links up with a female for a bit of fun, only for her to turn on him at the last moment. Yep, the title says it all .

Disco Bloodbath Boogie Fever - One of Alice's ideas of hell is disco. In this one he finds disco dancing zombies and armed with only a AK-47 he attempts to despatch as many as possible.
The track starts of with a zombie chorus sounding like Lady Gaga with a poppy disco beat but then ends in full rock mode with a fantastic outro. Alice is at his lyrical best on this, rapping his way through with black humour in every line.

Ghouls Gone Wild - From disco to the Beach Boys with a surf rock number. It is literally the beach party from hell.

Something To Remember Me By - The albums ballad in much the same vein as 'Only Women Bleed' from the original. Alice has had this track kicking about since 1973 but has been unable to do it justice until now. An excellent song with guitar backing from Steve Hunter who also played on Only Women Bleed.

When Hell Comes Home - The darkest song on the album dealing with domestic abuse, hell being the father coming home from work. A bass heavy, brooding number which sends a shiver down the spine. A classic Alice track.

What Baby Wants - Alice finds himself with more female company, this time the Devil in disguise.
The female part is sung by pop wild child Ke$ha which shouldn't work, but it does, brilliantly. This one should be released as a single forthwith.

I Gotta Get Out Of Here - Finally the nightmare starts coming to an end and Alice regains some control, or so he thinks. Listen for the twist at the end….This one sounds like it came from the pen of Tom Petty, no bad thing in my book.

The Underture - An instrumental number with both band and orchestra which brings together elements of both WTMN albums and rounds the album off perfectly. This will make a great finale to the live show.

The limited edition album available at the moment also contains two bonus tracks, Under The Bed which is a song left off the album, which is top class and a live version of Poison recorded at Download.

So what is W2MN like? Well, despite the hype and dubious marketing, it's actually Alice Cooper's best album for some considerable time. And in terms of commercial potential it's probably up there with Billion Dollar Babies and Trash. It's an album that actually makes you smile (not many can claim that) bearing all the musical hallmarks he's touched upon down the years.
It really does echo back to the 'good old days' - from the distant strains of Under My Wheels in Caffeine, to the masterfully loose Stones pastiche I'll Bite Your Face Off, and the obligatory ballads. The song writing throughout is terrific, as with all AC albums it's permeated with some blistering and masterful guitar work and, it has to be said, Ezrin has done a brilliant production job.
There's the pure vaudeville The Coop favours occasionally in the form of Last Man On Earth, and one of the delights is the unlikely guest appearance of Ke$ha on What Baby Wants - a Beat It equalling piece of pop / rock raunch that has 'massive hit single' written all over it.
Sequels seldom work but the reunion of Alice and Ezrin has produced an album that exceeds all expectations.
****½
Review by Pete Whalley
---