AKIN The Way Things End Prog Rock (2011)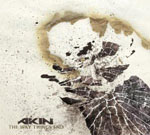 Hailing from Lyon, France, Akin have been around since 1998 describing themselves as a progressive rock / metal band - and listening to their earlier efforts 'Verse' (2001) and 'Forecast' (2003) I would concur with that epithet. Both discs had some spine-tingling moments but I felt they were let down, rather in the way that Opeth used to let themselves down, with a penchant for death metal growling and double kick-drum nonsense.
'The Way Things End' however is a completely different beast. Gone are the death grunts of before and step forward stunning female vocalist Adeline Gurtner whose exceptional vocals combine the finest aspects of current prog chanteuses Heather Findlay, Christina Booth and Anne-Marie Helder into an irresistible package of power and subtlety.
Now add a coterie of exceptional musicians (including a string quartet (!)) and top it all off with fifteen tracks worth of peerless songwriting and you have a recipe for one of the albums of the year. Yes, it's that good.
From the acoustic strumming of the opening track 'The 92nd Flight' you sense you're in for something a bit special here. And so it proves as the album opens out to reveal its treasures one by one.
One of the many joys here is never knowing what's coming next. Just when you're expecting a crashing guitar riff, a flute or violin will carry the track forward and the reverse is often true - just when you are settling in for a bit of quiet acoustic loveliness a searing guitar solo or a snatch of jazz will catch you unaware.
It's virtually impossible to find highlights here as this would suggest that there are tracks that are somehow inferior. This is plainly absurd so I won't bother.
Suffice to say this will appeal to all fans of rock music whether progressively inclined or not. It is progressive insofar as the verse chorus verse format is eschewed for allowing the songs' themes to develop, but there's no self-indulgent twiddling, and, although dark in places, no risible, hectoring or obscure lyrics.
I'm desperately seeking more superlatives here but failing. Let's just say that the sheer brilliance of everything here - songwriting, musicianship, production and, goddamnit, variety, should propel the band into progressive rock greatness. It's already found its way into my top three albums of the year, and that, given the quality of this years' prog releases, is no mean feat.
Quite simply - superb.
*****
Review by Alan Jones
Alan sequences "The Eclectic Mix" on the third Sunday of every month on Get Ready to ROCK! Radio, and usually manages to include some prog.
---
| | |
| --- | --- |
| | Print this page in printer-friendly format |
| | |