Just witnessed your best live gig?.. send us a review!
Classic Rock Heaven? Summerfest in the USA makes all festivals seem rather tame: although not specifically classic rock there was enough there to entice Andy Nathan back after a break of 6 years...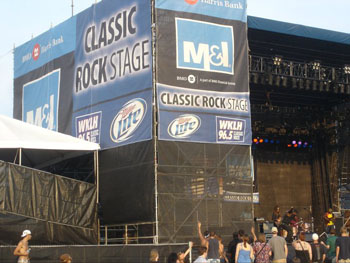 SUMMERFEST Milwaukee, Wisconsin
29 June - 11 July 2011
Review and photos by Andy Nathan
Pop quiz for you. What is the world's largest music festival? Glastonbury? The South by South West that has the whole industry flocking to Texas? One of the big European festivals like Roskilde?
Wrong - according to the Guinness Book of Records, that honour belongs to Summerfest, on the shores of Lake Michigan. With a history of over 40 years, the festival plays host to a remarkable 700 bands over 11 days on 11 different stages.
Milwaukee incidentally is a much underrated city, relaxed, easier to walk around than many US cities and with a plethora of bars, reflecting its history as a city where Germans settled and made it America's brewing Capital.
I had only really stumbled across Summerfest by accident in 2005 when I wanted to catch the John Mellencamp and John Fogerty tour, but I enjoyed the time of my life then, and so was excited to return for the first time in four years, meeting many friends both old and new in the process.
It is not a rock festival as such, hosting the full gamut of popular music genres, but by picking and mixing everyone can assemble a line up that reflects their own tastes, and one of the stages is designated as the Classic Rock stage.
---
The 'name' acts only tend to appear in the evenings, so the 700 figure does in fairness include a huge roster of local bands who play during the day. Probably a majority are cover or tribute bands but, as an obsessive for American rock from the seventies and eighties, that was still a delight for me, especially as their musicianship and presentation is in my opinion superior to their British counterparts.

---
A few words about the set up of Summerfest - the site occupies about a mile long strip not far from downtown on the Milwaukee lakefront, lined with music stages and stalls from the city's traders selling food, a surprising variety of beers and clothing and jewellery. A sky ride even offers the chance to rest those legs and get a bird's eye view of the site.
Within the site is the 23,000 capacity Marcus Amphitheatre, which hosts a major concert each night by a variety of rock, pop and country acts, for which standard prices are charged. Not interested in the likes of Britney Spears, Toby Keith and Katy Perry, this time the only show I saw there was Def Leppard and Heart.
Every other stage is covered by general admission, which costs a maximum of 15 dollars but an obscenely cheap 8 dollars before 4pm - and indeed deals are usually to be had to get in cheaper than that! The stages have unreserved bench seating, leading to races to put towels down (I told you of Milwaukee's German origins!) and it pays to get there early.
The 'name' acts only tend to appear in the evenings, so the 700 figure does in fairness include a huge roster of local bands who play during the day. Probably a majority are cover or tribute bands but, as an obsessive for American rock from the seventies and eighties, that was still a delight for me, especially as their musicianship and presentation is in my opinion superior to their British counterparts. However this review concentrates solely on original bands.

HALL AND OATES - 29 June
You could not move on the first night, when the city turns out in force to mark the opening of the Fest and enjoy some spectacular lakeside fireworks. However I grabbed a spot between the beer tent and the Classic Rock stage to catch Hall and Oates for the first time in my life (ironically they cancelled when I was due to see them at Summerfest in 05).
Barely changed from their heyday, they made a great start with 'Maneater', complete with sax solo, a rocky 'Family Man' and 'Out of Time' all bringing back memories of listening to Paul Gambaccini's American chart show in the early eighties.
The blue eyed Philly soul period I was less interested in, with the exception of 'She's Gone'. It was a no frills and rather short set, but a lengthy 'I Can't Go For That' got the crowd dancing, and during the second of two encores, I joined mass singalongs to 'Kiss on My List' and 'Private Eyes' to get the adventure off to a good start.
---
It's easy to see them as a 'guilty pleasure' but I have never left an REO show less than thoroughly entertained and uplifted, and this was one of the most enjoyable.

---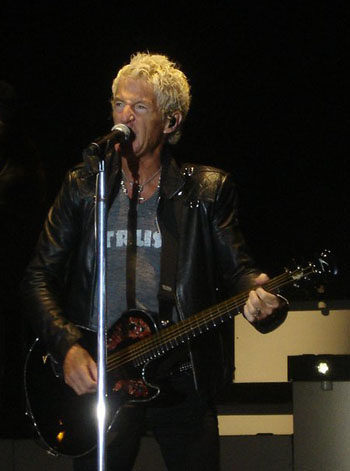 REO SPEEDWAGON- 30 June
Summer after summer, REO Speedwagon tread the outdoor circuit in the States, and their Mid-West home territory is as good a place to see them, Kevin Cronin in typically breathless fashion repeatedly describing the crowd as awesome.
There were a couple of surprises - as part of an opening segue of songs to mark the 30th anniversary of 'Hi Infidelity' (and yes the classic ballads 'Keep On Loving You' and 'Take it On the Run' were present) , Bruce Hall sang the very rarely played 'Somewhere Tonight'.
In contrast, to mark their origins in nearby Illinois, they also played some really early, more progressive material like 'Son of a Poor Man' and 'Golden Country', before the traditional favourites - 'Time for me to Fly', 'Back on the Road Again', 'Roll with the Changes' and the encores 'Ridin the Storm Out' and '157 Riverside Avenue'.
I've said it before, but although 'Cant Fight This Feeling' was exquisitely delivered as the model of how a power ballad should sound live, REO really come alive as a hard rocking live band.
Dave Amato was constantly pulling back his whammy bar and cranking out aggressive solos, while he and Bruce charged from one end of the stage to another like men a quarter their age. It's easy to see them as a 'guilty pleasure' but I have never left an REO show less than thoroughly entertained and uplifted, and this was one of the most enjoyable.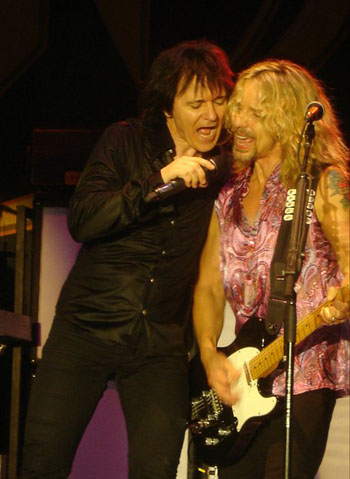 STYX - 1 July
After seeing the edited highlights of a 40 minute set with Journey on their UK tour, it was great to witness a full length Styx set so soon afterwards. There was major demand for their show, too much so in fact as some people arrived late and tried to push to the front, causing tempers to fray in this normally laid back part of the world.
Styx have to be one of the most entertaining live acts around, not only with spot on harmonies, but their stage movement and sense of enjoyment, and certainly I found them one of the most rewarding sources of photographs all holiday. However the less said about Tommy Shaw's ladies blouse the better!
Of course the favourites were all there - 'Blue Collar Man', James JY Young's solo slot 'Miss America' , 'Fooling Yourself' with original bassist Chuck Panozzo (looking worryingly like Henry Kissinger in his suit and thick glasses) making an appearance and some fantastic synthesiers and harmonies, and 'Come Sail Away', Lawrence Gowan teasing with snippets of other songs before sending the crowd wild and the song ending in an explosion of multi-coloured confetti.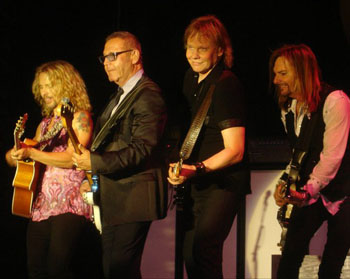 But, not having seen them for a few years, the highlight for me was hearing three late seventies classics I'd never heard live before - 'Castle Walls', 'I'm OK' but best of all a brilliant version of 'Man in the Wilderness', with Tommy working overtime, singing, playing acoustic guitar, then swapping twin leads with JY.
Lawrence's version of 'I Am The Walrus' I could have done without, but as usual Renegade signed off another top class set by these enduring entertainers who I hope come back to the UK soon.
HINDER - 2 July
For some bizarre reason the classic rock stage hosted a country act on Saturday night, so I made my one trip to the Rock stage at the opposite end of the grounds, which has a much better appointed set up, but focuses on the newer generation bands. Of them, Hinder are one band I have grown to like, with their mix of Motley Crue/Buckcherry style sleaze and surprisingly big commercial hooks.
With a set culled from all three albums and about half from latest album 'All American Nightmare', they went down well with the crowd but I was slightly disappointed.
A lot of the hooks and melodic sensibilities of the likes of How Long were lost by a band that was far more aggressive and punky live, while I have reached the time of my life when I cease to be impressed by the constant swearing of too many of these bands.
Their big US hit 'Lips of an Angel', and 'Better than Me' did though result in mass singalongs before the encores of sleazy rock classics 'Put That Record On' and 'Get Stoned' created a great Saturday night party atmosphere for a younger crowd.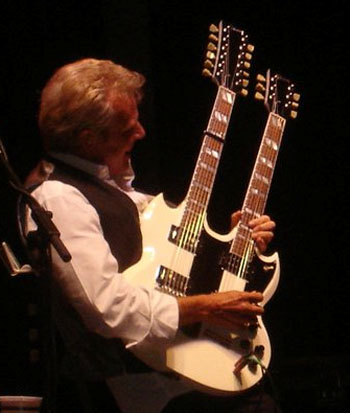 DON FELDER - 3 July
In contrast I was spoiled for choice on the Sunday, with Blue Oyster Cult and the influential and recently reformed alt-country rockers The Jayhawks on my shortlist. However the memories of a wonderful night at Moondance Jam last year hearing Don Felder play a set almost entirely of Eagles classics that he played on swung it for me to see him again.
Unfortunately the atmosphere did not match that magic night: for one thing, most of the crowd were out behind the stage watching some spectacular lakefront fireworks which overlapped with his set, doubly unfortunate as he opened with 'Hotel California' and then the covered Potawotomi Casino stage was far from full, and most of the crowd at the front stayed seated.
It was nearly the same set as at Moondance - right down to the anecdotes about waking up with Mr Jose Cuervo before playing 'Tequila Sunrise'. Other than covers of 'Pride and Joy' and 'Superstitious', and his own 'Heavy Metal', the whole set comprised Eagles songs, though his average voice needed augmenting by ex Whitesnake keyboardist Timothy Drury and a bassist who hit all the high notes. A young second guitarist Ben Mauro also showed his paces on 'The Long Run'.
Despite being a bit of an anti-climax, you can still hardly fail to enjoy his timeless, economical guitar work, particularly on slide, on the likes of 'Already Gone', 'Victim of Love', 'These Shoes', 'Life in the Fast Lane' and 'Heartache Tonight', nor sing along to the final song 'Take it Easy'.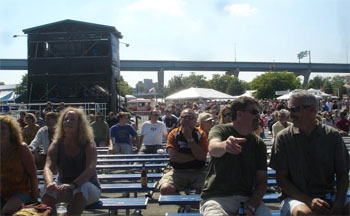 HEART - 5 July
My sole gig in the Marcus Amphitheatre was to catch Def Leppard and Heart's joint US summer tour, which sadly was curtailed shortly afterwards when Joe Elliott's father passed away and a number of shows were cancelled including one on my schedule at Rock Fest in Cadott, Wisconsin. In doing so I had to pass up the chance to see Cinderella and Paul Rodgers in the main grounds.
After a short opening set from very White Stripes influenced solo guitarist Evan Watson, Heart came on stage playing under rather dark lighting. They opened with a curveball in 'Cook with Fire', complete with Ann Wilson on flute, and 'Heartless', but their set was different as Ann admitted this was a night to celebrate the eighties. So their most successful era, but one which at times they disown, was well represented with versions of 'Never' and 'What About Love'.
'These Dreams' had ageless sister Nancy singing, though I could have done without the dance loop-influenced backbeat, while it was a bit cheeky to imply that John Farnham's 'You're the Voice' was a song they had written. Given full use of a walkway out into the crowd, Ann's passionate, lung-busting voice is still a thing of wonder at 60 and was showcased to melodramatic effect on 'Alone'.
New song 'WTF' was an unmelodic sonic mess, but returning to the seventies, the gig just got better and better with a closing trio of 'Magic Man' on which both keyboard player Debbie Shaer (but pigtails on a grown up - please!) and guitarist Craig Bartok shone, 'Crazy on You' and 'Barracuda' with Nancy and Craig jamming on guitar. However for me yet another Led Zeppelin encore, of 'What Is and What Should Never Be', was an anti climax to their hour long set.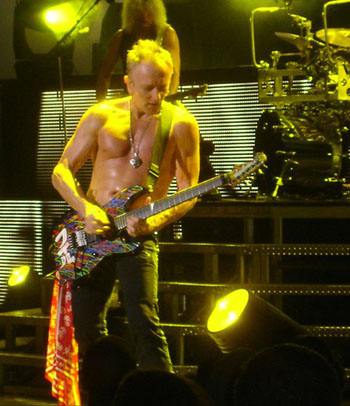 DEF LEPPARD - 5 July
As for Sheffield's finest, well their set was of less interest to me than their Download gig last month, being an hour and a half at tops and focused almost exclusively on the greatest hits with few surprises.
But the good news was that this resulted in a truly cooking atmosphere with a 20,000 crowd on their feet, punching the air and singing out every word, once new song 'Undefeated' had been got out of the way.
The set took a familiar turn - crowd pleasers early on like 'Let's Get Rocked', 'Animal' and 'Foolin', Rick Savage's tedious bass solo and cover of 'Rock On', and the band coming out into the audience for an acoustic sequence of 'Two Steps Behind' and 'Bringin On The Heartbreak'.
After the guitar jousting of 'Switch 625' gave Joe a chance to rest his voice, from then on in it was one hit after another from 'Pyromania' and 'Hysteria' -and with 'Hysteria', 'Armageddon It', 'Photograph' and 'Pour Some Sugar on Me', plus sole encore 'Rock of Ages', the amazing crowd response got louder and louder.
The other reason to love a Leppard live show is that their stage set and light show is always immaculately constructed and perfectly suited for the grand gestures that are needed to make a show work in arenas this size.
The band make full use of the space available and Joe, whatever any reservations about his technical ability, is a master at working a crowd. It is easy to be snobbish, especially with a greatest hits set, but they do the job of giving you a big fat stadium rock show perfectly.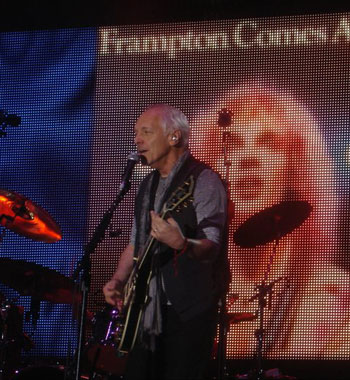 PETER FRAMPTON - 6 July
It was back to the Classic Rock stage after a few days away to see another of my fellow 'limeys', one Peter Kenneth Frampton, mark the 35th anniversary of his platinum multi-seller 'Frampton Comes Alive' by playing the album in its entirety. The posters for the UK leg of the tour in the winter state he will also play other career highlights, but on this occasion an hour 50 minute set featured the album and nothing more, and made for a more concise set than his March show at Shepherds Bush Empire which did meander on a bit.
A very well constructed backdrop kept flashing images of old photographs and album covers, although the 'Comes Alive' cover shot drew attention to the change between his massive 1970's perm and today's thinning silver hair.
Nevertheless one of his endearing qualities is his ability not to take himself too seriously and he changed the lyrics of 'All I Wanna Be is By Your Side' to 'I don't care, now that I've lost some hair', not to mention his appearance on The Simpsons being included in the backdrop.
Fairly early in the set, 'Show Me the Way' woke the crowd and he played his famous talkbox for the first time, and 'It's a Plain Shame' kept up the momentum, but after a series of acoustic numbers the pace had probably dropped too much.
Nevertheless it picked up with the likes of 'I Wanna Go to the Sun' and 'I'll Give you Money', which developed into an incredible extended jam between him and second guitarist Adam Lester who achieved the unlikely feat of out soloing him, while it was a pleasure to hear songs that might not otherwise have made it into the set like 'Nowhere's Too Far for My Baby'.
However the moment the crowd had all been waiting for was obvious the moment a massive cheer went up for the opening bars of 'Do You Feel Like We Do'. Extended to a 'mere' 18 minutes, we of course had him messing about with the talkbox with a few lines about his history in Humble Pie.
After encores of 'Shine On', rolling along to Rob Arthur's Hammond organ, 'White Sugar' and his cover of 'Jumping Jack Flash' with a typically fluent solo, I left for the night richly entertained by a man with plenty of fire still left in him, and with 'Doo-oo you, feel like I do' on my brain.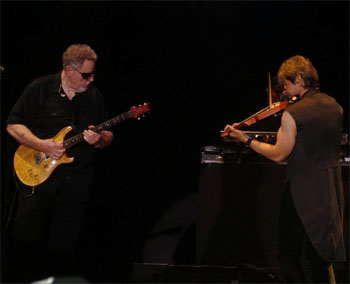 KANSAS - 7 July
Summerfest gave me a rare opportunity to see Kansas, who have only hit UK shores briefly in 2005. The formula remains the same of some incredible musicianship and interplay between lively, centre stage violinist David Ragsdale, tastefully restrained guitarist Richard Williams and keyboardist Steve Walsh.
Looking somewhat scruffy in grey beard, baseball cap and ponytail, the latter is also one of melodic rock's greatest ever vocalists and though a bit quivery in places there was still some of that magic in evidence.
It was a bit distracting though the way he would emerge from the keyboard to deliver a few lines, then turn on his heels and return, while bassist Billy Greer acts as the compere and occasional co-vocalist and Phil Ehart beat the hell out of the largest drum kit seen all weekend.
Highlights for me included the sparky instrumental 'Musicatto' (from my favourite album of theirs, 1986's 'Power') 'Point of Know Return' with some great 70's keyboards, the relatively rarely played 'On the Other Side', and the classic 'Hold On' with a great solo from Richard, even though 'Dust in the Wind' was over too soon. Those with a taste for the band's more progressive side will have been delighted by a suite of songs from the 'Leftoverture' album to mark its 35th anniversary.
Dedicated to the troops, 'Fight Fire with Fire' was a disappointment, not suiting Steve who was away from the band when it came out in 1983, but a stonking 'Carry On Wayward Son' ended things on a high note, showing off that great musical interplay which I never wanted to end.

---
Founder members Gerry Beckley and Dewey Bunnell may have the look of 6th form geography teachers breaking out the guitars after a hard day's field trip, but are responsible for a back catalogue of songs that they admit lead people to say 'I never knew they wrote that one as well'!

---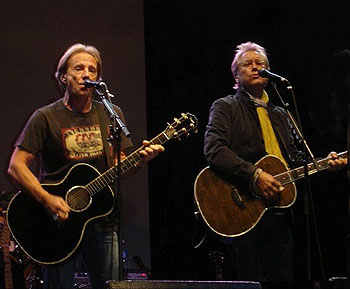 AMERICA - 9 July
After a day's record shopping in Chicago, my final name act was another enduring legend in America, who have passed 40 years together. Founder members Gerry Beckley and Dewey Bunnell may have the look of 6th form geography teachers breaking out the guitars after a hard day's field trip, but are responsible for a back catalogue of songs that they admit lead people to say 'I never knew they wrote that one as well'!
Sensitively backed by a backing band of long-time cohorts Willie Leacox on drums and Sid James lookalike Michael Woods on guitar, and bassist Rich Campbell who also supplies high harmonies, the likes of 'Tin Man', 'Daisy Jane', 'Ventura Highway' and 'Lonely People' had people singing along. As for me, I was delighted to hear two of their more AOR classics from the early eighties, 'You Can Do Magic' and 'The Border'.
There was also a twist as they played a few songs from a forthcoming album of covers that they wish they had written, ranging from oldies like 'Woodstock' to the Gin Blossoms' 'Till I Hear it From You'. Like the Eagles they define the term soft rock, but can rock out when the mood takes them, as on 'Hollywood' where Michael was allowed to stretch out, and 'Sandman', as with the volume suddenly turned up he and Dewey shared heavy distorted guitar riffs in the manner of Neil Young.
Like Peter Frampton, Gerry in particular is also a dry wit (I hope their upbringing at a US air base in West London helped!), giving people his internet tip that googling 'America' would not be profitable and saying 'these are not oldies, they are classic rock - there is a difference'!
'Sister Golden Hair', with its melody on slide guitar, and final encore 'Horse With No Name' were the perfect close to a warm summer's evening by the lakefront and to my main action at the festival.
A huge variety of bands at rock bottom prices, and great food, drink and atmosphere, all in a handy location - Summerfest must be not only the world's biggest music festival, but one of the best. I can't wait to return and you should sample this heady Milwaukee brew for yourself if you possibly can.

Review and photos by Andy Nathan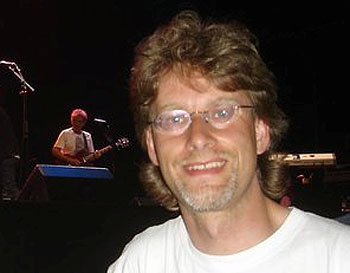 GRTR!'s World Explorer Andy Nathan. Not wishing to miss any action, and showing the true diligence of a GRTR! Hack, he managed just 11 hours rest during a mammoth 11-day festival.
---
---