Just witnessed your best live gig?.. send us a review!
On Sunday 14 August at 21:00 Keith Thompson will be playing music and interviews from bands appearing at this year's event. More information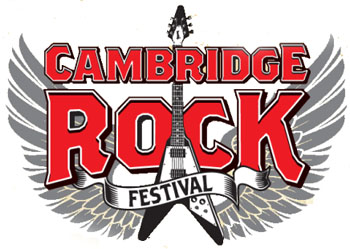 CAMBRIDGE ROCK FESTIVAL
4-6 August 2011
Photos by Noel Buckley
Sunday 7 August and Photo Gallery
Cambridge Rock is one of GRTR!'s favourite smaller festivals. Friendly, well-appointed and with a wide mix of upcoming, tribute, and established bands. Keith Thompson bought a £20 tent and hit the M6...
So we arrived at the Cambridge Rock Festival with promises of rain on the Thursday and squally showers for the remaining three days at this small to medium sized festival which caters for fans of old school classic rock, melodic rock, blues and prog.
Having hastily erected the bargain Tesco tent which its makers claimed to be for four people (or pixies) we took the short walk across the field to the two stages.
Director, Dave Roberts should take credit for this aspect of the event. The ability to take your car to your tent and its vicinity to the stage is a sign that he wants the fan to come first. Srange notion but worked for me.
Thursday 4 August
Pure Floyd had just begun, so we were able to wind down from the four hour journey with a trip through the greatest hits including an immaculate rendition of 'Shine on You Crazy Diamond' and 'Wish You Were Here.' 'Astronomy Domine' from the Syd Barrett era though did veer away from the tried and trusted set list offered by most Floyd tributes. 'One of these days' was boomed along nicely with plenty of Dr Who frolics.

Another tribute in the shape of the Ultimate Eagles followed. More fool me for whingeing at the phoney American accents in between songs until I discovered the guys were from USA. Again, it was a safe choice to open a festival of this nature and well received by an excited crowd.
It was during the set that I spotted fellow Merseysiders, The Clan doing a Spinal Tap, having arrived in the back stage area in the dark and not knowing how to get to the bar.
Eventually this rare protected species joined us for a couple of pints from a healthy selection of 47 beers and a look at Thursday's headline, The Hamsters.
Now I was looking forward to seeing this ubiquitous breed who laid claim to being the busiest live band in the UK. Unfortunately working hard seems to have taken its toll on performance. This is their 'farewell year' and I could not help but offer a reason why. Stationary for the most part, the highlight of the show was when they played each other's instruments.
Nobody was complaining about the musicianship. Snail-Pace Slim's guitar shone out particularly during 'Voodoo Chile' and the rhythm section thundered verily as you'd expect. But our group of like minded souls agreed that the performance was formulaic and lack lustre although not without its high points.
All in all, full marks to the organisers for the band selection and on site organisation.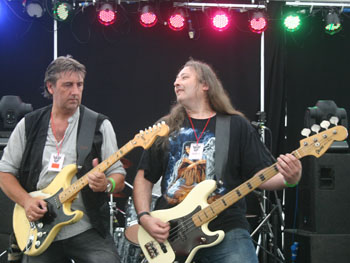 Photo: Keith Thompson
Friday 5 August
The Friday was opened by our convoy companions The Clan. A local band to me, I am familiar with their live set but I was also pleasantly surprised that the ominous honour of opening 'post toastee' was not such an ordeal as it might have been.
At the outset, the anthemic 'Rock For You' was immediately greeted with passing trade who were all curious and stayed for the whole 45 minute set. The Clan claim nothing more to be a good time power trio without any pretence yet exuding panache combined with enthusiasm, stage presence, skilful playing and assertive song writing. Pies pasties and rock n'roll says it all.
The set peaked during the slower more thoughtful 'Someone Else' which cleverly merged into the break out bass line from Fleetwood Mac's 'The Chain.' Although I have seen this a few times, it still delights audiences from Grimsby to Wallasey.
By the time the finale, 'The Few' had died down, it was clear that The Clan had triumphed over potential adversity. A support slot to GMT will hopefully bring more converts to the cause. Fighting Wolves followed with a brash Foo Fighters style approach which flattered to deceive due to technical issues, but they will live to fight another day.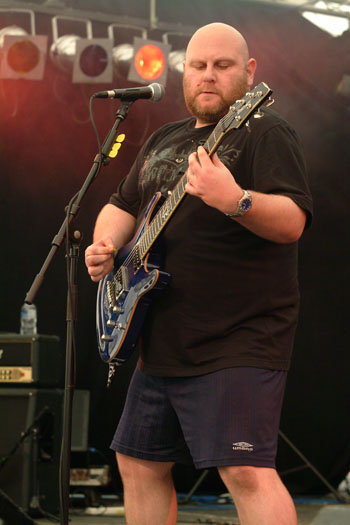 Melodic rockers Sacred Heart held their own with very few departures due to uplifting songs like 'On My Way' which would not look out of place on a modern Journey album. Front man, Paul Stead doesn't stand on ceremony dressed in football shorts and trainers yet this 'comes as you are' attitude didn't necessarily mean lack of care in the performance on this humid afternoon. 'Lay it on the Line' too crackled away with its distinctive riff and heart wrenching melody.
Having left Mostly Autumn last year, Heather Findlay brought in a band of stature which included Roger Water's regular, Dave Kilminster. With a set of older Mostly Autumn tracks from the fledging era, this was also an occasion to introduce the first solo album, 'The Phoenix Suite' to the fore.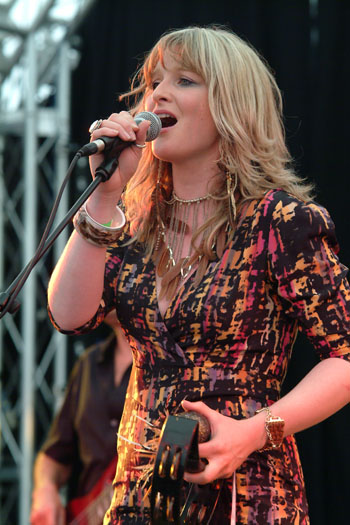 The result was more Heart than Hippy. Heather's unmistakeable voice was in fine fettle after a lay off due to motherhood and Kilminster's skilful guitar playing was more raw than expected. Overall, a change in direction and an opportunity to blood a refreshing AOR sound instead of an alternative version of Mostly Autumn.
Andrew Lock writes: From the Phoenix Suite the up-tempo quirky 'Cellophane' sounded fabulous as did the powerful rocker 'Red Dust', visits to her Mostly Autumn years included one of the finest compositions from her years with the band from the Passengers album the magical 'Caught in a Fold' which was always a stand out number live in her days with the band.
We were also treated to a quality threesome of numbers from the Heart Full of Sky album, two breathtakingly beautiful compositions Heather's 'Half a World' and in my opinion Chris Johnson's finest composition from his days with Autumn, the exquisite touchingly gentle 'Blue Light', and finishing the set in spectacular style a complete reworking of 'Yellow Time', light and breezy on the album but here rocked up and to my ears echoes of Iggy Pop's Lust For Life running through it.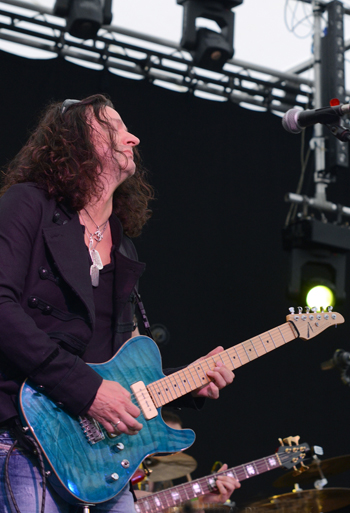 Photo: Andrew Lock
A fantastic set by one of the finest female rock vocalist and writers around, Heather in fine voice and as confident and at home on stage as always with a top class band playing with her and what quality in the lead guitar role with Dave Kilminster who has just finished his Wall duties with Roger Waters, some of his guitar work was just out of this world.
I see a big future for both Heather and Mostly Autumn, maybe the change has invigorated both and for fans we now have even more great music to look forward to from the ever growing Mostly Autumn family

---
Glorious farce, cleverly stage managed with just enough 'off the cuff' wit to appeal to anyone of any age. I am now a fan.

---
Nothing really caught my eye until early evening and the arrival of John Otway. Confession: I am not a fan. When he appeared at my local rock club, Revolver, I didn't bother. Even though I, like most of us, laughed at his legendary performance of 'Really Free' on OGWT.
Backstage though I had politely wished him a happy 60th birthday and, a pint of Black Abbot in hand, waited for what I thought was simply going to be a whimsical prelude to Eddie and the Rods.
Not for the first time at this festival, I was happy to be wrong. Otway is a brilliant raconteur who can make mincemeat out of the fickle music industry using hyperbole and irony. He is allowed to rail. Two hit singles and the 'Delilah' Weetabix tie-in that Otway reminded us got to 186 in the charts is his legacy. His self deprecation was infectious.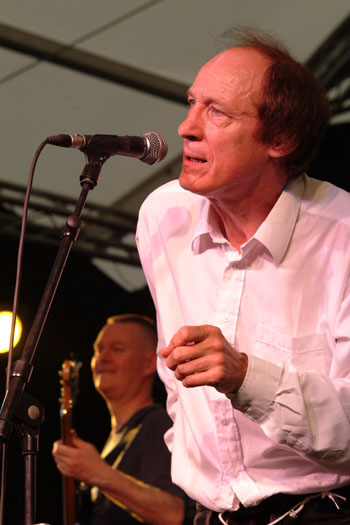 Ably assisted at the front of his five piece band by Richard Holgarth (Eddie & The Hot Rods) who interrupted him regularly when he was rambling on with one of his many monologues, the whole set was a warm and entertaining romp.
Complete with ladders, a stooge roadie who was forced to sort out the mayhem caused by tangled mic wires, miraculous forward rolls with guitar in hand (aged 60) oh and 'Bunsen Burner' the other hit, this was a comedy of competence.
'Crazy Horses' featuring an electronic device that goes 'weeehhhh weeehhh' was hilarious but also professionally presented. Glorious farce, cleverly stage managed with just enough 'off the cuff' wit to appeal to anyone of any age. I am now a fan.
---
After five songs I decided that putting your hand on your hip like Mick Jagger and resembling David Johansen while your band mates stand still playing two chords as you shout out irrelevant lyrics with 'fuck' in the title does not make for rich entertainment.

---
So all that glam rock band Bubblegum Screw needed to do, as mid evening headline, was to keep the capacity audience intrigued and upbeat. Cue 'Family Fortunes' buzzer.
When I am reviewing, I allow for a couple of looseners before I start to draw any firm conclusions. After five songs I decided that putting your hand on your hip like Mick Jagger and resembling David Johansen while your band mates stand still playing two chords as you shout out irrelevant lyrics with 'fuck' in the title does not make for rich entertainment.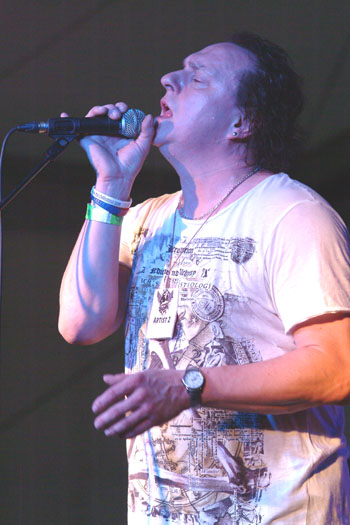 This is coming from an admirer of Alice, Kiss, Manson and The Sweet, so it's not as if I didn't want to like these young pretenders. This was an utterly depressing performance which succeeded only in sending most of the assembled to Stage 2 to watch the proggish Paul Menel.
While I am not familiar with his work, Menel's publicist dutifully filled me in with his former IQ background. Our photographer, Noel Buckley and I enjoyed a pint while we both agreed that Menel was one to look out for and I will be playing some of his 'Three Sides to Every Story' on the show. Think Asia or Transatlantic and you get an idea of the Paul Menel sound.
---
Eddie & The Hot Rods proved that unlike their punk contemporaries, the messages they conveyed were timeless, not ones which once pandered to greedy tabloid media looking for cheap thrills in the mid 70s.

---
Headline act, Eddie & The Hot Rods had an easy enough task in the sense that Otway had warmed them up only for Bubblegum Screw to insult them.
Led by original member Barry Masters and Richard Holgarth's healthy sardonic wit, the band pumped through a surprising number of songs which I had forgotten about.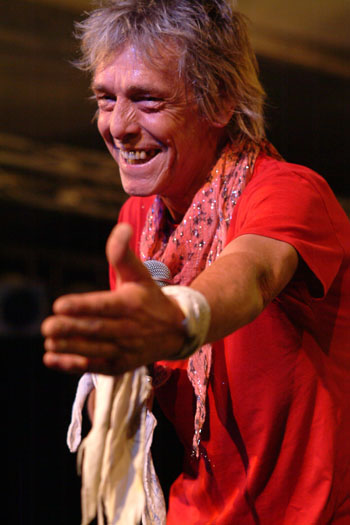 It sounds like a cliche but true nonetheless 'Do Anything You Wanna Do' sounds as good live now as it did back in the day. Eddie & The Hot Rods proved that unlike their punk contemporaries, the messages they conveyed were timeless, not ones which once pandered to greedy tabloid media looking for cheap thrills in the mid 70s. An uplifting end to the day.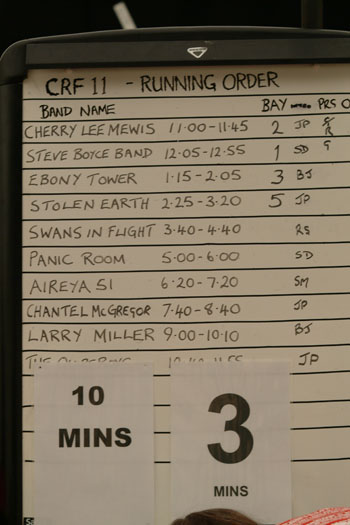 Saturday 6 August
One of the 'joys' of reviewing and presenting is hanging around backstage for artists to arrive or leave the stage. Wearing my radio hat, I found myself reviewing the back of bands while our photographer Noel Buckley did the front.
Noel too though was of the opinion that the back is not a bad place to be and you can see on this page some of the results of that endeavour as we weaved our way through the tightly organised backstage region, courtesy of our ever helpful guide, John.
Unfortunately I missed Noel's recommendation, Remus Down Boulevard but he reported that they played a rip roaring set which included an up tempo version of 'Smoke on the Water,' the audio of which I heard at my tent and did intermittently interrupt my brunch and pre-match rugby report from Twickers. Praise indeed.
---
It's not down to pure luck that Steve Boyce is about to become known to thousands again.

---
On my return, I was promised an interview with Steve Boyce and so it was with this in mind that I checked out the set. Very much in the Gary Moore mould, Steve and his original band from the 70's had reformed initially to honour the passing of their drummer, Trev McBride and had won the 'Reform Your Band' competition on another radio station.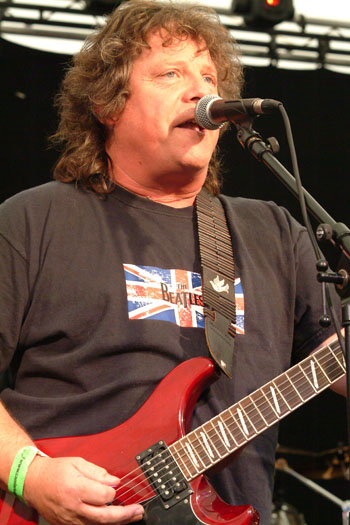 This was bluesy rock at its best. It's not down to pure luck that Steve Boyce is about to become known to thousands again. The last 'big gig' was as support to Eric Clapton in Hyde Park. But having been asked to write the song for the England Rugby World Cup bid, radio play beckons starting with my own show next Sunday when I will exclusively reveal the song. Even more news was whispered to me regarding a big name, but I am not allowed to report it yet.
---
I liked the stage presence but perhaps more cohesion in the writing might add a new wing to Ebony Tower.
---
Back to progressive pop again, somewhat of a theme for mid Saturday. Ebony Tower's 'White Rabbit' proved to be the best received song in their set.
The gorgeous Zanda King in suspenders and a kaftan, worthy of a Trojan queen, would certainly launch a thousand ships, but perhaps not a thousand albums.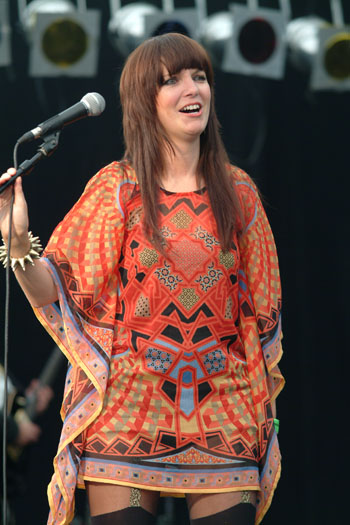 It's not that she can't deliver. I am just not sure that castle keeper, Wilson McQueen is the one to provide the killer notes that will captivate a nation after 15 years trying. Help is not always an admission of failure. Abrasion vs melody. See Waters/Gilmour. I liked the stage presence but perhaps more cohesion in the writing might add a new wing to Ebony Tower.
In a similar vein, this was Stolen Earth's first gig. Another band with a former Mostly Autumn singer in the shapely form of Heidi Widdop on vocals and acoustic guitar ably assisted by the none too shabby lead guitar of Adam Dawson who particularly came to the fore in the final track 'Perfect Waves.'
A fine debut for the self styled atmospheric rockers who should do well on the evidence of the cheers received by a good natured audience.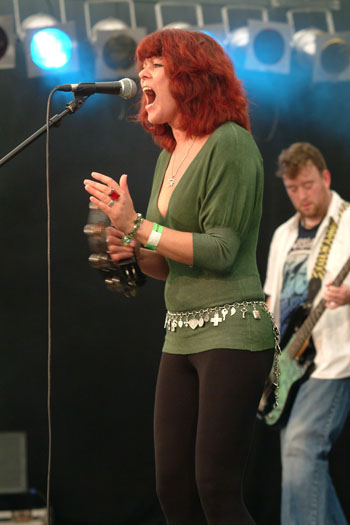 Andrew Lock writes: After the demise of Breathing Space it was great to see several of that much missed band back playing together in a new project Stolen Earth, and incredibly this set on the main stage at the festival was their debut gig (no pressure then !!), not that you would know it from their performance.
The band seemed supremely confident in their music and whilst there are slight echoes of both Breathing Space (quite understandable) and possibly Mostly Autumn they seem to have a style all of their own and in lead vocalist Heidi Widdop have an impressive centre stage presence.
The set opened with lively rocker 'I Live', before showing the other side of the band with the slower paced 'Bitterness Fades' other highlights included the atmospheric 'Silver Skies' and the beautiful 'Tuscany Sun' with some sumptuous lead guitar. Apart from Heidi it was great to see ex-Breathing Space members Paul, Adam and Barry back on stage and to welcome keyboard player John Sykes to the family - the only one in the band not from the Breathing Space days. Another excellent band to keep an eye on.

Swans in Flight were next up. Hard rock with Bryan Adams look and attitude coupled with a Thin Lizzy approach to performance. They can funk too. SIF had their work cut out at the tea time slot but guitarist and vocalist, Hugo Montgomery-Swan is an engaging chap who worked the remaining audience well. 'Life's Prize' was the highlight of a well chosen set which balanced acoustic integrity with high voltage riffs. I will be seeking them out for my Rockwaves show.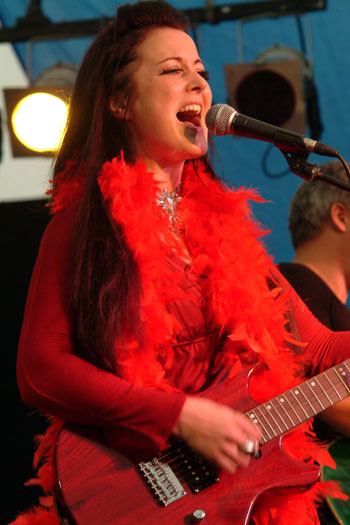 Panic Room's stall is more clearly laid out than either Ebony Tower or Stolen Earth. The combination of atmospherics and melodic chorals worked far more effectively. As an audience we felt engaged in the process.
Title track of the album 'Satellite' is case in point. Love from a distance is a heady theme from Anne-Marie Helder that deserves the pompous treatment it received from the rest of the band. It was refreshing to see keyboard player, Jon Edwards integrated into the song structure. As Carl Palmer said to me recently, many keyboard players these days seem to play a supporting role despite the rich tapestry of colours open to them.
---
Panic Room is a well thought through concept.

---
Guitarist, Paul Davies explained to me afterwards that he has gone back to basics in his choice of guitar effects and this evident in his delivery which was just enough to complement the skills of the other members. Panic Room is a well thought through concept.
Andrew Lock writes: A welcome return to the festival for Panic Room after their debut Cambridge Rock festival slot last year, led by the magnificent Anne-Marie Helder, they are hard to categorise as their sound touches on various genres of the rock spectrum but the one thing both the bands albums and live performances all have in common is quality.
Standout numbers in the set for me, the forceful and thought provoking 'Freedom to Breathe' the gentle 'Sunshine' and the one two punch of the closing numbers, the heavy gothic 'Dark Star' and the exceptionally dynamic piece of music that is 'Satellite' both powerful and beautiful at the same time.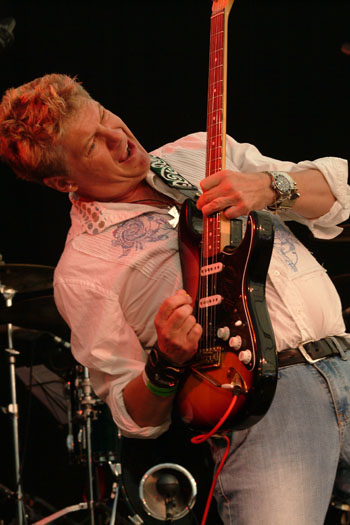 Keith Airey's Aireya 51 picked up where Swans in Flight left off. Better looking than Don (sorry Don), Keith forsook the West End day job to hit the festival stage with aplomb.
It's a bit rich to describe Aireya 51 as a supergroup, but let's say the cast was well chosen with Wishbone Ash's Bob Skeet on bass and The Zombie's Steve Bodford on guitar. The hard rock enmeshed with mystical themes work well live.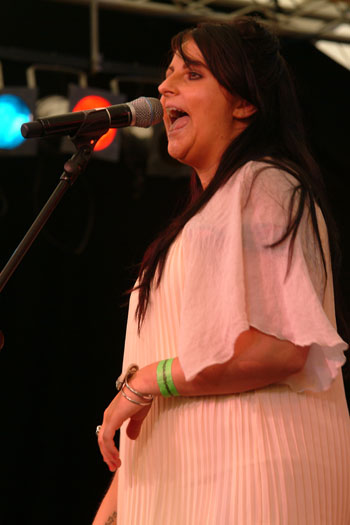 Talking of looks, Cherry Lee Mewis is yet another blues based female artist who has turned to the Delta for her inspiration.
I only caught one song from the set but the appreciative crowd were content with Cherry's voice which tonally reminded me of Connie Lush and I can think of no greater compliment.
Seeing blues performed by young hearts like this inspires older hearts to turn up at gigs, especially if they are as well crafted as this. Come on Jools get a grip. Let's give this lady and the next one some exposure. It can't just be GRTR that has good taste.
---
...let's swiftly lose any convenient notion that Chantel is some kind of novelty act. She is right up there with the best and deserves our utmost respect.

---
Chantel McGregor is GRTR!'s Artist of the Month and for good reason. No rock star pretending here but instead a raw passion for the music. A giddy persona but a seriously talented musician is what's on offer.
Promoting the album, 'Like No Other,' with its eastern leanings on the title track, Chantel simultaneously gained the trust of the audience with a smile and disarmed them with some terrific guitar licks.
It is easy to forget that Chantel has jammed with the likes of Joe Bonamassa as long ago as 2006 and now following his gig circuit of the same era. So let's swiftly lose any convenient notion that Chantel is some kind of novelty act. She is right up there with the best and deserves our utmost respect.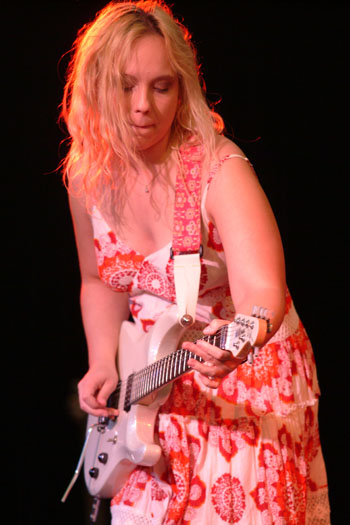 Indeed, Chantel McGregor showed tonight that she has the ability to hold an audience's attention, write and present intriguing songs which touch hearts and experiment with new techniques and styles. What more do you want? The audience wanted another song. That's what!
Headlining were Larry Miller and the Quireboys. So prog was out then! Between them we enjoyed a couple of good hours of blues based rock from Miller and some emotion laden hard rock from Spike and his pals who now field ex Glenn Hughes touring drummer, Matt Goom.
Saturday night was there for the taking and they took it. Looking around the room, there were plenty of smiles for both bands from a jam packed audience inside the main marquee and plenty more planted on picnic chairs outside on this balmy evening.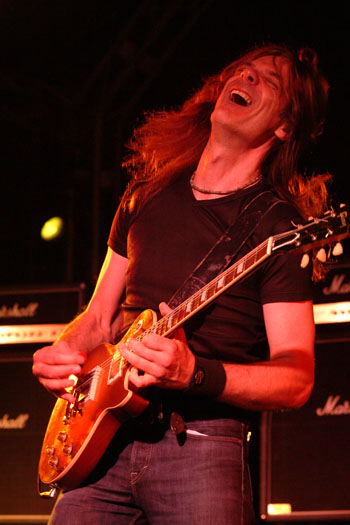 Larry Miller deserves greater recognition. I bet he is tired of hearing that one. Forget for a moment the guitar work reminiscent of his idol, Rory Gallagher. Songwriting is the key to Miller's back catalogue and this was applied with passion. Professionalism too. Larry's sore throat prior to the gig was never once held up as an excuse. In fact the effect was to give Larry that Lemmy dimension.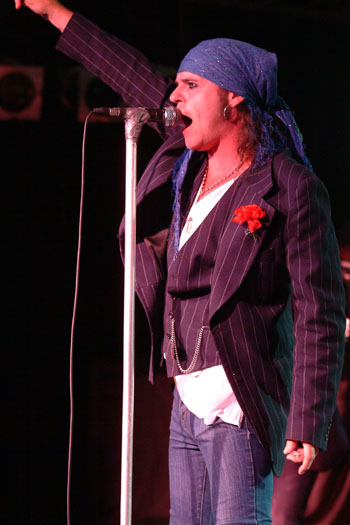 The Quireboys ended the evening with some great showmanship from Spike in particular. This line up combines a youth and energy with some healthy audience participation. Guns n' Roses should end their bereavement period. Unlike seeing Slash, a Quireboys gig aint gonna cost £40 odd. We wandered back to the tent satiated.
Review and interview by Keith Thompson
Photos by Noel Buckley
Sunday 7 August and Photo Gallery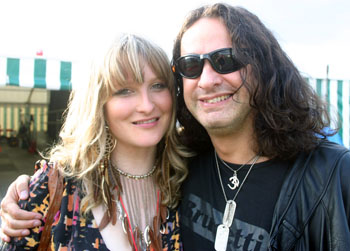 Heather Findlay and Dave Killminster, 5 August 2011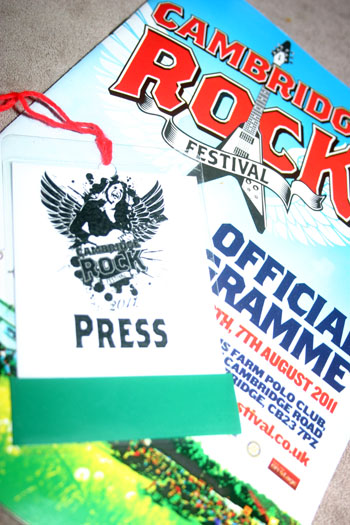 Keith Thompson presents Rockwaves on Get Ready to ROCK! Radio, Sunday 21:00 GMT+1
---