YES Keys To Ascension 4-CD/DVD Proper (2010)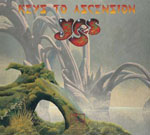 This claims to be the definitive Keys To Ascension package bringing together the original albums (released in two parts) from the band's 'Topographic' line-up who reformed in 1995. In addition, we get a DVD of the San Luis Obispo gig recorded in March 1996.
KTA was originally released in October 1996 and consisted of one side of live material (recorded at San Luis Obispo) - Disc 1 here - and one side of live and two new studio tracks (Disc 2). Disc 3 and 4 cover Keys To Ascension 2 released in 1997 and includes more from that Californian gig and Disc 4 has additional studio recordings.
Historically, after a decade of revolving door syndrome (Wakeman had left the band in 1974, rejoined 1976, left 1980, and was to leave again shortly after the release of Keys To Ascension 2 in 1997) the band reconstituted. After a decade of hiatus - although producing commercially-viable albums under the stewardship of Trevor Horn - Anderson and Wakeman then formed a splinter band with Steve Howe and Bill Bruford.
In 1991 that splinter band came together with the existing Yes line-up for the album 'Union' but such a complicated scenario wasn't to last and ultimately Trevor Rabin and Tony Kaye moved on.
Their departure paved the way for a return to the classic Yes sound of the 1970s and - with Alan White on drums - the Topographic line-up that partly recorded Yessongs, the band's first-ever live album released in 1973. This line-up also featured on 'Going For The One' in 1977 which is represented here by three tracks but there's only one track from the band's 1979 album 'Tormato'.
Keys To Ascension - rambling, gregarious - might be viewed in tandem with 'Yessongs' and in some fans' ears it is as good, if not better. Perhaps the frisson of personality clash and band churn had allowed the band members to focus on the strength and flamboyancy of the more elaborate and proggy material.
Highlights include 'Siberian Khatru' (from 'Close To The Edge') , the twenty-minute 'The Revealing Science Of God' (from 'Tales from Topographic Oceans')and a rare live outing for 'Onward'. There are also pointers back to the early band with 'America' and Disc 3 is pretty much a greatest hits, naturally missing out the more recent (eighties) past.
The whole of 'Close To The Edge' is featured which is perhaps understandable as Alan White toured that album in 1974 after the departure of Bill Bruford.
Amongst the studio tracks, 'Be The One' demonstrates the band can still churn out tracks with an underpinning commercialism whilst 'That, That Is' is a 19-minute piece which includes world flavours amongst its characteristic time signature changes.
The studio tracks recorded in 1995 and 1996 (Disc 4) are worthy of reinvestigation from 'Mind Drive' with its wonderful instrumental mid-section, via the more accessible 'Foot Prints' and the attractive (and surprisingly short) instrumental 'Sign Language'.
The DVD - originally on video and it looks like it, complete with cheesy visuals - includes all the live tracks featured on the other discs plus bonus extras, a Chris Squire commentary, interview and a 1979 gig in Philadelphia.
Enveloped in Roger Dean artwork, more solid packaging - and a critical essay and photo booklet - would have made this bargain-priced reissue an essential collector's purchase.
****
Review by David Randall

---
| | |
| --- | --- |
| | Print this page in printer-friendly format |
| | Tell a friend about this page |