UNCLE MONT'S QUAND'RY Sorrow In Full Strut Regal Records (2010)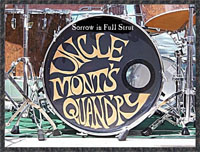 There's something tangible about hunger. Whether you find it in art and music, feel it as hunger in the belly or experience it as a deep seated hunger for cerebral expression, there's an unfulfilled need for a positive resolution. Some manage to satiate their needs through playing and others through lyrics, but Ohio's Uncle Mont's Quand'ry find their own sense of equilibrium via some heart musical expression and deep seated intensity in a post psychedelic duo format.
The magnificently titled 'Sorrow in Full Strut' is everything Rock should be from bug eyed intensity, raging hunger and passion to an explosive spontaneous musical blast. And Uncle Mont's are all these things because their edgy inner core dynamic at the heart of nine tracks of layered intensity leading to a climatic resolution in the grand psychedelic finale 'Our Sister Sleep'. The eastern flavoured guitar textures fuel some of the rawest and most exciting slices of epic improvisation since Paul Butterfield's 'East West'
Drummer Roger W. Downs provides the rock solid undertow via expansive bass drum patterns and spirited percussion topped by copious cymbal splashes. Guitarist/vocalist Jimmy Flemming puts his heart and soul into some crystal guitar lines and coruscating riffs that draw on the classic era of rock/blues, ranging from the British invasion to Southern rock via West Coast psyhedelia. Together they rejoice in an organic feel for the freedom of the artistic spirit
It's rare in this corporate age for a band to make any kind of meaningful statement in their accompanying PR notes, but such is the intensity of Jimmy's introductory message that before you've heard a note the dividing line has clearly been drawn between the potentially special and the eminently forgettable. And in that respect not only do Uncle Mont's Quand'ry not disappoint, they bring additional colour and resonance to the phrase, 'Yes we can do it'.
'Sorrow in Full Strut' bides its time via an opening locked in groove and Jimmy's emotive voice which immediately offers the band a decent shot at tearing down the limitations of guitar/drum format. It doesn't take long for the following 'Ghost of Memory' with its repeated guitar motif, thunderous drum track and Alvin Lee style gnawing riffs to grab hold of you. Much like Canada's Big Sugar back in the 90's, there's real lyrical acumen to match the fiery playing and enough musical diversity to suggest we are listening to something special. Jimmy adds some spiralling Garcia like riffs in between Roger's cascading cymbals and a rock solid beat.
And as if to mirror the whole flow of the album, Jimmy adds a deep toned Trower meets Hendrix tone to his playing on the surprisingly Southern sounding 'Roses of Sharon'. The latter song with its slow burning fervour, understated power, intuitive dynamics and magical guitar could easily have come from the Allman Brothers, in short it offers something for rock fans of all persuasions.
In between the subtle grooves, shifting tonal nuances and intense interplay there's a bigger picture at play. It's a coherence that emerges track by track.
'Raymond's Children' has an anthemic quality, born of a Jerry Garcia style guitar line tempered by a Neil Young Grunge feel. The lyrical raw gut emotion of 'Five Dollar Dead' comes complete with foot down on the pedal rock & roll, topped by distorted riffs as Jimmy sings; 'They've thrown me out of the poor house baby, Witch doctor says I'm driving him crazy' Ain't a bird in the hand in this fair land can't even find my rope to hang when your down and out you soon find out, you can't even die on broadway' ouch!
Jimmy borrows some thinly veiled Keith Richard riffs and employs a Greg Allman style vocal on the jangling guitars of 'Angel' and the duo finish with a flourish on 'Our Sister Sleep' which is simply one of the most exciting pieces of studio bound spontaneity for years.
Uncle Mont's Quand'ry is a raw, exciting, edgy and spontaneous duo who evoke the ghost of Hound Dog Taylor playing in countless Chicago doorways, but with a broader musical vista. They are equally soulful, bluesy and exploratory by turns, whether it's via eastern sounding guitar textures or courtesy of Roger's powerful percussion.
If an established band produced an album like this they would be praised for an exciting return to their roots for some groundbreaking music. In a duo context Jimmy and Roger simply kick open the barn doors and fill the yard full of pent up angst and a musical avalanche that restores your belief in the heart beat of rock and roll. 'Sorrow in Full Strut' is a rough edged masterpiece, bring it on!
*****
Review by Pete Feenstra
---
| | |
| --- | --- |
| | Print this page in printer-friendly format |
| | Tell a friend about this page |