Just witnessed your best live gig?.. send us a review!
UK GUNS N' ROSES, The Assembly, Leamington Spa
27 February 2010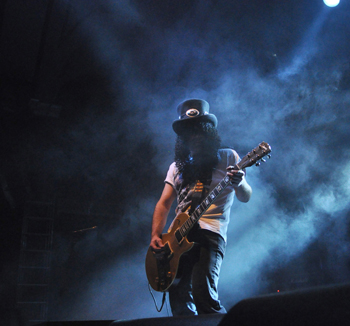 Another cracking rock and roll show at The Assembly in Leamington Spa this time a visit by Europe's top Guns N' Roses tribute, UK Guns N' Roses bringing the sights and of course the sounds of the "most dangerous band in the world".
Support came from the excellent Voodoo Vegas with a high energy set full of rocking original material. A five piece band made up of charismatic frontman Lawrence, Ash on bass, Chris drums and guitarists Merylina and Nick they performed a set mostly showcasing tracks from their recent live CD.
Opening numbers Mary Jane and Out There had the place rocking before they had to change the set running order due to a drum problem, so they slowed things down with the beautiful The Ballad.
Drum problem sorted and time to rock again with the 100 miles an hour Tied Up, Voodoo Vegas are really a band to watch out for a sound hard to pigeon hole but amongst others Guns N' Roses, Black Crowes and Areosmith seem to be influences.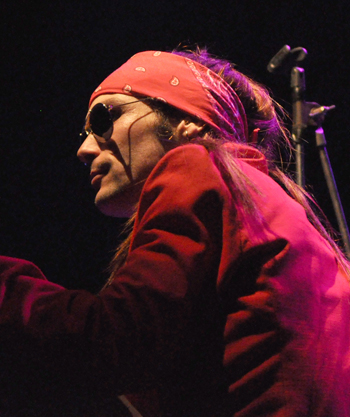 Headline time and apart from the band taking the stage on time! this was a Guns N' Roses show, on a stage featuring a huge back drop including Use Your Illusion style images and their own logo, UK Guns N' Roses looked and sounded like the real thing and they performed a perfect "best of" set.
Starting with storming versions of Nightrain and It's So Easy it was hard to know where to look, Axl running around the stage, the cool Slash on stage left or the rest of the band playing their roles to perfection.
The classics kept on coming, rockers including Live and Let Die, You Could Be Mine, Welcome to the Jungle, Rocket Queen, Civil War and slowing the pace occasionally for the likes of Patience and the all time classic November Rain.
Also had a few surprises in the set including covers of the rare Back Sabbath track It's Alright and the Rolling Stones numbers Wild Horses and Sympathy For the Devil the latter of course used to great effect in the movie Interview with the Vampire.
Last two numbers of the night and probably the most well known of all the Guns N' Roses classics, Sweet Child O' Mine and Paradise City both of which had the crowd rocking.
Fantastic evening of rock and roll with both bands giving their all and I believe UK Guns N' Roses are planning a return to the venue later in the year - fingers crossed.


Review and photos by Andrew Lock
---