TRACY BONHAM Masts Of Manhatta (2010)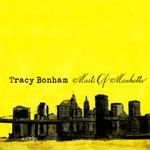 Masts Of Manhatta is Tracy Bonham's first full release in five years. Her last album - Blink The Brightest (2005) - got a 5 star review here on GRTR! and it looked like she was set to challenge for the Sarah McLachlan / Stevie Nicks crown.
But 5 years is a long time gone and the female singer songwriter genre has exploded in the intervening years. All we know about her hiatus is that she fell in love, married and sought a simpler life - an alternative career, teaching yoga, got a place in the county, and practiced reading aloud. The next step on the rock 'n' roll ladder was not on the agenda, and ultimately she decided to strip her music back to the basics, as well.
Masts Of Manhatta, self produced and mixed by Tchad Blake (Tom Waits, Los Lobos, Lisa Germano) and featuring the Brooklyn-based Smokey's Roundup, a trio led by guitarist Smokey Hormel (Tom Waits, Beck, Norah Jones), as the backing band, is the result.
The first thing to say is that if you were hoping (like I was) that Masts Of Manhatta would pick up the baton where Blink The Brightest left it, you'll be disappointed. It's a far more introspective rootsy, organic, 'campfire' affair that attempts to reflect the City versus Country dichotomy. That means, for the most part, that the radio friendly edge of Blink is absent.
Bizarrely, the most immediate, and opening track - Devil's Got Your Boyfriend has an r&b feel, while Big Red Heart does, at least, recall former glories, and In The Moonlight is a lovely jaunty little ditty. But for the most part, Masts Of Manhattan delves into the folk / Americana genre that has taken off in a big way in recent years.
With Masts, Tracy Bonham has clearly taken a conscious decision to move into less commercial territory. That's a brave move, and one that's to be applauded. If it was from an unknown artist, then the bottom line would probably read 'promising addition to the Lisa Hannigan style cross over folk genre'. Bearing in mind Tracy Bonham's previous output, it's one hell of a gamble.
***
Review by Pete Whalley
---
| | |
| --- | --- |
| | Print this page in printer-friendly format |
| | Tell a friend about this page |