STEVE LUKATHER All's Well That Ends Well Mascot (2010)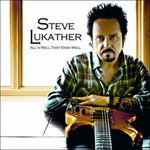 Whatever you feel about Luke's solo work and Toto, he has always been at the forefront of melodic rock guitar. But I think in some ways he has always been a little repressed: in Toto, a melodic rock straitjacket, and in his solo works which haven't always captured his brilliance consistently.
In many respects, 'All's Well That Ends Well' is a supreme return to form and, stylistically, harks back to his classic 'Candyman' album released in 1994. It is also significant that it marks a break with long-time collaborator Randy Goodrum who possibly injected too much schmaltz into the previous mix. New co-producer CJ Vanston has seemingly given Luke his head of steam whilst not conforming to any vision of peer expectation or stereotyping.
In truth, the more recent Toto offerings - not least 2006's 'Falling In Between' - marked something of a return to form for that band with Lukather's vocals and beefed up guitar playing a significant role.
But with the future of Toto subject to some uncertainty now, Lukather has everything to play for to assert his claim to rock guitar's melodic mantle.
There is enough of Toto here to beckon in closet fans but it is thankfully kept beneath the surface as Lukather serves up all killer and no filler.
From the dramatic opener 'Darkness In My World', there is a sense that this is also something of a personal exorcism as Luke hasn't been without his own personal demons in times past and 'Can't Look Back' would seem to reinforce this sense of optimism and moving forward. This track in particular has immediate "single" potential and reminds me a little of 'Caught In The Balance' (Toto, Mindfields 1999) and with the same urgency.
'Darkness In My World' has a beautifully deceptive opening before slipping into a superb and totally engaging riff and whilst there's a hint of Toto in the vocal harmonies it certainly doesn't detract from a superb breakdown section at the end. And whilst 2008's 'Ever Changing Times' started in a similar dramatic fashion it then developed into a rather more eclectic mix, 'All's Well…' hangs together as perhaps his most consistent offering to date.
'On My Way Home' on the other hand is very Steely Dan and emphasises Lukather's jazzier/fusion side. It could easily be an outtake from 'Aja' (along with 'Stab In The Back' on his last album).
'Don't Say It's Over' starts like a Gary Moore bluesy-ballad with orchestral backdrop, but with a beautifully constructed chorus and fusion-inflected playout. This track will also appeal to Winger fans.
'Flash In The Pan' is an uptempo blues, with a touch of Stevie Ray Vaughan funk that is sure to go down well live (He plays UK dates in November). The sinuous funk of 'You'll Remember' is more of the same but with a Toto-esque chorus and 'Brodie's' is an in-yer-face blues-inflected rock groove .
'Watching The World' is another powerful ballad with a memorable chorus that in its own way is as engaging as 'All The Young Dudes' or 'God Gave Rock N Roll To You' and has that conventional seventies pop vibe but with a contemporary twist to the lyrics.
The album concludes with the instrumental 'Tumescent' which serves to reinforce Lukather's melodic guitar prowess, aided this time by an attractive keyboard riff.
Whilst Lukather hasn't completely exorcised those Toto-esque flourishes, on this album he emerges mostly free of that band's more ballad-based and sometimes saccharine shackles.
This is easily the best guitar album of its kind this year, or in recent years for that matter, (only John Norum's 'Play Yard Blues' comes close) and its strength lies in the songs and production as much as the guitar playing. An inspired triumph.
*****
Review by David Randall

---
Steve Lukather talks to Pete Feenstra,
London 6 September 2010 (Part 1)
Camera: Prakash Acharya
Steve Lukather talks to Pete Feenstra,
London 6 September 2010 (Part 2)
Camera: Prakash Acharya
---