Just witnessed your best live gig?.. send us a review!
SKIN, Toby Jepson, Matti Alfonzetti
Camden Underworld, 15 December 2010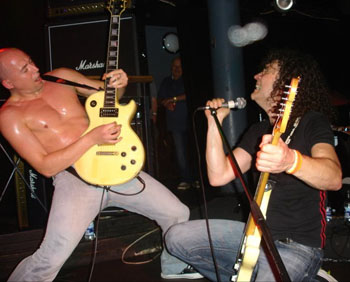 If 2009 was a triumphant year for the newly reunited Skin, 2010 has seen them consolidate that success with another two tours, an appearance at Download and a fine new album, Breaking the Silence. However all good things must come to an end and this December tour was a farewell to their fans before they return to their established post-musical careers.
A packed Underworld enjoyed the pleasure of two acoustic sets from men with close links to the band's history. Before Skin, guitarist Myke Gray and bassist Andy Robbins (who looks exactly as he used to despite being an accountant - an inspiration to us weekend warriors everywhere!) were in Jagged Edge, who threatened briefly to make it big. Swedish singer Matti Alfonzetti was a Coverdale in the making, but has had a low profile ever since they split up.
The hair is long gone and he now looks more like a student busking in a Stockholm subway, but the rich warm voice remains, and illuminated a number of originals including Blowing up Detroit and Am I Fooling Myself from 2000's excellent Ready album.
However the highlight was Myke and Skin keyboardist Colin MacLeod joining him for the standout cuts from Jagged Edge's Fuel For Your Soul album, You Don't Love Me and Out in the Cold, as he bravely got the crowd singing along. I'd love to see him play somewhere like Firefest with a full electric band.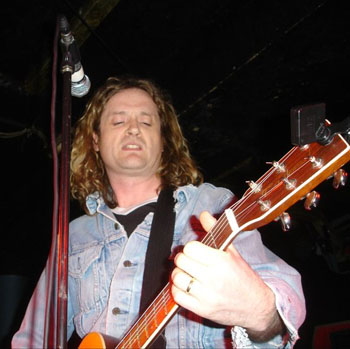 Back in 1993, a support slot with Little Angels was a major factor in Skin's sudden rise, so it was appropriate that their old singer Toby Jepson was support for the second year running. He turned the Underworld into a mass singalong with the many hits it is easy to forget the Angels had- She's a Little Angel, Kicking up Dust, I aint Gonna Cry and Young Gods.
Nevertheless a couple of songs from his low key solo career, notably Unwound, showed his more mature songwriting talents. Don't Pray for Me, movingly dedicated to late drummer Michael Lee, inspired a particularly lusty singalong while Too Much Too Young closed a set that had flown by. Now he is no longer moonlighting in Gun, how about a reformation of Little Angels or at the very least a new electric band?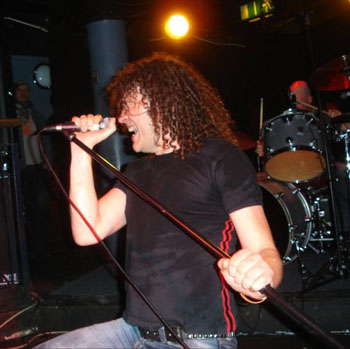 Skin opened with a couple of new, and autobiographical, songs in Born to Rock n Roll and Good to be Back - they may be extremely cliched but they were the perfect fist pumping anthems to get a live show off to a flying start, and lost nothing in comparison to old favourites House of Love and the Eastern flavoured Colourblind, much rockier than on their debut album.
Singer Nev MacDonald was under the weather and regularly clearing his throat, yet rather than hold back his powerful, bluesy voice seemed even more untrammelled than ever. The crowd were going crazy, perhaps too much so in the case of a group of men old enough to know better who formed their own moshpit and constantly heckled Nev.
The band played with an intensity that rarely let up and five new songs comfortably nestled in the set - most notably Book of Your life, with Myke Gray's guitar sound pitched somewhere between AC/DC and Big Country and a great closing section as he competed with Dicki Fliszar's powerful drumming, and Redemption, with Nev baring his heart and soul in the manner his Welsh ancestors might have done in a male voice choir.
The Nirvana-esque How Lucky You Are was a rare choice from 2nd album Lucky (while their third album was ignored entirely) while Money and Take me Down to the River were uncompromising slices of primal, bluesy hard rock. Myke's guitar solos were effortlessly fluent but concise, and it was no surprise that the set ended on a high with their most famous song Look but Don't Touch, and Tower of Strength, with a mass singalong.
The encores were fun too, with the punky Perfect Day and their rocked up cover of Unbelievable, with the crowd roaring along to 'what the f*** was that', before they wound up with another blues-rock classic in Shine Your Light, complete with its Sweet Emotion-esque intro.
Having seen Skin in their various guises since 1992 and fallen in, out and back in love with their music, I cannot recall them sounding sharper or better. It is a shame their reunification was so short but they have certainly fulfilled the old show business adage of leaving the punters wanting more.


Review by Andy Nathan
Photos by John Adams
---