SKIN Breaking The Silence (2010)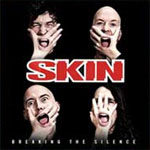 Skin reformed back in 2009 and since then they have played the Download festival at Donnigton twice and recorded this new album. Unfortunately this is also the band's swansong as they play a farewell tour in December, before calling it a day again. It is the original line-up and the album is self-released, a growing trend these days even amongst name bands such as Skin.
Was it worth the wait? On the whole yes but previous Skin albums have always had some real corkers plus a few fillers and this new album does not break that trend. Sound wise the band have taken the more aggressive, almost indie rock style of their 'Lucky' and 'Experience Eclectic' albums and mixed this with the more straight ahead classic rock sound of their debut album. For the most part this works and as a result this album will please fans of both styles of Skin's music.
'Good To Be Back' is a good time rocker, a song that wouldn't look out of place on their debut whilst 'Trigger Inside' is very in your face. It features some aggressive vocals form Nev MacDonald an d plenty of savage riffery from Myke Gray. Nev MacDonald in particular has lost none of his vocal power and it's a damn shame he will be lost to rock music again after the farewell tour. 'The Book Of Your Life' and 'When I'M With You' are two other stand outs and 'Born To Rock 'N' Roll' maybe slightly cheesy lyric wise but it is made for a sing-a-long at their gigs.
Skin always had a good ballad or two in their musical armoury. 'Redemption' can be added to that list as Nev MacDonald's plaintive vocal is joined by a female duet, all backed by piano and subdued guitar. Wonderful stuff.
A strong comeback but it is a shame they are going again so soon. Still they have combined the best of their previous albums to produce another 'must have' for their fans.
****
Review by Jason Ritchie
---
| | |
| --- | --- |
| | Print this page in printer-friendly format |
| | Tell a friend about this page |
***** Out of this world | **** Pretty damn fine |
*** OK, approach with caution unless you are a fan |
** Instant bargain bin fodder | * Ugly. Just ugly
get ready to rock is a division of hotdigitsnewmedia group