We've listed singles/EPs/demos in order of star rating. Best first.
BATUSIS Smog Veil SV95

Watusi, Batsusi, Batusis who cares? 'Batusis' is an essential stripped down return to primal rock & roll roots by some middle aged punks (you can call them a Punk super group, whatever!) who throw down the gauntlet with an introductory bone crunching self titled 4 track EP. Batusis may be great introduction to a new band perhaps, but musically it's a slight return to a glorious fusion of rock and roll and Punk, as the band blow the proverbial barn door off its hinges.

Batusis features the overdrive of New York Dolls guitarist Sylvain Sylvain the edgy punky presence of former Dead Boy guitarist Cheetah Chrome and the thunderous Joan Jett rhythm section of Enzo Penizzotto on bass and the tub thumping drummer Thommy Price. But this is no touch of the forelock to a roll call of Punk's surviving Gods.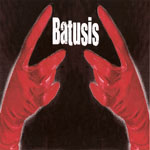 Rather 'Batusis' is the kind of 4 track EP/CD any self respecting rocker would wish to make as their calling card. There's an essential drive, an edgy frisson - make that real rock & roll energy - and above all a massive wall of noise courtesy of producer Ken Coomer that gives Batusis its jet power.

This is glorious Big Beat where Punk meets Garage. The opening 'Blues' Theme' is cute enough to reference both Dick Dale and Link Wray in a flat to the floor, big pounding instrumental. There may be a thematic ZZ Top feel and a Keith Richard riff on the intro of 'What You Lack In Brains' and some irreverent derivative lyrics – 'what's she's lacking upstairs, she's got under her skirt' - and even some stolen catchy 'woo woo's in the chorus, but hell it all rocks magnificently.
Then there's a nice rumbling, grumbling feel and some effective descending chords on 'Bury You Alive', anchored by the great line 'I want to feel it when it all comes crashing down and buries you alive'. Cheetah's edgy vocals drag you over the coals while some gnawing riffs bury their way deep in your brain over a crunching rhythm section. Good rocking, sharp production and the spirit of '77 in 2010 make this an essential track.

The whole caboodle is topped and tailed by two retro sounding Big Beat 50's instrumentals. The aptly titled closing 'Big Cat Stomp' is full of raucous finger bleeding, cat gut licks all drenched in a shower of sparks and is the epitome of the band's credo.

Not so much a viagra driven flashback as a rock & roll meltdown powered by a sheer joy de vivre, 'Batusis' reminds me of the rebirth of Mick Green's Pirates in the late 70's, as rock and roll meets rhythm & blues, fired by punk energy and driven by Garage band enthusiasm. They may be long in the tooth but this musical hybrid delivers big time. Good rocking tonight, you betcha! *****
Review by Pete Feenstra
ULF Piece Of Promise EP www.myspace.com/ulfofficial
This is a four-track promo for the album 'Echo Promise' from this French four-piece who formed in late-2006.
It's really good, from the opening track 'Final Light' - all riffs and catchy hook lines - Alter Bridge is perhaps the best reference. 'Hold On', 'Grudge' and 'Into The Fire' continue the quality quotient and Shinedown is another comparison. But it is really the track 'Ulf' that sets the band out to be something a bit special.
The longest here, it has an infectious guitar harmony motif and wonderful groove, but breaks down into an end section that shows the band know how to wig-out too. Encore! ****½
Review by David Randall
JONSI Go Do (Parlophone)

'Go Do' the three track CD/EP by Sigur Ros lead vocalist Jónsi Birgisson's is one of those rare musical masterpieces in which the music perfectly evokes the sentiment of the concept, if not always the lyrics which are sometime shard to discern.
You probably don't need to know the mission statement of 'Go Do' - "We should always know that we can do anything" - because the self help positivism is already inherent in the timbre of Jonsi's nuanced vocal delivery.
Producer Nico Muhly offers a judicious mix of delicate restraint and instrumental light and shade to embellish rather than dominate Jonsi's epic vocal performance. 'Go Do', sets the listener a challenge to get up and live life to the full; "You'll know how to, Just let yourself, fall into landslide", but it is only in the innovative and trusted hands of producer Muhly and angelic voice of its messenger that such a message becomes an elemental force rather than another trite New Age slogan. There's a lovely uplift ing sweep to the title track bolstered some manic dance beats, ethereal synths, vocal swoops, sound loops in a glorious wall of tonal colouration.
Far more 'up' than anything he's done with his band Sigur Rós and certainly less eclectic than his last all instrumental effort with his partner Alex, Jonsi's real achievement here is that he has managed to compose and arrange songs with Nico Muhly that are worthy of his startling vocal interpretation. For make no mistake Jonsi has a totally unique voice.
Of course Anthony Hegarty (from Anthony And the Johnson's) has a similar range and certainly touches similar emotions while Enja has explored an ethereal Celtic ambient feel, but 'Go Do' is celestial and stratospheric.
And the real point of departure here is the way Jonsi is able to imperceptibly switch his voice from its traditional front line role to using his incredible range as an outer worldly instrument. The title track is a glorious meeting of lyrical optimism, stop-start high octane dance beats and an ethereal sweep.
On 'Kolniour' his voice soars alongside gentle insistent beats, backward loops and a colourful uplifting wall of sound. A startling trio of sonic explorations is completed by another breath taking vocal performance with the hymnal opening of 'Grow Till Tall'. This song comprises slowly evolving soundscapes and some beautifully judged phrasing that twists and turns the vowels and their sumptuous delivery into a subtle meandering exploration of Jonsi's remarkable falsetto.
The gradual increasing instrumental volume swells eventually slowly envelop the singer as much as his wave of sonic magic captivates us all. Just awesome! ****
Review by Pete Feenstra
INGRID MICHAELSON The Way I Am
The re-release of the single that has already shifted over 1.5 million sales, and fueled the sale of over 400,00 copies of her 2007 debut album Boys And Girls on her own label.
The success of the single followed it's exposure in an Old Navy commercial, and Michaelson's profile was further enhanced by the song Keep Breathing being used on the fade out for the final episode of the 2007 series of Grey's Anatomy (watched by 25 million).
Since then, we've had two excellent albums - Boys And Girls, and Everybody, which are set for re-release as a double album, and The Way I Am has featured on the current American Idol series. More sales beckon for a piece of perfect pop. ****
Review by Pete Whalley
ODi A Superman
Who is she? ODi, aka Claire Odlum, is a new Irish singer songwriter for County Wexford, Ireland. Since posting some early demo recordings on the web several years ago, she's played several hundred gigs and supported luminaries such as Paddy Casey and Eleanor McEvoy.
What's it like? A Superman - originally released in 2008, is ODi's UK debut single, preceding a UK autumn release of her debut album Maslow's Songbook. It bears a striking similarity in style to the likes of Amy Wadge – top draw vocals, and an easy on the ear style that falls just the right side of the rock crossover line. And from what I've heard of the album on the web, she's matured considerably as an artist, developing a sound like Lisa Hannigan on steroids.
Should I buy? Yes. As a prelude to the release of Maslow's Songbook, A Superman is an excellent building block. And the bonus acoustic tracks recorded for radio sessions suggest that – like all the best artists – she's equally impressive with just an acoustic guitar. A star is born. ****
Review by Pete Whalley
NATASCHA SOHL Fade
In truth Natascha's second album has been something of a start-stop phenomenon, now at last getting a full release. Interesting that they've chosen a ballad from what is essentially a feisty, rocky affair.
However it may be what is needed to cut through the current ether that's tainted by the next TV reality star in the making. Natascha is the real deal and in a different musical climate would be huge. She may still be, but investigate the album, we've been banging on about it for at least two years and want to be in a smug position to tell you "we told you so". ****
Review by David Randall
TOBIAS SAMMET'S AVANTASIA Dying For An Angel
The Edguy frontman's side project and whilst it brings to mind Bon Jovi on the chorus, it is just the sort of anthemic melodic rocker you want to hear as the sun shines after a cold winter. From the album 'The Wicked Symphony', he is partnered by Scorpions' Klaus Meine, so you get two great vocals for your money. What more do you need? ****
Review by David Randall
SCOUTING FOR GIRLS That Ain't A Love Song

The lead single from their forthcoming second album shows that Scouting For Girls are about to pick up where they left off with their eponymous debut album.

That is, contagious piano led pop songs, big hits, big tours and Brits nominations.

Having scrapped much of the material that was due to make their new album Everyone Wants To Be On TV in a ruthless quality assurance exercise, Roy Stride builds on the band's early charm and comes up with another sure fire hit.

Infuriatingly contagious. A massive hit. ****
Review by Pete Whalley

YOU ME AT SIX Liquid Confidence

Having missed out (twice) to Bullet For My Valentine as Best British Band at the 2008 and 2009 Kerrang Awards, You Me At Six must be wondering just what they have to do.

Currently on their biggest tour, and now a quintet, Liquid Confidence is a big indie pop number with an acoustic opening that explodes into a soaring, anthemic number taken from their recently released 2nd album Hold Me Down.

With a great beat and big hooks and its radio friendly sound Liquid Confidence is yet another signal of intent by You Me At Six. ***½
Review by Pete Whalley
MONSTERS IN THE ATTIC Be Lucky' EP (Onslaught Music)

Citing influences as diverse as Rocket From the Crypt and The Beach Boys, London based band Monsters In The Attic mix punk, hard rock and rock n roll – with a bit of B-Movie and tongue in cheek humour thrown in. 'Be Lucky' is the 3rd EP from the band- and throughout the 7 tracks there is an apparent feeling that the band are having fun- something too often missing in music these days.

Cockney front man Patch Barbet easily switches between rock and punk and this works well with Tom Walding's guitar work and the blues based bass from Ben Wooster. With gang backing vocals, sing along songs and care free attitude, the band have been building quite a fan base here in London and are shortly heading for a stint in Europe and the US.

Highlights on this 7 track EP include title track 'Be Lucky', 'Gimme Some Sugar', 'I'll Be Damned' and the booze soaked 'Mojito'.

Catch the band live if you can as you are guaranteed a night of lively entertainment if 'Be Lucky' is anything to go by. ***½
Review by Nikk Gunns
THE UNIVERSAL Day In Day Out

Who are they? A Liverpool band with a love for all things Mod, and based around singer, guitarist and songwriter Terry Shaughnessy.

What's it like? Resurrecting the classic two and half minute pop/rock song crafted by the likes of the Kinks and The Jam, Day In Day Out is an excellent little number that manages to pilfer elements of the The Knack's My Sharona, add a wonderfully menacing vocal and throw in some rock solid backing a terrific hook. And the B-side The Time Has Come, shows that it was no fluke adding a raw energy to a Weller influenced stonker.

Should I Buy? Absolutely. Infectious to the point of addiction, The Universal have an attitude and grittiness that combined with their commercial sensibilities surely makes them contenders for the next big thing. ***½
Review by Pete Whalley
EXIT STATE Death Of A Rockstar (King Prawn Records)

From the outset this rock album mixes power metal with indie and classic rock, in a jangly grungy kind of way. Apparently likened to Foo Fighters, Nickelback and Therapy. A couple of tracks have elements of punk too.

A lot heavier than I thought it would be, there are some good guitar riffs, but I found the sound and production at times a little thin and jangly which, given the aggressive undertones, just gave me a headache. ***

Review by Joe Geesin
THE OPERATION Come Clean Iota Recordings

Young up and coming UK band who release their debut single at the end of May. This song reminded me a lot of Hard-Fi or the Killers, two bands at the quality end of indie rock. On this one song alone The Operation are worth seeking out and a name to keep an eye on in the coming months. ***
Review by Jason Ritchie
CIRKUS Bad Love www.myspace.com/cirkusmusic
From their new / forthcoming album, this track opens with vocals/piano/guitar and a very programmed feel, before it builds with a solid crescendo to a catchy heavy indie song. Sounds pretty good, but there's a couple of weird and annoying fades / cuts, like someone's done a really bad editing job. ***
Review by Joe Geesin

STARECAT Dum Dum/Big Nothin'
www.myspace.com/strikerm
Both tracks on this single are catchy punk rock with dirty guitars, plenty of chops and decent female vocals. The kind of band you'd see at the Barfly in Camden. Nods to Wire Daisies.

No finesse but a lot of fun, worth a listen. ***
Review by Joe Geesin
LIMOZINE Mutiny Girl / She Rocka Rolla (single)
www.myspace.com/limozine
Second single from Limozine, with elements of punk, metal and rock'n'roll. Modern guitar pop with a very heavy retro feel. Think Stooges, Ramones, and the press release mentions The Cramps too.

The B-side has more primitive garage feel. ***
Review by Joe Geesin
BROKEN CITY SKYLINE City Lights

Broken City Skyline, a band of brothers (plus friend Danni on bass) from the Valleys serve up an almost Springsteen-esque sound on this self penned, produced and packaged single that's available for download on iTunes, Amazon etc.

Although claiming far heavier influences (Maiden, Korn, Valentine and the likes) City Lights does indeed have many of the hallmarks of The Boss's Born To Run output - especially the piano lines running over the chorus guitar chords. All they need is a decent studio / producer and Clarence Clemons to add a few sax runs.

Yet another sign that rock is alive, and well, and living in Wales. ***
Review by Pete Whalley
THE GASLIGHT ANTHEM American Slang (single)

The title track from their forthcoming new album, it has a strong punchy rhythm, and mixes hard rock, guitar pop and the heavy end of 80s rock/pop (think Big Country beefed up).

A touch anthemic. Worth a listen. ***
Review by Joe Geesin
LIMOZINE Mutiny Girl / She Rocka Rolla
www.myspace.com/limozine
Second single from Limozine, with elements of punk, metal and rock'n'roll. Modern guitar pop with a very heavy retro feel. Think Stooges, Ramones, and the press release mentions The Cramps too.

The B-side has more primitive garage feel. ***
Review by Joe Geesin
EXIT STATE Death Of A Rockstar (King Prawn Records)

From the outset this rock album mixes power metal with indie and classic rock, in a jangly grungy kind of way. Apparently likened to Foo Fighters, Nickelback and Therapy. A couple of tracks have elements of punk too.

A lot heavier than I thought it would be, there are some good guitar riffs, but I found the sound and production at times a little thin and jangly which, given the aggressive undertones, just gave me a headache. ***
Review by Joe Geesin

IGNITION Take Me There (Rainfall)

'Take Me There' is the first single to be taken from Ignition's forthcoming debut album 'Silver Sun'. Within this Northern Irish bands sound you can hear influences such as Oasis and Pearl Jam, however, it is hard to judge a band on just one song. 'Take Me There' features a fair amount of acoustic guitar, but my money is on the album having a far heavier sound to it.

Ignition is certainly a band to keep an ear out for. ***
Review by Nikk Gunns

MODERN CLICHES Falseness & Fairytales EP

London three piece Modern Clichés may have missed the boat. They announced their debut with a self titled ep back in 2006, following it up by recording the single You Don't Know What You Want To Be - a terrific little number that sounds like The Arctics / Alex Turner meet a bit of punky rock - back in December 2007. And the title track is equally addictive, with a hint of funk thrown in for good measure.

That single is now, or will shortly be available as a download single. And excellent as it is, the Monkeys sound has been done to death by a million others and they, and the world, have moved on since then. ***
Review by Pete Whalley
BULLiT Get With It (EP) www.myspace.com/bullituk
4 track EP with a 70s/80s pop, punk and new wave feel. Opening track 'Cheetahs' leans a lot to The Police. 'Crazy' also has an off-beat, and nods to Nine Below Zero and again The Police.

Retro guitar pop with punk touches. A little aimless at times. **½
Review by Joe Geesin
RUN FROM ROBOTS Sorry You Don't Love Us (mini album)
www.myspace.com/runfromrobotsofficial
Six track mini album from this young band, and it is a very energetic set. Uptempo punk metal. There are touches of melody, a lot of Green Day only a lot more aggressive. At times the guitar is a little jangly in alt metal terms, and several tracks are a little samey.

Available online in June, but I'd have a listen first. **½
Review by Joe Geesin
INSANE Our Island Our Empire (Edge Records)

This new album from Hungarian band Insane, is just that. Insane. The intro is programmed nu-metal, before the first full track comes in. Loudly. LOUDLY.

That track, 'Something Is In The Wind', kicks off like having your ear drums running into a brick wall that is covered in sandpaper and shouting back at you. Yes it's brutal and the volume is on 11, the shouting distorts. By the time you get to some grunge-like quieter bits, or Maiden like guitar, you are already too deaf and/or pissed off to appreciate it. Not that I'd ever appreciate anything remotely grunge like.

The next track opens with some indie chords, before the same brutality comes in and, well, bollocks, I'm skipping that track. In fact this forced me to skip through the whole album before throwing it away. En route to the bin I found elements of trad metal, crossover, emo and jazz. But it's all done so loudly, so brutally, so distorted. It's like a music mix that's been put through the blender, turned up louder than roadworks and shoved in your face.

No. *½
Review by Joe Geesin
THE BIG BANG CLUB Chemistry

Who are they? The vocalist and synth player from Protocol - a band signed at their first gig by Polydor and who subsequently toured with the likes of A-Ha and Hard-Fi. Their half shaved/bleached hair was not a selling point and the band split.

What's it like? Abba meet Pet Shop Boys meet Prince at a gay disco.

Should I Buy? A resounding 'no'. *
Review by Pete Whalley



---
| | |
| --- | --- |
| | Print this page in printer-friendly format |
| | Tell a friend about this page |