SAINT JUDE Diary Of A Soul Fiend (2010)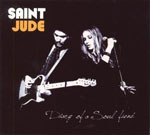 I saw Saint Jude at this year's Guilfest and was blown away by their performance. Like a female-fronted Faces or Lynyrd Skynyrd in their prime. Vocalist Lynne Jackaman is the real star of the show with a lovely souful voice one minute on the ballad 'Down This Road' and then she's belting it out on 'Soul On Fire', complete with soem tasty piano and horns.
Along with the tasty licks from guitarist Adam Greene, keyboard player Joe Glossop deserves a special mention as he plays up a storm throughout, none more so than on 'Little Queen'. That one is a definite for radio airplay as it is just so damn catchy.
'Angel' is a nice, slow blues workout whilst 'Rivers And Streams', another slow number has a little country rock air about it. The band are very tight musically and sound as though they have been around for many years and not just a few as is the case.
'Southern Belles' is the one song that reminds me most of Lynyrd Skynyrd, not only because of the title but also in the guitar solo and piano playing (very Billy Powell in places). A strong end to a very strong and enjoyable debut album.
Buy with confidence - a real good time rock 'n' roll album with nods to soul, country and blues along the way.
****½
Review by Jason Ritchie
---
| | |
| --- | --- |
| | Print this page in printer-friendly format |
| | Tell a friend about this page |