Poignant document of much-missed Irish blues rocker...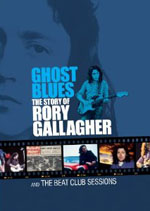 This year saw the 15th anniversary of the guitarist's sad passing, commemorated in June with a special statue in his birthplace Ballyshannon. You might be forgiven thinking the Gallagher legacy had been wrung dry over the years, so this latest release (with an accompanying CD) is a pleasant - and timely - surprise.
Disc 1 is a documentary and a fitting tribute, charting his musical journey from an Irish showband in Cork, via the Maritime Blues club in Belfast, to a world stage via the power blues rock trio Taste. There are reminiscences from those that knew him and those that were influenced by him (including Slash and The Edge). Gallagher had that attractive combination of modesty and honesty in his music and his death at the age of 47 was untimely and tragic.
Radio interview material provides continuity allowing Gallagher to tell his own story. This is interspersed with live footage of his various line-ups. There is little detail about the source of this material, although it will be known to fans. Some captioning for the live footage to place it in time might have been useful.
There is a lack of filmed interview footage with Gallagher himself and - for completism - the DVD makers might have considered including the 1976 interview that cropped up previously (on the latest Rockpalast compilation).
The story reiterates the "what might have been" with the early demise of Taste, an aborted trial for the Rolling Stones, and his resistance to commerciality. Sadly, the film documents his worsening health as a result of a cocktail of prescribed drugs and alcohol. But it does underscore that he trailblazed Irish rock music and paved the way for Irish contemporaries Thin Lizzy and, later, U2.
Disc 2 features previously unreleased recordings from the German Beat Club series between 1971-2. This is real treasure, given that Gallagher's live performances were well covered on the earlier 'The Rockpalast Collection' and 'Live At Montreux'. There was a certain discipline instilled by the live TV studio situation and there are exemplary versions of several of his 'standards' including 'Laundromat', 'Sinnerboy' and 'Messin With The Kid'.
****
Review by David Randall
>>Related:
Rockpalast Collection (2005)
Live At Montreux (2006)
Shadow Play (2008)