PURE REASON REVOLUTION Hammer And Anvil Superball Music (2010)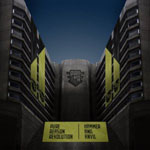 This is the band's third studio album and although they are often lumped in with prog rock (often compared to the ethereal sounds of Porcupine Tree) they have a lot in common with bands like Pendulum, less the obvious drum 'n' bass beats, and latter day Depeche Mode.
The album doesn't get off to a great start with 'Fight Fire' which tends to grate after a few listens. It sounds like the Prodigy less the menace. 'Black Mourning' has the keyboards and harmony vocals set to 'stun'. This is what sets this band apart from the rest - very strong harmony vocals and some keyboard/synth runs that delight the ears. 'Patriarch' is another good example of the band at the peak of their musical powers.
The Depeche Mode comparisons crop up on the instrumental 'Blitzkrieg', only in the sound though not the vocals. One for the clubs methinks. The poppier feel 'Armistice' makes this song a good bet for airplay and a good hook to draw in the inquisitive listeners who are new to the band.
The band are progressive in the sense they keep pushing their own musical boundaries on each release and if you enjoy bands like Pendulum, Depeche Mode et al you will love this album. Pure Reason Revolution, like Porcupine Tree and Muse, have the songs that can break them out of the confines of genres and crossover into the much wider music audience. It will be very interesting to see where their musical journey takes them next time.
****
Review by Jason Ritchie
---
| | |
| --- | --- |
| | Print this page in printer-friendly format |
| | Tell a friend about this page |