MOTHER MOTHER O My Heart Last Gang Q200821A (2010)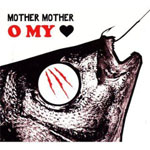 With a mix of snappy pop songs, lyrics with a twist, sharp harmonies and shimmering backing vocals, Mother Mother are well placed to have a crack at commercial success.
But while their harmonies owe a lot to the early Beatles style, later distilled by the likes of Stackridge in the use of effective call and response lines and the soothing ooohs and aaahs backing vocals that make tracks like 'Ghosting' so strong, Mother Mother remain lyrically unique.
Sure there's some dark vivid imagery and a melodic core that nuances The Pixies, but Mother Mother make their own mark through tightly structured rhythms, cleverly contrasted mellifluous harmonies and sweeping melodies. It's rare for a contemporary band to push the voice centre stage, let alone having the kind of conceptual grasp and undulating melodic wave that gives this album its flow
So while the snappily arranged title track places its the emphasis on a pounding rhythm, a jangling guitar figure and stop-time staccato lyrics, the infectious sing-along qualities of 'Big Pile' suggest there is more to Mother Mother than mere harmonic excellence;
'All my troubles on a burning pile, All lit up and I start to smile if
I catch fire than I'll change my aim, Throw my troubles at the world again'
The startling vocal range on the cleverly titled and wistful 'Body of Years' contrasts starkly with a big rhythm track and the subsequent quiet/ loud dynamic. The repeated chorus and falsetto infused verse gives way to a compelling call and response sequence that you just can't stop singing.
Here is the essence of great song writing. Ryan Guldermont pays due attention to the flow of words and the inherent melody line with a rhythm track that powers the song to its conclusion. The dreamy quiet bridge acts as a perfect conduit for a reprised instrumental riff, before a brief but very effective Arcade Fire style anthemic outro.
And so to the album highlight, as a muted trumpet perfectly evokes the lyrical sense of frustration on 'Try to Change'. The layered harmonies and subtle contrast between the brother and sister vocals of Ryan and Molly Guldemond deliver mesmerizing harmonies and some of the best crafted pop music for years.
The band sings:
'In a decadent age, I try to change, All my decadent ways,
But I just can't help but stay the same, In a decadent age'
Then there's also;
'I will try and try to change but the list I made of change to make
It blew away, Flew away, Blew away, Flew away'
There's a stressed emphasis on the last soaring note on 'away' which is then subsumed by another ascending harmony line. Beautifully textured, intuitively arranged, this is an audio work of art.
Most of the songs work so well because of the structural simplicity at the heart of some contrasting highs and lows. Then of course there are the lyrics, which are a mixture of the heartfelt, the humorous, the dark and the down right ridiculous.
'Wisdom' for example is humorously reduced to a commodity;
'On the pay role, digging up ditches, Dollar is low, so are my wages
Wisdom, Wisdom where can I get some'
The stomping 'Body' owes much to Russell Mael's (Sparks) sense of the dramatic and a cute vocal overlap with a string arrangement that again evokes Arcade Fire. But the repeated chorus and call and response sequences are all their own doing on a song that promises to become a live favourite.
The magnificent 'Ghosting', is another highlight with its humorous lyrics that are brought to life by close to the mic harmonies that evoke both Queen and ELO over phased strings
'You don't need poltergeist for sidekicks, You don't need treats and you don't need tricks,
You don't need treats, You don't need tricks, You don't need no Halloween.'
The very catchy single 'Hayloft' is a tale of sexual shenanigans and revisits the immediacy of 'Burning Pile' with an impossibly catchy repeated chorus of; 'My daddy's got a gun, My daddy's got a gun, My daddy's got a gun, You better run', which is made for repeated plays. This single rattles along with a brilliant use of dynamics eventually resolved by elongated backing vocals.
And it's back to Arcade Fire on the banjo led 'Wrecking Ball' which again employs repeated rhythmic lyrics. Mother Mother will be many things to many people, but there's a creative buzz here that finds memorable expression through superbly nuanced, harmony laden jaunty pop.
The closing 'Sleeping Awake' is a cleverly arranged end-piece contrasting a fragile female voice with some troubling dark lyrics and of course glistening harmonies with a suitable dramatic finish.
Clever, catchy, compelling, infectious, but never predictable, 'O My Heart' makes light of any concerns about the band's second album. 'O My Heart' is so good that should Mother Mother's follow up be anywhere near as impressive, they really will be on to something.
*****
Review by Pete Feenstra

---
| | |
| --- | --- |
| | Print this page in printer-friendly format |
| | Tell a friend about this page |