KARNATAKA The Gathering Light Voiceprint (2010)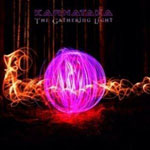 Prog rock is a burgeoning and healthy market at the moment and Karnataka were right there at the beginning of the Brit-prog revolution in the late-1990s that nurtured bands like Mostly Autumn and Pendragon.
In spite of hiatus in 2004 when the original band broke up (later to morph into Panic Room) Ian Jones and his new journeymen (and woman) have gigged consistently but until now without any new product.
'The Gathering Light' has therefore been some years in the making, and the attention to detail and sheer quality of the production work shines through. This is the album to reassert the band's position in the proud pantheon of prog. It never fails to deliver.
The title track is perhaps their most ambitious to date and best sums up how the band differ from their peers, and competitors. This is a dramatic, exotic, and lushly textured piece characterised by immaculate musicianship and the wonderful vocals of Lisa Fury. In truth, it is probably five minutes too long but we can forgive these rampant proggers for that because elsewhere they state their case more succinctly.
'State of Grace' sets the scene, an expansive widescreen piece, highlighted by Enrico Pinna's tasteful jazz-rock inflected guitar and Gonzalo Carrera's sweeping keys, and with a definite 'world' feel.
This is one of two instrumental pieces, and really, when it's as good as this, Lisa Fury's vocals become a bonus and guilty pleasure.
'Your World' is perhaps closer to earlier Karnataka and summons up a stellar vocal performance from Fury who has the fragility of a Judie Tzuke with the balls of a Stevie Nicks (who of course she was, in another life).
'Moment In Time' is another fantastic vehicle for Fury, this time with a delicate piano accompaniment, and the harmonies again owing something to Madame Tzuke. Mention should be made too of the well-executed string accompaniments (arranged by Ian Jones) on this and other tracks and featuring Hugh McDowell (ELO) on cello.
I am in two minds about the use of Troy Donockley. He always plays immaculately but the use of Uillean pipes immediately gives a song a Celtic feel and whilst Celtic has always been a subtle undercurrent in Karnataka when Donockley appears it all becomes more explicit, perhaps irritatingly so. It then places Karnataka closer in spirit to bands like Iona.
'The Serpent Of the Sea' has the same rolling vibe as Marillion's 'Slainte Mhath' and will certainly appeal to fans of that band whilst 'Forsaken' is an attractive ballad lifted by the strings again and then a Pinna-led mid-section. 'Tide To Fall' is one of the more accessible songs in terms of length and has a swirling eastern motif.
Pinna's guitar is immaculate throughout if sometimes too close to well-trodden Gilmour-esque territory, the solos executed with almost military precision. But I am sure - in the world of prog - this will be duly noted and lapped up by the faithful.
Hopefully success with this album will encourage Ian and Lisa to dust off their Chasing The Monsoon project, which promises more aural exotica (and may well even surpass 'Light' based on early audio clips).
Karnataka off-shoots Panic Room set the prog bar extremely high for 2010 with their latest album 'Satellite' but it is a different proposition: more earthy. The Mothership is more otherwordly. Vive le difference.
'The Gathering Light' is like a beacon, and just as dazzling.
*****
Review by David Randall

---
| | |
| --- | --- |
| | Print this page in printer-friendly format |
| | Tell a friend about this page |