JON OLIVAS PAIN Festival AFM Records (2010)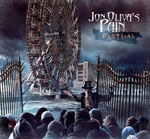 When the news of the passing away of the guitar virtuoso Chris Oliva first became public more than fifteen years ago I remember that my initial reaction was that of panic. Why? First of all, I could not imagine this world without the mighty Savatage being around but, most importantly, I hated the idea of never again being able to experience the power of Jon Oliva's commanding vocals through more new examples of his unique artistic brilliance. Well, even though Savatage did eventually fall into oblivion, the Mountain King did not! Gathering his faithful followers under the 'Jon Oliva's Pain' moniker, the charismatic troubadour began a new musical crusade - one whose latest, and fourth in the line of succession, offering comes under the name 'Festival'.
Now, even if you were to ask a thousand different Savatage fans what it is that they would like to get from a Jon Oliva's Pain album, the answer will undeniably be the same: compositions whose attitude and character will be similar to albums such as 'Hall Of The Mountain King' and 'Gutter Ballet'. Actually Jon came pretty close in achieving this goal in his second studio release 'Maniacal Renderings', however he soon realised that this was not a 'healthy' approach, hence his decision to let loose and experiment more with his music in 'Global Warning'. Much as I really liked that album, I felt that Jon has yet to reach his musical potential and proof came the moment I first listened to the ten compositions that are featured in 'Festival'.
The great thing about 'Festival' is that it reminded me of all the good reasons that made me love Savatage in the first place but it did that without sounding either repetitive or retro and predictable. Actually, this is the first time in many months that I got my hands on an album that floats so gracefully and whose music commands your constant attention, even though the material on offer is neither straightforward nor uniform.
It may be true that compositions such as 'Lies' and 'Festival' may sound terribly reminiscent of classic Savatage material at first, however after a few good spins, you will get to discover many things happening in the background both in terms of guitar and keyboard performances. Most importantly, when you move into more varied and multi-layered compositions such as 'Death Rides A Black Horse' and 'Afterglow' and you allow yourself to we swept away by either the melancholic sounds of the mandolin or the sinister melodies of Jon's epic-sounding keyboards, then you'll certainly know that you've hit the jackpot with this album.
Regardless as to whether he's rocking his socks off through straight forward compositions such as 'Living On The Edge' or indulging in the sounds of the acoustic guitar, Jon's vocal performances are very emotional and of the highest quality. One composition that managed to bring out both the band's rough and mellow character is 'The Evil Within', as its opening monstrous riff creates a beautiful antithesis with the spacey keyboard themes and Pink Floyd sounding guitar melodies that are featured half way through its long duration.
If you are a sucker for simple acoustic guitar melodies and you like to have them combined with dramatic and epic sounding choral refrains, then don't miss out on the seven and a half minute opus 'Winter Haven'. On the other hand, if groovy heavy riffs are your cup of tea, then check out the almost doom-ridden 'I Fear You'. There are many beautiful ballads out there that carry Jon's signature voice, right? Well 'Now' is the latest addition to that list; a composition whose mournful piano and violin melodies are real tear-jerkers.
If you look at metal music nowadays, you will find hundreds, if not thousands, of new musicians competing to win our attention and potential appreciation. Yes, there are indeed many musicians out there; how many of them are, however, real artists? How many of them will manage after twenty five years of existence to create music capable of lifting your soul to the heavens and make you want to weep like a baby? This is a question that can only be answered in time, however, much as I hate to be pessimistic, there will only be a handful of them whose contribution will even reach close to that of Jon Oliva's. Jon has graced us with a true masterpiece here - do yourselves a favour and get your hands on it, pronto!
*****
Review by John Stefanis

---
| | |
| --- | --- |
| | Print this page in printer-friendly format |
| | Tell a friend about this page |