JOHN NORUM Play Yard Blues Mascot (2010)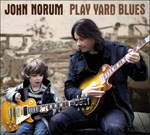 What is it with guitarists? Do they mellow with age? Possibly. Do they reach their peak before they are 40? Perhaps. Do they get the blues by the age of 50? Almost certainly.
Europe guitarist John Norum follows the long line of guitar heroes paying their dues to the blues. But don't be hoodwinked by the title 'Play Yard Blues'. This is a few hundred kilometres away from 'old man's music' and is really a bluesier reprise of familiar terrain.
As with many of his contemporaries, John Norum has probably moved on a bit from the fast and furious melodic shredding he was renowned for in the 1990s, first with Dokken and then in a fairly low key solo career. The truth is, he does that style better than most. On the current Europe album, though, it sounds like a prowling Tom Cat of a guitar player has been neutered. If the glorious heavy down-tuned riffs aren't too present in the latest band album, we naturally hope to hear them in any solo offering.
But there is a more poignant aspect at work here too, with an album dedicated to his late wife Michelle who tragically died almost exactly two years ago from the day of its release. We could forgive Norum being introspective or angry.
Perhaps surprisingly, such a catastrophic personal event doesn't resonate through the music. It is hardly introspective and with the aid of excellent sidemen and a crisp production (at the famed Polar Studio in Sweden) it is a marvellous opportunity for Norum to explore his bluesier side, much as Gary Moore did in the 1990s. The only thing with Moore, he got the blues bug and never looked back.
Norum takes as much inspiration from blues into rock heroes like Frank Marino (with a cover of 'Ditch Queen') and Leslie West (a version of Travellin' In The Dark') but thankfully it is a rockier and funkier blues and not old man's music. Yet.
The opener 'Let It Shine' is as good as anything on the previous 'Optimus' (only bassist Tomas Torberg remains from that line-up), whilst 'Red Light Green High' has an undercurrent of menace with Norum's trademark wah weaving in and out.
Norum has a trick of pulling out a less familiar Thin Lizzy track and he's done it previously. Here 'It's Only Money' features Norum's own vaguely Lynott-esque vocals and is a tribute to another hero Brian Robertson, whom he played with in Norway at the turn of the millennium (unfortunately any session tapes don't appear to have surfaced).
Leif Sundin (with whom Norum worked together with drummer Thomas Broman in the late-1990s) steps in for vocals on 'Got My Eyes On You' and 'Born Again' (where the 'Love Is Not The Enemy' riff is shamelessly recycled) and brings back to mind Norum's hard rock glory days as evidenced on 1997's 'Face It' live set. I'm surprised that Sundin wasn't featured more extensively, as Norum frequently downplays his own vocal ability.
'When Darkness Falls' has the immediacy of 'Let It Shine' and is another standout with the heavy riffs deep in the mix but there nevertheless. There is a slight 'Wishing Well' (Free) feel to this. 'Over And Done' is the only track where I can hear his Europe colleague Mic Michaeli on keys and personally I think he might have benefitted from being less submerged in the mix as a more obvious - and possibly glorious - foil to Norum's bluesy riffing.
The only thing lacking from this album - if you discount the almost obligatory 12-bar blues title track - is a decent instrumental and I would have preferred to hear one rather than a somewhat tired sounding Mountain cover. This is no criticism, the track sounded tired when Mountain played it.
Unfortunately there is no show-stopping 'Optimus' here, the track that Norum reprised on Europe's recent tours. Perhaps next time we'll get a killer cut like the piece he segued into 'Girl From Lebanon' on previous excursions.
There is an instrumental mid-section on 'Red Light Green High' that is quite magical and fits beautifully, demonstrating a vibe that perhaps could have been more fully explored.
The cover shows Norum alongside his son who holds a 3/4 version of a Les Paul and is evidently a guitar hero in waiting, he will certainly have the best inspiration even if he lacks his Dad's technique.
This is easily Norum's most consistent solo album. Informed guitarists will love this album but a wider reappraisal is long overdue. It will certainly be helped by Norum's higher profile now as a result of Europe's rejuvenation. This new release should at least encourage a wider investigation of a sometimes patchy but quite worthy back catalogue, and a guitarist who is truly the equal of those he cites as major influences.
****
Review by David Randall

---
| | |
| --- | --- |
| | Print this page in printer-friendly format |
| | Tell a friend about this page |